WASHINGTON, DC, May 24, 2012 (ENS) – More than 150,000 additional Americans could die by the end of this century due to excessive heat caused by climate change, finds a new report based on peer-reviewed science.
Of the 40 cities studied, the three with the highest number of projected heat-related deaths through the end of the century are: Louisville, Kentucky with 19,000 deaths, Detroit, Michigan with 18,000 deaths and Cleveland, Ohio with 17,000.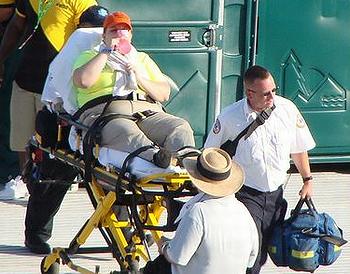 A horse racing fan suffering from the heat is taken to hospital from Churchill Downs, Louisville, Kentucky, July 2010. (Photo by SteveBillieJene)
The studies were conducted by Larry Kalkstein, senior professor of geography and regional studies at the University of Miami. They covered 40 cities where about two-thirds of the U.S. population lives.
The data show that excess heat has caused 1,300 deaths per year on average during the period 1975-2004.
Dr. Kalkstein's conclusions were publicized Wednesday in a report and map by the Natural Resources Defense Council.
"This is the kind of study that should make headlines around the country but is generally ignored when published only in scholarly journals," said Daniel Lashof, director of NRDC's climate and clean air program. "So NRDC is presenting the information in a more accessible manner, adding calculations of the cumulative additional death toll attributable to projected global warming by mid-century and century's end."
The NRDC report, "Killer Summer Heat," shows projected deaths based on the assumption that carbon pollution will steadily increase in the absence of effective new policies, more than doubling the levels seen today by the end of the century.
On this basis, some of the projected city death tolls by century's end are:
Baltimore: 2,900 deaths
Boston: 5,700 deaths
Chicago: 6,400 deaths
Columbus: 6,000 deaths
Dallas: 7,000 deaths
Denver: 3,500 deaths
Los Angeles: 1,200 deaths
Minneapolis: 7,500 deaths
Philadelphia: 700 deaths
Pittsburgh: 1,200 deaths
St. Louis: 5,600 deaths
Washington, DC: 3,000 deaths
"These findings bring home the fact that global climate change has a number of real life-and-death consequences in our local communities," Dr. Lashof said. "As carbon pollution continues to grow, climate change is only going to increase the number of dangerously hot days each summer, leading to a dramatic increase in the number of lives lost."
Things are heating up quickly now. Last week the National Oceanic and Atmospheric Administration reported that the 12 months that ended on April 30 were the warmest 12 months in the United States since 1895 when recordkeeping began.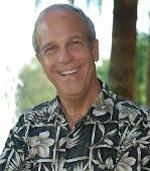 Dr. Larry Kalkstein (Photo courtesy U. Miami)
Dr. Kalkstein told reporters on a teleconference Wednesday that the dangers of heat-related deaths have been "understated."
"It is a well-established fact that when temperatures rise that will have a negative impact on human health," he said. "But heat is a silent killer" and a heat wave doesn't change the landscape as a flood or a tornado does, "so it can be more easily ignored."
Kalkstein said his figures do not include heart attacks and respiratory failure because medical examiners must show a core body temperature of 104 degrees to call it a heat-related death.
"Medical examerers cannot call these heat-related deaths or put that cause on a death certificate, although we've seen heart attacks and respiratory failures spike during heat waves," Kalkstein said.
"Most people can deal with a day or two of heat," he said, "it's when heat persists for longer and get more intense that people die."
Kalkstein says cities with variable temperatures are more at risk than cities with same temperature all the time such as Miami.
"Detroit is a perfect city for heat-related mortalities," he said. "It's comfortable through much of the summers, then we see heat spike up to 90 degrees. There's less air conditioning and a poorer population." These conditions all lead to more heat-related deaths.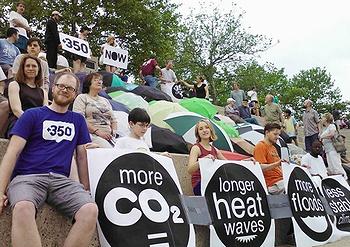 Cincinnatians sit beside the Ohio River, making connections between climate change and greenhouse gas emissions as part of the Connect the Dots worldwide climate action event, May 5, 2012 (Photo by 350.org)
Cities can take action to save lives during heat waves, Kalkstein says.
They can open air conditioned shelters whenever the National Weather Service calls an excess heat warning. They can set up a heat advice phone line where people feeling dizzy can call to find out what to do. They can increase staff in hospital emergency rooms.
Kalkstein points to Philadelphia as a model of how to cope with heat waves. Philly has taken all these actions and has volunteer block captains who go door to door asking people if they're doing OK, and serving as a contact person between authorities and residents. The city spends approximately $150,000 per summer on these measures, he said.
Dr. Kalkstein and his colleagues at the University of Miami's Synoptic Climatology Laboratory are working with the U.S. EPA to develop a standardized set of intervention measures for cities when heat emergencies are called. The newest project involves the development of a tool kit for cities to deal with warning issuance, intervention measures, stakeholder collaboration, and determining if procedures are saving lives during hot weather.
He is also working with the EPA to determine how many lives can be saved by his developed Heat Health Warning Systems under various climate change scenarios.
Dr. Lashof says the solution to these life and death issues is to limit heat-trapping greenhouse gas emissions from power plants and other sources, such as motor vehicles.
Currently, there is no uniform national limit on the amount of carbon pollution new power plants can emit.
Lashof is urging concerned citizens to attend the U.S. Environmental Protection Agency's public hearings today in Washington, DC and Chicago on the proposed carbon pollution standard for new power plants.
The EPA says, "The proposed standard, which only applies to power plants built in the future, is flexible and would help minimize carbon pollution through the deployment of the same types of modern technologies and steps that power companies are already taking to build the next generation of power plants."
Copyright Environment News Service (ENS) 2012. All rights reserved.