Climate Change Blamed for Record Mississippi Floods
WASHINGTON, DC, May 20, 2011 (ENS) – Human-induced climate change is contributing to the recent heavy rain and ongoing record flooding along the Mississippi River, and we can expect more extreme weather events in the future, according to scientists and adaptation experts on a teleconference held by the Union of Concerned Scientists.
"Climate change is about more than warming. What we're really seeing is global weirding," said climate scientist Katharine Hayhoe, associate professor at Texas Tech University. "It is altering the character and conditions of the places we know and love. For many places around the world, what we are likely to see could be feast or famine – more frequency of weather at the extremes, from intense storms to prolonged droughts."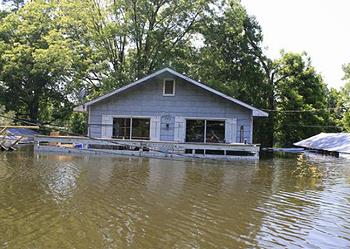 One of many flooded homes in Vicksburg, Mississippi, May 13, 2011 (Photo by Howard Greenblatt courtesy FEMA)
"We can't attribute any one event to climate change," she said, "but we do know that every event that happens is already superimposed on very different background conditions than we had 50 years ago."
Economic losses from natural disasters have soared from a global average of $25 billion annually during the 1980s to $130 billion a year during the decade ending in 2010, said Nikhil da Victoria Lobo, senior client manager in the Global Partnerships team at Swiss Re, an international reinsurance firm.
He told reporters that there's little doubt that "climate volatility was a major contributor," although he says it is impossible to estimate what percentage of losses were due to climate change.
Swiss Re is working with local governments around the world to help them bear less of the burden for costs associated with extreme weather. "We live in a world where rising budget deficits are being coupled with extreme weather events that further aggravate these financial burdens," he said. "However, insurance can put a price tag on climate risk, and help local governments more efficiently prepare for and finance what may happen."
Local governments must now determine what municipal infrastructure is vulnerable to future extreme weather and what capital investments will best protect residents and property.
Aaron Durnbaugh, Chicago's deputy commissioner for natural resources and water quality told reporters, "Chicago's sewers were installed over the past 150 years and it takes decades to replace this aging infrastructure under the best of conditions. Given our financial challenges, we just need to be sure that if we're replacing a sewer or adding green infrastructure, it's ready to handle the kind of rain events we're likely to see."
The pattern of rains and drought is set up by the La Niña – cold tropical Pacific sea surface temperatures – which influences the jet stream and the movement of storms across the United States.
These conditions shift precipitation, helping to drive extreme drought in Texas and Oklahoma while also contributing to extremely wet conditions in southern Missouri and the Ohio River Valley.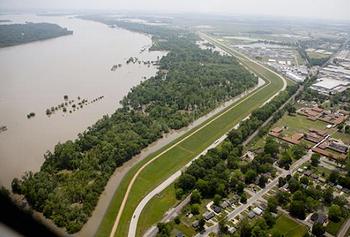 Large areas of Metropolitan Memphis and Shelby County, Tennessee were inundated by record flooding, but some levees held up, May 8, 2011 (Photo by Ed Edahl courtesy FEMA)
Additionally, a combination of natural factors and Arctic sea ice melt brought a relatively cold winter to much of the central United States, causing more precipitation to fall as snow, rather than rain, on the upper Midwest. Now that it is spring, that snow is melting and feeding into the Mississippi at the same time heavy rainfalls have occurred.
All these factors helped make April 2011 the 10th wettest on record in the United States, according to the National Climatic Data Center at the National Oceanic and Atmospheric Administration, which maintains records going back to 1894. Several states where rainfall drains into the Mississippi also experienced their wettest April on record.
In addition, human-induced climate changes continue to warm the Gulf of Mexico, the scientists observe.
Higher temperatures increase the amount of water that evaporates from the gulf's surface as well as the temperature of air that moves over the gulf, increasing the amount of water vapor it can hold.
At the same time, shifts in natural ocean currents are also contributing to higher temperatures in and over the gulf.
Natural atmospheric circulation patterns then carry water vapor over the gulf to North America. According to the NOAA's National Environmental Satellite, Data and Information Service, the Gulf of Mexico was nearly two degrees Fahrenheit hotter than average in late April when parts of the Midwest experienced intense downpours.
An upsurge in the number of heavy rainstorms has been triggered by an increase in moisture in the atmosphere, which, in turn, is tied to global warming, the Union of Concerned Scientists points out. Five states: Kentucky, Indiana, New York, Ohio and Pennsylvania, broke precipitation records in the three-month period between February and April this year.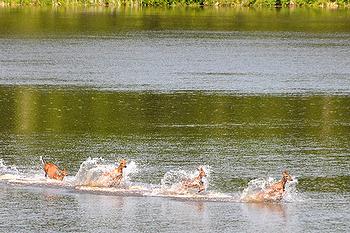 Enforcement agents from the Louisiana Department of Wildlife and Fisheries responding to flooding in Louisiana captured images of deer fleeing water that has displaced them from their habitats. May 17, 2011 (Photo courtesy LDWF)
Today, the Mississippi River crest is slowly working south. The U.S. Army Corps of Engineers continues to monitor the crest southward down the Mississippi River and continues flood fighting measures throughout the Mississippi River and tributaries, with increased focus on conditions in southern Louisiana.
New Orleans is expected to remain at near the current level for the next two weeks. The river is forecast to fall below flood stage on May 27.
In Louisiana, there are 16 of 125 gates currently open along the Morganza Floodway. The Corps says the release of water from the Morganza Spillway is moving slower than anticipated through the Atchafalaya River Basin.
Three hundred and thirty-three of 350 gates are open on the Bonnet Carre Spillway that empties the Mississippi River into Lake Pontchartrain and is anticipated to remain open for two to four weeks.
As the floodwaters spread across the land, approximately 3,900 residents may require sheltering and 22 shelters are on standby with the capacity to house over 8,200 occupants. The majority of residents are expected to stay with friends and family.
Thirty-four parishes across Louisiana have declared a Parish State of Emergency.
Planning and preparations are underway for evacuations downstream from the Morganza Spillway. Mandatory evacuations are in place for Krotz Springs and Melville communities outside of the ring levee in St. Landry Parish. Voluntary evacuations are in place for the remainder of the low lying areas in St. Landry Parish.
Mandatory evacuations will be issued for St. Martin Parish beginning on Saturday, emergency officials warn.
Copyright Environment News Service (ENS) 2011. All rights reserved.