Clean Air Groups Sue U.S. Government Over Haze in Parks
WASHINGTON, DC, January 21, 2011 (ENS) – Two coalitions of clear air advocates are taking legal action to compel federal agencies to fulfill their obligations to protect the nation's largest and most scenic national parks, wilderness areas, and wildlife refuges from haze pollution that reduces visibility.
The first of the two legal actions filed Wednesday is a formal notice of intent to sue that seeks to enforce the U.S. Environmental Protection Agency's obligation under the Clean Air Act.
The Act requires EPA to finalize state plans to substantially reduce haze pollution in all protected national parks, wilderness areas and wildlife refugees by January 15, 2011.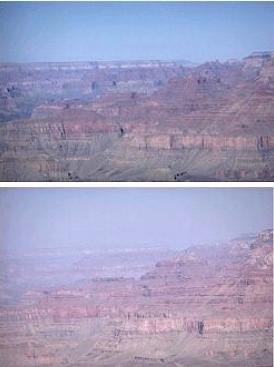 The same view of Grand Canyon National Park on a clear day, above, and on a hazy day (Photos courtesy U.S. EPA)
But the coalition of 10 nonprofit groups note that EPA has failed to finalize a single state's haze reduction plan, missing more than 50 regulatory deadlines.
"Every year, millions of visitors to our national parks and wilderness areas are unable to see the postcard views because they have been obscured by haze pollution," said attorney Stephanie Kodish, clean air counsel with the National Parks Conservation Association, NPCA.
"More than 30 years ago Congress committed to restore clean, clear air to America's most prized national parks and wilderness areas," said Kodish. "But EPA has repeatedly escaped its duty to regulate polluters by missing deadlines to develop and implement meaningful plans to reduce air pollution that makes people sick and skies look more like muddy water than the crystal-clear views they once were."
Environmental Defense Fund, Grand Canyon Trust, Montana Environmental Information Center, NPCA, Our Children's Earth, Plains Justice, Powder River Basin Resource Council, San Juan Citizens Alliance, Sierra Club and WildEarth Guardians are collaborating to bring this legal action.
"Americans go to national parks to breathe clean air, not choke on soot and smog," said attorney David Baron with the environmental law firm Earthjustice. "It's time for the states and the EPA to clean up the air in parks and wilderness areas as required by the Clean Air Act. Leaving our mountains and canyons buried under filthy haze is not an option."
In addition, a different coalition of 10 groups is filing an "unreasonable delay" lawsuit against the U.S. Department of the Interior, and the U.S. Department of Agriculture. Some groups are participating in both legal actions.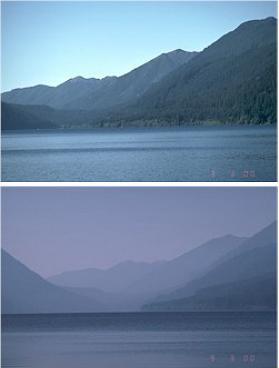 The same view of Olympic National Park on a clear day, top, and on a hazy day. (Photos courtesy U.S. EPA)
Center for Biological Diversity, Dooda (NO) Desert Rock, Grand Canyon Trust, NPCA, Northwest Environmental Defense Center, San Juan Citizens Alliance, Sierra Club, To Nizhoni Ani, Washington Wildlife Federation and WildEarth Guardians are plaintiffs in the unreasonable delay lawsuit.
This case challenges the failure by the federal agencies to find that pollution from Navajo Generating Station in Page, Arizona, TransAlta/Centralia power plant in Centralia, Washington, and Four Corners Power Plant in Fruitland, New Mexico harm air quality in Mesa Verde National Park in Colorado, Mount Rainier and Olympic National Parks in Washington, and Grand Canyon and Petrified Forest National Parks in Arizona.
These petitions ask the federal agencies to protect public lands by certifying that these large coal-fired power plants are causing haze pollution in the national parks.
"It is the Navajo people living near [the Four Corners coal-fired power plant] who suffer the effects of this pollution," said Elouise Brown, president of Dooda (No) Desert Rock – an organization of indigenous people working to protect people from the harm done by coal's pollution.
"This air pollution causes respiratory problems like asthma, emphysema and bronchitis, it aggravates heart disease and it damages lung tissue," said Brown. "The air we breathe has been polluted by coal-fired power plants for far too long."
"Our Rocky Mountain highs are increasingly under siege from haze, especially here in Colorado, yet it's a problem we can easily solve," said Jeremy Nichols, Climate and Energy Program director for WildEarth Guardians. "With sensible plans to limit air pollution, we can finally protect parks, people, and our cherished western landscape."
Bill Corcoran, western regional director for the Sierra Club's Beyond Coal campaign, said, "The same pollution that literally makes it difficult for people to see our priceless natural treasures also ends up in people's lungs. This is both harmful and preventable and we urge the EPA to act quickly to solve this problem."
Copyright Environment News Service (ENS) 2011. All rights reserved.