Clean Air Act Effective Finds Lung Association's 2012 Report
WASHINGTON, DC, April 25, 2012 (ENS) – The American Lung Association's annual State of the Air report, released today, finds that 18 of the 25 cities most polluted by smog, including Los Angeles, had their lowest smog levels since the first State of the Air report was published in 2000.
But despite improvements in some cities, in other areas the air quality got worse. State of the Air 2012 concludes that more than 40 percent of people in the United States still live in areas where air pollution threatens their health.
"State of the Air shows us that we're making real and steady progress in cutting dangerous pollution from the air we breathe," said Charles Connor, American Lung Association president and chief executive. "We owe this to the ongoing success of the Clean Air Act in cleaning up coal-fired power plants, diesel emissions and other pollution sources of deadly air pollution."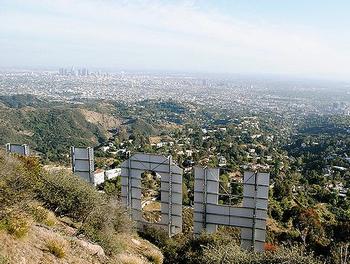 Los Angeles as seen from above the Hollywood sign, March 24, 2012 (Photo by Hannah S.)
"That's why we must continue to defend the Clean Air Act," said Connor. "The health of all Americans, and particularly children, whose lungs are still developing, is at stake."
Connor warns that big polluters and some members of Congress are now proposing changes to the law that would weaken Clean Air Act safeguards.
"Efforts to weaken this vital public health law pose real threats to our nation – especially the 127 million people who still live in areas with levels of ozone and/or particle pollution that are often dangerous to breathe," Connor said.
State of the Air 2012 report looks at levels of ozone and particle pollution found in official monitoring sites across the United States in 2008, 2009, and 2010. Connor says the report uses the most current quality-assured nationwide data available for these analyses.
The report ranks cities and counties for two of the most widespread types of air pollution – ozone, or smog, and particle pollution, or soot.
Los Angeles remained the city with the worst ozone pollution problem, but reported its fewest unhealthy ozone days since the State of the Air reports began.
For particle pollution, the report examines particulate matter (PM2.5) in two different ways: year-round averages and 24-hour short-term levels.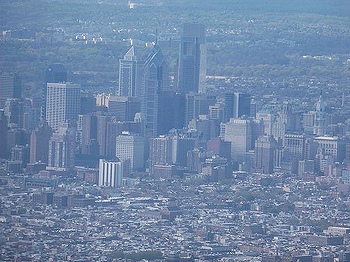 Philadelphia, Pennsylvania, April 12, 2012 (Photo by sftrajan)
The report finds that 17 of the 25 cities with the worst annual particle pollution recorded their lowest-ever levels, including Los Angeles, Pittsburgh and Cincinnati.
All but three cities with the most year-round particle pollution improved over the previous report. Philadelphia, Pennsylvania; Fairbanks, Alaska; and Columbus, Georgia each had worse average year-round levels in 2008-2010 than in 2007-2009.
Bakersfield, California remained the city with the highest year-round average levels of particle pollution.
Short-term particle pollution levels in four cities: Pittsburgh, San Diego, Philadelphia, and Visalia, California were the lowest since State of the Air reports began.
Four cities moved to the list of the most polluted cities this year despite having improved annual particle average levels because other cities made greater improvements. Those cities are: Wheeling, West Virginia; Fairmont, West Virginia; Atlanta, Georgia; and Davenport, Iowa.
Six cities that had previously been ranked among the most polluted this year improved enough to fall off the list: Detroit, Michigan; New York, New York; Lancaster, Pennsylvania; York, Pennsylvania; Modesto, California; and Knoxville, Tennessee. This report marks the first time Detroit and New York have been off the most polluted list.
Click here to see the report "State of the Air 2012."
Copyright Environment News Service (ENS) 2012. All rights reserved.