Civil Aviation Pact Cuts Climate Emissions from Aircraft
MONTREAL, Canada, October 13, 2010 (ENS) – A majority of the 190 governments belonging to the international body that oversees civil aviation have agreed to reduce greenhouse gas emissions from aircraft. The decision, taken Friday by the International Civil Aviation Organization, will cover 90 percent of worldwide air traffic.
The deal breaks a 10 year ICAO stalemate over greenhouse gases and marks the first time governments have agreed to reduce emissions from an individual economic sector.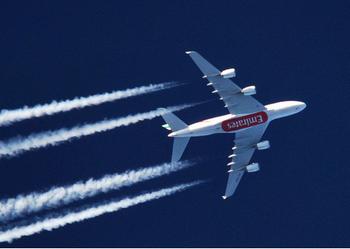 An Emirates Airbus 380 takes off from Chicago's O'Hare International Airport, October 11, 2010. (Photo by John Mulders)
The delegates adopted a comprehensive resolution to reduce the impact of aviation emissions on climate change. The agreement provides a roadmap for action through 2050 for the ICAO member states.
The governments agreed to cap greenhouse gas emissions from international aviation at 2020 levels, and to improve fuel efficiency by two percent annually to 2050.
The resolution was adopted with some states expressing reservations and calling upon the ICAO Council to continue its work on specific aspects of the agreement.
The agreement comes two months before climate negotiations are taken up by these same governments at the United Nations Framework Convention on Climate Change, UNFCCC, summit meeting in Cancun, Mexico.
Roberto Kobeh Gonzalez of Mexico, president of the ICAO Council, said, "We feel that the Assembly resolution and related decisions are good examples of the spirit of cooperation that can make a substantial contribution to the UNFCCC discussions."
"This agreement demonstrates what can be achieved when parties with divergent and even conflicting views are determined to progress towards results that are in the best interest of an industry as critical to the world economy as aviation," Kobeh observed.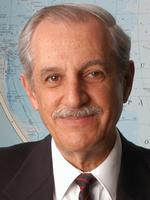 ICAO Council President Roberto Kobeh Gonzalez (Photo courtesy ICAO)
Additional new initiatives agreed at the ICAO meeting include the development of a framework for market-based measures, a feasibility study on the creation of a global plan for market-based measures and guiding principles for member states to use when designing and implementing market-based measures for international aviation. All these initiatives will be reviewed at the next Assembly in 2013.
Other features of the agreement include mechanisms for technology transfer to developing states and a requirement for states to submit to ICAO their action plans for reaching goals set by the ICAO Assembly.
The agreement includes assistance for states to meet their objectives and exemptions from market-based measures for states with very low emissions due to their small air traffic base.
The historic civil aviation climate change agreement builds on achievements since the last ICAO Assembly in 2007, which included a global goal of two percent annual fuel efficiency improvement up to the year 2050.
The 2007 ICAO meeting also approved a global framework for the development and deployment of sustainable alternative fuels for aviation, and a target date of 2013 for a carbon dioxide emissions standard for aircraft engines.
Europe played an instrumental role in securing this agreement and has taken the lead by including aviation in the EU Emissions Trading Scheme, which will start in 2012.
European Commission Vice-President Siim Kallas, who is responsible for Transport, and EU Commissioner Connie Hedegaard, who is responsible for Climate Action, welcomed the breakthrough, which came after almost a decade of deadlock at ICAO on how to address emissions from international aviation.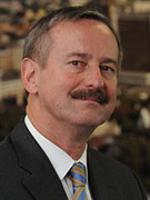 EC Vice-President Siim Kallas (Photo courtesy European Commission)
"This deal is very significant because at a global level, governments and the aviation industry, have for the first time agreed to cap greenhouse emissions from 2020," Kallas said. "It is the first time any transport sector has been able to reach this kind of global deal. This is a real breakthrough."
"There is a lot more work to be done, but this is a deal which is very good news for the aviation sector, good news for the environment and good for a more sustainable future," he said.
Hedegaard said, "The Resolution adopted expressly recognizes that aircraft emissions must be stabilized and that also big developing countries have a role to play in this regard. The goal is not as ambitious as Europe thinks it should be, but at the same time ICAO has recognized that some states may take more ambitious actions prior to 2020."
"Critically," she said, "the deal is a good basis for proceeding swiftly with the inclusion of aviation in the EU's Emissions Trading Scheme from 2012 as foreseen by the EU legislation in force."
The U.S. delegation, headed by Transportation Secretary Ray LaHood, joined by Secretary of Homeland Security Janet Napolitano and newly confirmed U.S. Permanent Representative to ICAO, Ambassador Duane Woerth, also welcomed the climate change agreement.
They said in a statement, "The United States welcomes the historic agreement today at the International Civil Aviation Organization on international aviation and climate change. ICAO recognized that further work is necessary to define the path forward on implementation and the United States affirmed its commitment to further efforts within ICAO."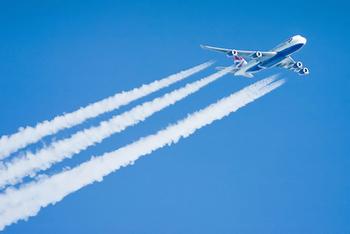 British Airways Boeing 747 somewhere over The Netherlands (Photo by Francois Roche)
The American public interest law firm Earthjustice in a statement today that the agreement is noteworthy but "the details are disappointing."
"Given likely advances in biofuels, satellite-based navigation, and aircraft design, a cap at 2020 emissions levels essentially locks in business as usual and allows another decade of increasing emissions," said Earthjustice attorney Sarah Burt.
The European Union's inclusion of aviation emissions into their Emissions Trading Scheme will make it more difficult for U.S. airlines to argue for an exemption to the European regulations, which go into force in 2012, said Burt.
A group of U.S. airlines filed suit in a British court in December objecting to the European rules. Earthjustice has intervened in support of the right of nations to take independent action to reduce greenhouse gas emissions when the international community has failed to act. The case has since been transferred to the European Court of Justice.
The international aviation agreement also bolsters claims brought by Earthjustice in U.S. federal court on behalf of a coalition of U.S. environmental groups.
That suit challenges the EPA's "unreasonable delay" in exercising its authority to regulate climate pollution from ships and aircraft under the Clean Air Act.
"Europe is showing admirable leadership by bringing aviation into its comprehensive plan to reduce greenhouse gas emissions," said Burt. "This reinforces our belief that strong domestic action can spur progress on the international front. It is now time for the U.S. to step up to the plate and support them with similar action."
The ICAO Assembly was attended by a record 1,588 participants from 176 member states and 40 international organizations involved in civil aviation.
A specialized agency of the United Nations, ICAO was created in 1944 to promote the safe and orderly development of international civil aviation throughout the world. It sets standards and regulations necessary for aviation safety, security, efficiency and regularity, as well as for aviation environmental protection.
Copyright Environment News Service (ENS) 2010. All rights reserved.
Environment News Service (ENS) © 2010 – 2012 All Rights Reserved.