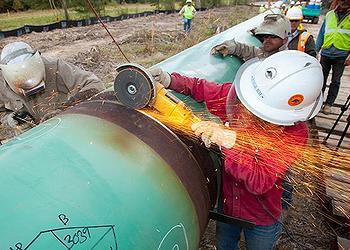 HOUSTON, Texas, January 22, 2014 (ENS) – Today, Texas residents picked up their cameras as the Canadian company TransCanada started operations on its new $2.3 billion pipeline carrying tar sands crude oil from Cushing, Oklahoma to refineries in Nederland, Texas. The Gulf Coast pipeline can initially transport 700,000 barrels of diluted bitumen per day and can be expanded to transport 830,000 barrels a day.
The 485-mile Gulf Coast Pipeline is the southern leg of what TransCanada proposes to be the much longer Keystone XL pipeline carrying tar sands crude in the form of diluted bitumen from northern Alberta to Texas.
While TransCanada President and CEO Russ Girling told reporters today it will be "the safest pipeline built in America to date," and it is "good for America," some communities along the route are up in arms.
They worry that leaks and spills will contaminate their land, water and air; and they are bringing legal action against TransCanada for appropriating their lands for the pipeline route without their consent and in violation of the law.
Today, citizens along the pipeline route launched a new oversight group, the Texas Pipeline Watch. They will equip landowners and citizens with cameras to document every spill, leak, and disturbance along a pipeline they see as rife with risk potential.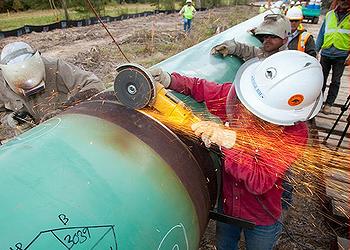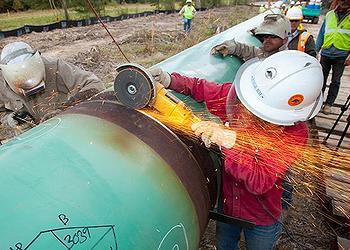 Problems have already emerged on the new 36-inch diameter pipeline. Just between the Sabine River and the Sulphur River in Texas, as many as 45 faulty welds, dents, sags and other issues with the pipeline have had to be fixed, according to one TransCanada vendor, Pegasus Universal, which provides engineering, project management and construction management services to the energy industry.
Texas Pipeline Watch warns that along one 250 mile stretch, there were 125 excavations to repair potential problems. Along one stretch of the pipeline, 48 percent of the welds were considered adequate, the group warns.
Landowners throughout East Texas have reported that the newly constructed pipeline, which has been buried for months, is being excavated and pipe is being cut out and replaced due to construction-related problems that affect the integrity of the pipeline.
Texas landowner Julia Trigg Crawford, who is suing TransCanada for taking her land for a pipeline right of way without her permission, spent this morning walking the pipeline section that was built across her land and creek. She says one such excavation occurred this week right across the road from her property in Direct, Texas.
"I want to know what's going across my land, what kind of oil," she said, "but there's no obligation for TransCanada to let anyone know what's being transported across their land. I'm concerned about my creek water."
"I will walk my land every day as I know other land owners will," said Trigg Crawford. "I stand with other Texas landowners; this will be the biggest neighborhood watch ever."
On January 9, Trigg Crawford and other Texas landowners and environmental advocates met with officials of the U.S. Department of Transportation Pipeline and Hazardous Materials Safety Administration in Houston. This agency has just 27 inspectors for the five-state Southwest Region that covers Arkansas, Louisiana, New Mexico, Oklahoma, and Texas.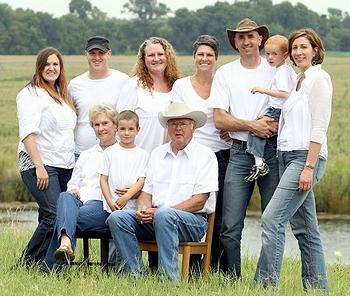 "They could not tell me whether or not any inspectors had been on my land," said Trigg Crawford, although TransCanada dug up 4,000 feet for the pipeline, drilling under artifacts and a waterway. "If they can't tell me if inspectors were ever there, that means the only inspectors were TransCanada inspectors, she said.
Texas anti-pipeline advocate Kathy DaSilva, founder of a local group called Backstop, was also at that PHMSA meeting. She told reporters on a teleconference today, "These are not minor incidents – rocks in the ditches that could cause large spills and inadequate support of the pipe, which is sagging. These conditions have never been corrected."
DaSilva said the group was told by Rodrick Seeley, regional director for the Pipeline Safety Office, that PHMSA has "faith" the problems were fixed and the pipeline is safe and ready to carry oil.
"We have faith that this pipeline is inadequate and is ready to leak," said DaSilva.
PHMSA cited hundreds of construction problems in two warning letters sent to TransCanada in September 2013, and landowners are not convinced that these defects have been addressed.
"This pipeline is all risk and no reward for Texans. It crosses 631 water bodies, and if it leaks could damage water supplies for millions of Texans," said Tom Smith, director of Texas Public Citizen, the local branch of the national nonprofit group Public Citizen.
"The federal pipeline regulator has failed to require TransCanada to retest the pipeline after they were required to make hundreds of repairs to make sure that the repairs worked. Given TransCanada's history, it's likely to leak. This pipeline won't offer any reward to Texas," said Smith.
TransCanada's original Keystone pipeline had 14 spills or leaks during its first 14 months of operation, Public Citizen said.
While TransCanada chief Girling made much of the thousands of jobs created by the pipeline work, Smith says few of those jobs were filled with Texas workers.
"Observers in northeast Texas report that most of workers' trucks on the pipeline were from out of state, leading us to question how many local jobs were really created," he said.
Bryan Parra, Texas Environmental Justice Advocacy Services youth coordinator, lives in Houston near the Ship Channel, where a concentration of toxic chemicals has caused and increase of leukemia in children living within two miles of this industrial corridor, according to a study by the city.
"On Wednesday, January 22, the southern leg of Keystone XL will begin to flow with the dirtiest of fossil fuels, bringing more toxic insults to low-income communities of color that already overburdened with disproportionate health impacts," said Parra. "Yet this pipeline that was fast-tracked by the Obama Administration will bring even more emissions of nitrogen dioxide, sulphur dioxide and fine particulate matter to our neighborhoods."
"I've been approached by police and the FBI for taking photos of a [natural gas] flaring event," Parra told reporters. "The police state runs much deeper and closer into the communities than most people realize. It has a silencing effect on the opposition."
Still, Parra said, "Communities living at the tail end of the pipeline remain committed to fight, and stand in solidarity with all impacted communities against the extraction, transmission and refining of tar sands."
But Alex Pourbaix, president of TransCanada's Energy and Oil Pipelines division, told reporters today that the safety aspects are "top prority" for the company. "Gulf Coast is the safest, most advanced pipeline bult in America."
The steel used in the pipes is high quality carbon steel designed to reduce corrosion and can bear the weight of a heavy excavator. The pipes are covered with the most advanced corrosion-resistant coating, which was designed to meet TransCanada standards, he said.
High-tech equipment monitors the pipeline 24/7, said Pourbaix, and the company can use remote control valves to "stop the flow of oil in minutes."
TransCanada promises on its website, "We will have the capability to respond at any location along the pipeline within six hours."
But that promise fails to reassure the landowners along the pipeline route. DaSilva said, "We became involved three and a half years ago when we hard about this pipeline that would be running through Nacogdoches County. We know from the spills of diluted bitumen in Kalamazoo, Michigan and Mayflower, Arkansas that you can't skim this oil off the top of the water. We have great concern about our water."
Copyright Environment News Service (ENS) 2014. All rights reserved.