Christchurch Quake Kills 75, Rescuers Race to Reach Trapped Office Workers
WELLINGTON, New Zealand, February 22, 2011 (ENS) – A severe earthquake hit Christchurch Tuesday afternoon, leaving a scene of "utter devastation," said a shocked New Zealand Prime Minister John Key, who rushed to the stricken city, where he grew up. "We may well be witnessing New Zealand's darkest day."
The government has declared a national state of emergency. Police have confirmed 75 fatalities at this point, 55 of whom have been identified. Rescue workers are still searching for survivors in the central business district, while many have been pulled out alive from the wreckage.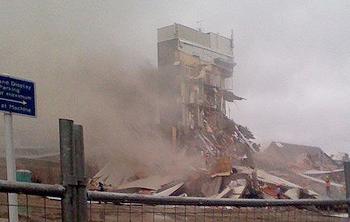 Earthquake damage in the Christchurch business district, February 22, 2011 (Photo by Hemant Parikh)
Tuesday's shallow 6.3 magnitude quake hit at 12:51 pm local time, breaking the spire of the city's signature stone cathedral, knocking out power and telephone services and bursting underground pipes, flooding the streets with muddy sludge. The surrounding Canterbury region also sustained damage from the temblor, the second major quake there in five months.
Since then, there have been 37 aftershocks greater than magnitude four, with many greater than magnitude five. Civil defence officials warn that aftershocks are likely to continue and this could lead to further building damage or collapse.
"I am a proud son of Christchurch," Prime Minister Key told reporters. "I was raised there, I got my first job there, my sister lives there, my mother died there, I know what a wonderful place it is. But my connection to Christchurch is no rare thing. All New Zealanders have a piece of our heart in Christchurch. All of our lives are touched by this event."
Police are urging people to stay out of the Christchurch central city business area and warn that rescue work is likely to take days to complete.
Christchurch Hospital is operational. An emergency operations center has been set up at Princess Margaret Hospital. Emergency triage centres for the injured are operating at Latimer Square, Canterbury University and the Sanitarium Building in Papanui.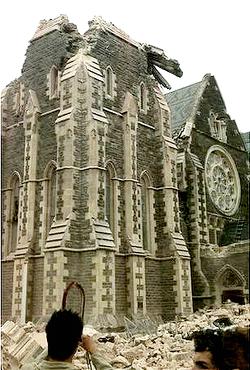 The ruins of Christchurch Cathedral, February 22, 2011 (Photo credit unknown)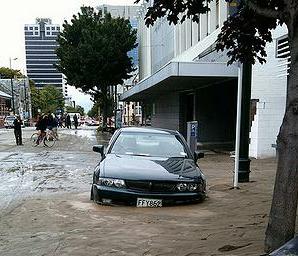 Flooded street in Christchurch, February 22, 2011 (Photo by Sharon Davis)
Other South Island hospitals have cleared capacity in anticipation of casualties from Christchurch, said English. In addition, Defence Force personnel are providing medical assistance around the city. Medical staff are being brought in from around New Zealand to assist.
Christchurch International Airport was initally closed but now is open for emergency flights only. The Air Force is providing transport for the emergency response, one Hercules and one Boeing are in Christchurch and a further Hercules and a Boeing are available.
The harbor is closed for at least 24 hours as some wharves have sustained serious damage.
New Zealand's second-largest city was still rebuilding from a more powerful 7.1 magnitude earthquake that struck on September 4, 2010, but caused no deaths.
The U.S. Geological Survey said Tuesday's quake was an aftershock from September's temblor. A strong aftershock in December caused further damage to buildings.
The New Zealand geological service GeoNet said the shaking intensity in Christchurch was much greater for this earthquake than that of last September because the epicentre was just 10 kilometers from the city and also due to the shallow depth of the quake, just seven kilometers beneath the surface.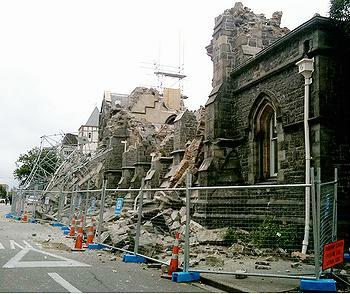 Earthquake damage on a Christchurch street (Photo by Sharon Davis)
To date, the government has accepted offers of assistance from Australia, the United States, Singapore, the United Kingdom, Japan and Taiwan.
A United States New Zealand Partnership Forum meeting in Christchurch February 20-22 had brought 120 leaders from both countries to the city. None of the forum delegates was injured in the quake.
Prime Minister Key addressed the Forum, which included former Prime Minister James Bolger and former Deputy Prime Minister Dr. Michael Cullen.
Extending condolences and sympathy on behalf of President Barack Obama and the people of the United States, Secretary of State Hillary Clinton, said, "When the earthquake struck, American and Kiwi officials were in the middle of a meeting in Christchurch, discussing plans to further develop and expand the broad partnership between our nations. The United States stands ready to provide assistance to the government of New Zealand and to the brave people of Christchurch. Our long history of friendship and mutual support in times of need is an example of our enduring bond."
Former U.S. Senator and Governor of Indiana Evan Bayh and former U.S. Trade Representative Ambassador Susan Schwab led the U.S. delegation to the Partnership Forum.
The largest group of Congressional representatives ever to visit New Zealand was part of the U.S. delegation. Led by Chairman Donald Manzullo of the Subcommittee on Asia-Pacific, House Foreign Affairs Committee, an Illinois Republican, the congressional group includes Representatives Dan Lungren (R), Kevin Brady (R), Gregory Meeks (D), Joe Crowley (D) and Rick Larsen (D), as well as Eni Faleomavaega (D) of American Samoa and Gregorio Sablan (D) of Commonwealth of the Northern Mariana Islands.
Manzullo said, "Having received the warm reception of the people of Christchurch at the Partnership Forum only hours before the earthquake struck makes this disaster all the more personal and poignant."
Copyright Environment News Service (ENS) 2011. All rights reserved.