Christchurch Death Toll Hits 154, New Zealand to Pause in Memory
WELLINGTON, New Zealand, February 28, 2011 (ENS) – The official death toll in the Christchurch earthquake has now risen to 154 and is expected to increase further. There have been 70 people rescued alive.
There are more than 240 people reported missing and unaccounted for in the worst-damaged sites in the city. Police say this number will include many, or all, of the fatalities. The identity of eight of the deceased has been publicly released.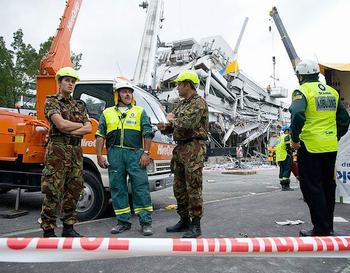 Much of the Christchurch central business district is cordoned off to protect the public, February 27, 2011. (Photo by World Armies)
The entire nation will pause at 12:51 pm March 1 local time to remember victims of the 6.3 magnitude quake that struck Christchurch exactly one week earlier 12.51pm on February 22.
Christchurch Mayor Bob Parker says it will be a hard day not just for the city, but for the whole country. Parker says people in Christchurch should not head into the central city to observe the silence, but do it from their homes.
"We're in traffic chaos to be honest, and our roads are in really bad condition and they're still lifelines," said the mayor.
In Wellington, a vigil will be held on the steps of parliament from 12.30 pm March 1, and two minutes' silence will be observed at 12.51pm. The service will be attended by the Governor-General Sir Anand Satyanand and Lady Satyanand, Deputy Prime Minister Bill English, church and faith representatives, parliamentarians and members of the Diplomatic Corps.
The vigil event will be open to the public to gather on the forecourt or grounds of parliament.
In Christchurch, work to identify the victims continues with help from disaster victim identification teams from Thailand, Israel and Australia working alongside those from New Zealand. Police say they are grateful for all assistance received. There are now more than 170 people involved in this work.
Aftershocks continue to rock the Christchurch area, with hundreds of quakes of magnitudes from 2.7 to 5.6 including 13 with magnitudes above 4.0. These lesser earthquakes make it dangerous to enter the Christchurch central business area and police have cordoned it off.
Yet police say they are receiving increasing numbers of reports of people entering buildings which have been declared unsafe and bear a red sticker.
"These buildings have a red sticker because they are dangerous and could collapse at any time," said Supt. Russell Gibson. "Under the Civil Defence Act, Police people have the power to remove people by force if necessary but we would prefer common sense to prevail."
"We are also very aware of a growing frustration by people who have cars within the central business district they want to retrieve, and businesses that they want to check on," said Supt. Gibson. "We understand these frustrations but the CBD is still fraught with danger and any access has to be controlled. At this stage our focus has to remain on the rescue operation."
Electricity provider Orion New Zealand says crews are likely to have restored power to 85 percent of customers in the Christchurch area by the end of the day Monday. The earthquake knocked out electricity to about 60 percent of area customers.
"More severe damage means it is a slower process to reconnect the remaining 29,000 customers in the eastern suburbs and the CBD," Orion said in a statement. "Some work is constrained by safety and safe access issues. This means the percentage increase day-by-day has now slowed down."
"We are very focused on trying to achieve our 95 percent reconnection target over the next six days. This target excludes customers who cannot be connected due to property damage, and also the parts of the CBD which are still off limits," the company said. "Unforeseen disruptions, further aftershocks or altered priorities may prevent us from achieving it."
Orion is asking area residents to conserve electricity, warning, "The power network is fragile."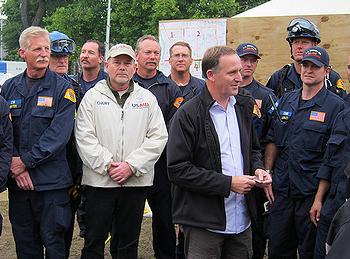 New Zealand Prime Minister John Key, front, visits the USAID Disaster Assistance Response Team base of operations in Christchurch, February 26, 2011. (Photo by T. Betz courtesy USAID)
Prime Minister John Key Sunday launched the Christchurch Earthquake Appeal, a global fundraiser for the recovery effort in the city and the Canterbury region.
"It's vital we reach as many people throughout the world as possible who want to help. This isn't just New Zealand's tragedy," he said. "The February 22 earthquake affected countless people internationally."
"Like all Cantabrians and fellow New Zealanders, I have been humbled by the offers of help and assistance pouring in from individuals, organisations and governments around the world. This new Appeal gives people another means of donating to the people of Christchurch and the recovery effort."
Prime Minister Key today announced a six week assistance package to provide immediate support for Christchurch businesses and workers affected by the earthquake. An earthquake support subsidy is intended to help employers keep paying wages. And earthquake job loss coverage is available to support employees whose employer believes their business is no longer viable.
"This package is a first step to help the people of Christchurch rebuild their lives and livelihoods. It is designed to get people through the next six weeks, as the government considers what measures will be needed in the medium-term," Key said today.
"We have made the support package as simple and pragmatic as possible, so that it can be delivered quickly and reach the people who urgently need it," he said. "This is about keeping people in jobs and supporting businesses through the next six weeks."
"There are some workplaces now operating in Christchurch, and I'd like to encourage people where possible to go back to work if they can," said the Prime Minister. "Where their workplace is safe and their family is safe, the biggest contribution people can make to their city's recovery is by going back to work."
Claims for damage to residential buildings, land and contents can be lodged by telephoning the Earthquake Commission at: 0800 DAMAGE (0800 326 243) or online here. Claimants have up to three months from the date of the event to lodge a claim.
Police are now receiving reports of people impersonating Earthquake Commission officials, telephoning residents and advising them they are eligible for an emergency grant – as long as they deposit $200 into a bank account. Police advise – "hang up!"
Copyright Environment News Service (ENS) 2011. All rights reserved.
Environment News Service (ENS) © 2011 – 2012 All Rights Reserved.