China Plans Environmental Healing in Three Gorges Region by 2020
BEIJING, China, May 18, 2011 (ENS) – The Chinese government has decided to curb environmental deterioration in the Three Gorges Dam region by 2020, according a government statement after a Cabinet meeting held Wednesday.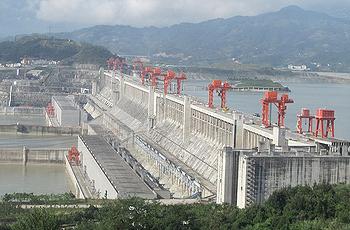 Three Gorges Dam, 2009 (Photo courtesy Wikipedia)
A statement released after an executive meeting of the State Council presided over by Premier Wen Jiabao says the government will "properly handle the negative effects brought by the project to the middle and lower reaches of the Yangtze River and improve the long-term mechanisms for geological disaster prevention."
At the meeting, the government pledged to "stick to the principle of putting people first and promoting sustainable development in post-construction work."
The State Council stressed the need to "curb water pollution in the middle and lower reaches of the Yangtze River," which affects eight provinces with an area of 633,000 square kilometers. The area is also the nation's most densely populated, which means significant environmental pressure.
According to the statement, efforts should be made to increase oversight and control of the water pollution to ensure the safety of the drinking water.
The government will also increase efforts to preserve the environment and promote biological diversity in the areas impacted by the world's largest hydro-power complex, according to the statement.
The main body of the Three Gorges Dam, which is located in the town of Sandouping in central China's Hubei Province, was completed in May 2006 after 17 years of construction.
The project has played a significant role in flood prevention, power generation, shipping and water resources use, the statement said.
While at the same time, efforts are needed to address some problems concerning the wellbeing of relocated residents, environmental protection, and geological disaster prevention, all of which should be solved urgently, it states.
The statement pointed out the project's impact on shipping and irrigation and water supply in the middle and lower reaches of the Yangtze River.
For years the Chinese government dismissed warnings from scientists and environmentalists that the Three Gorges Dam could become one of China's biggest environmental problems.
Then in 2007 Chinese officials acknowledged for the first time that the dam, constructed in an area crossed by geologic fault lines, could be triggering landslides and altering entire ecosystems.
Landslides, silting, and erosion above the dam are creating environmental and safety hazards that cannot be ignored, Wang Xiaofeng, director of the State Council Three Gorges Construction Committee, was quoted as saying in October 2007. "We cannot exchange environmental destruction for short-term economic gain," he said.
Copyright Environment News Service (ENS) 2011. All rights reserved.