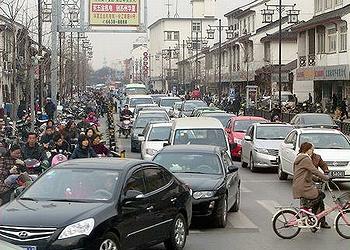 WASHINGTON, DC, April 9, 2013 (ENS) – The World Bank has approved a grant to China of more than US$18 million to support the government's efforts to ease traffic congestion and cut greenhouse gas emissions in large cities.
Private car ownership and usage are rapidly increasing in China, plunging many large Chinese cities deep into clouds of polluted air and greenhouse gas emissions, made worse by growing traffic congestion.
The grant from the Global Environment Facility's Large City Congestion and Carbon Reduction Project aims to help China address these issues by establishing a policy framework to reduce traffic congestion and greenhouse gas emissions in these large cities.
"The project seeks to reduce greenhouse gas emissions through improved bus speeds and modal shifts to public and non-motorized transport in the three pilot cities," said Liu Zhi, World Bank lead infrastructure specialist.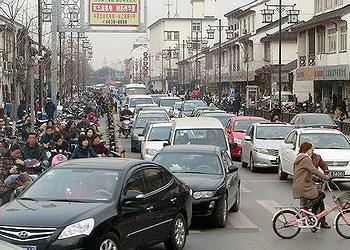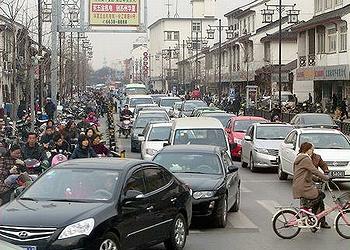 At the city level, the project will support pilot demonstration of innovative approaches to improve public transport:
Suzhou in Jiangsu Province, located 80 kilometers west of Shanghai on the lower reaches of the Yangtze River, is one of the most famous historic and cultural cities in China attracting many tourists. Here, the project will focus on purchase of clean-energy buses, construction of an information service system for transit riders, assessment of express bus lines, development of concept design of bus lanes and preparation of environmental management plans, and associated traffic demand management studies.
In the comprehensive transport hub of Chengdu in southwestern China's Sichuan Province, the project will focus on upgrading of the traffic control system, improvement of access to bus stops, use of information technologies for traffic demand management, and pilot implementation of a parking policy. Engineers will also do pilot projects on junction channelization, which employs the use of secondary roads to separate some traffic flows from the main traffic lanes.
In the manufacturing center of Harbin in northeastern China's Heilongjiang Province, the project will focus on construction of a bus priority lane, upgrading of the existing public transport dispatch center, taxi management and data center, traffic demand management and traffic impact studies, and pilot implementation of parking management systems.
All three are among the largest Chinese cities, each with a population of over 10 million that is still growing rapidly.
Despite major investments in urban public transport in recent years, the overall level and quality of public transport services in these cities remains inadequate. Public transport suffers from poor coverage, accessibility and comfort, low speeds and reliability, and inconvenient and costly transfers.
It is not by any means the preferred mode of transport for urban residents who have a choice in any of these cities. As the quality of public transport declines with growing traffic congestion, the relative attractiveness of private cars increases. Congestion also increases the cost of providing even basic public transport services, creating pressure for even further reductions in service quality and quantity.
A major objective of the project is to demonstrate how to reverse this "vicious cycle."
"We expect to see further benefits in other Chinese cities through replication of the successful pilot actions that would be supported by central policy, strategy and technical guidelines developed under the project," said Liu.
At the national level, the project will provide technical advisory services to the Ministry of Transport for the development of policy, strategy and technical guidelines for sustainable urban transport.
In November 2009, the government of China announced the national target of reducing carbon intensity – defined as the amount of greenhouse gases emitted per unit of GDP – by 40-45 percent by 2020, compared to the levels in 2005.
The GEF project is planned for the benefit of transport users in the three pilot cities through establishment of a national public transport database that is expected to improve public transport services, reduce traffic congestion, and improve air quality.
Established in 1991, the Global Environment Facility is today the largest funder of projects to improve the global environment. It provides grants to developing countries and countries in transition for projects related to biodiversity, climate change, international waters, land degradation, the ozone layer, and persistent organic pollutants.
Copyright Environment News Service (ENS) 2013. All rights reserved.