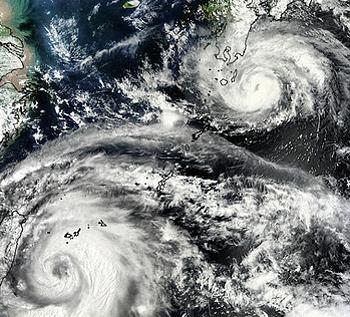 BEIJING, China, August 7, 2012 (ENS) – China is facing its third typhoon in a single week, as Haikui strengthened from a tropical storm on Sunday into a typhoon on Monday afternoon.
"Within seven days our nation may be hit successively by three typhoons, the first time such circumstances have arisen since records have been taken," Minister of Water Resources Chen Lei said in a statement.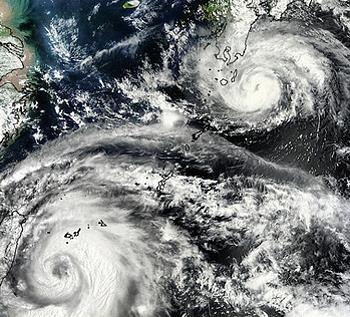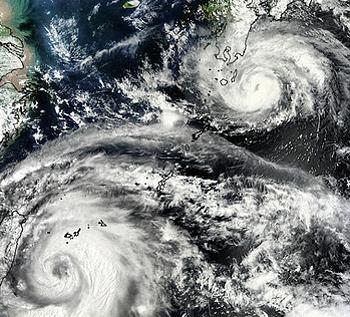 "We are still dealing with the impact of Typhoons Saola and Damrey and now Typhoon Haikui is heading towards us," he said.
At least 14 people are confirmed dead and five others are missing after typhoons Damrey and Saola blasted across China's eastern coast over the weekend, authorities said Monday.
Now Typhoon Haikui is approaching East China's Zhejiang province, heading for a stretch of coastline just south of the 23 million people living in Shanghai, the world's largest city.
On Tuesday morning the center of Typhoon Haikui was located in the East China Sea, about 330 kilometers southeast of Shanghai.
Haikui is forecast to move west by north to northwest at a speed of 10-15 kilometers per hour, gaining intensity, and make landfall in the low-lying coastal area between Zhoushan and Yuhuan on Tuesday night or Wednesday morning, according to the China Meteorological Administration, CMA.
CMA Administrator Zheng Guoguang signed an order Tuesday morning to upgrade the emergency response level for Typhoon Haikui from Level III to Level II.
The heavy rains of Typhoon Haikui are forecast to hit Shanghai and Zhejiang, Anhui, Fujian and Jiangsu provinces over next three days, the CMA warns.
Wind speed may reach 108 to 119 kilometers per hour (67 to 74 miles per hour) as the center of the storm moves across the coast.
Shanghai is expected to be pummeled by Haikui's rains from Tuesday to Thursday, with heavy rain in some areas, said Yao Jianqun, deputy director of the Shanghai Central Meteorological Station.
The Shanghai Railway Bureau has decided to suspend the sale of train tickets of the Ningbo-Taizhou-Wenzhou Railway along the southeast coast on Wednesday in order to ensure the safety of passengers.
Frequent typhoons have lashed the country since mid-July said Chen, but with Typhoon Haikui the record is being broken.
"It is the first time that the country will have been hit by three typhoons one after another within seven days," said the minister, who is also deputy commander-in-chief of the State Flood Control and Drought Relief Headquarters.
The country's flood control capacity is being challenged by the frequent fierce storms.
More than 1.24 million people were evacuated from areas in seven provinces and five people were missing after Typhoons Saola and Damrey battered the coastline from Thursday, according to China's state news agency, Xinhua.
Typhoon Damrey made landfall near Xiangshui county in east China's Jiangsu Province on August 2. In the northeastern province of Liaoning, nearly 1.46 million people were deluged by heavy rains and floods. More than 10,000 houses collapsed and about 17,000 houses were damaged, forcing 138,000 people to evacuate.
In neighboring Hebei province, about 2.33 million people were affected by Damrey; 9,400 houses were destroyed by flooding.
Damrey was the strongest tropical cyclone to affect the area north of the Yangtze River since 1949.
The death toll from Typhoon Saola rose on Friday to 44 in the Philippines and Taiwan, but Saola weakened to a tropical storm before making landfall on Friday morning in China's southeastern province of Fujian with winds of 90 kph (56 mph) at the center, China's official Xinhua news agency reported.
The Philippines recorded 39 deaths in floods and accidents caused by Saola's pounding rains and strong winds, said the Office of Civil Defence.
China's weather forecasters say new tropical cyclones are forming that will continue to challenge the country's flood control capacity over the next several days.
Copyright Environment News Service (ENS) 2012. All rights reserved.
Environment News Service (ENS) © 2012 All Rights Reserved.