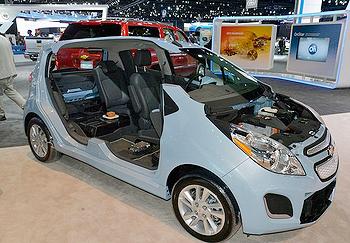 LOS ANGELES, California, November 30, 2012 (ENS) – Chevrolet's first pure electric vehicle, the Spark EV, was unveiled Wednesday at the Los Angeles Auto Show.
Executive Chief Engineer for Electrified Vehicles Pam Fletcher told media assembled at the Los Angeles Convention Center, "It's a fun city car with all the benefits of an electric car – including HOV lane access here in California… the Federal tax credits… plus it's a spirited, fun-to-drive car with really great performance…and an electric range that's among the best in its class."
The electrified version of Chevy's gasoline-powered Spark "also benefits from the technologies and experience of its big brother, the Chevrolet Volt," Fletcher said. "The engineering team was able to reduce development time and cost by using many of the same components and systems from the Volt."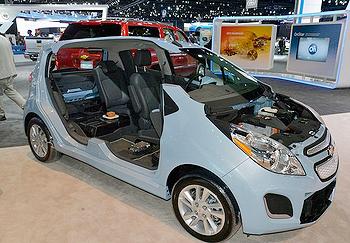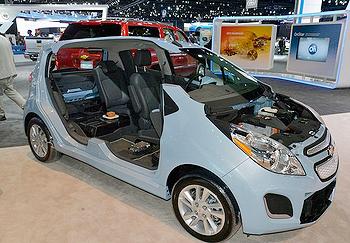 But unlike the Volt, which is a hybrid, the Spark EV draws its power from an advanced lithium-ion battery pack, rated at more than 20 kWh.
The electric drive unit was designed by General Motors and will be built in the GM Baltimore, Maryland transmission plant starting in early 2013.
Spark EV's driving force is an oil-cooled, permanent magnet motor that enables the car to produce an estimated 100 kW or 130 horsepower of peak power with instantaneous torque of 400 pound-feet.
Fletcher said, "That's more torque than the Porsche 911 and Ferrari 458 Italia. So you can see how it translates into quick acceleration, going from 0-60 in under eight seconds! That easily beats the Nissan Leaf," she said, "and makes you look for a reason to take it out for a drive."
Drivers can charge the Spark's battery on a standard 120-volt household outlet, or on a dedicated 240-volt charger.
Spark EV will be the first vehicle on the market to use the new SAE combo charger for DC Fast Charging, said Fletcher. "Available soon after launch, the DC Fast-Charge allows for an 80 percent charge in just 20 minutes – not much longer than it takes to fill up a regular Spark at a gas station."
The Spark EV incorporates Siri, Apple's voice assistant feature for the iPhone, iPad and iPod Touch. Chevrolet said the Spark EV works with iPhone 5 and iPhone 4S devices to integrate Siri through the car's MyLink radio feature.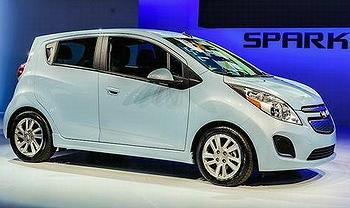 The Spark EV has two seven-inch LCD screens used to display the vehicle's functions.
"When our team set out to develop the propulsion system for Spark EV, we knew we had to provide surprising fun-to-drive acceleration with maximum efficiency," said Spark EV Chief Engineer Chuck Russell.
"What we think customers will enjoy most is how fun Spark EV is to drive; it's seamless and power is available at every stage of the drive," Russell said. "This will help us to provide an exciting option for those customers who are looking for an EV that's as much fun to drive as it is environmentally responsible."
Chevrolet will be selling the Spark EV in California starting this summer. The new EV also will be available in Oregon, and in South Korea, Canada and other global markets to be announced.
Fletcher said, "The Spark EV represents another step in Chevrolet's plan to provide a variety of solutions to address the lifestyle and transportation needs of customers here in California and around the world."
The Los Angeles Auto Show, the first major auto show of the season,opened to the public today and will run through December 9 at the Los Angeles Convention Center.
Copyright Environment News Service (ENS) 2012. All rights reserved.