Chevron Appeals Pollution Ruling to Ecuador National Court, Arbitration Panel
QUITO, Ecuador, February 6, 2012 (ENS) – The world's second largest oil company, Chevron Corporation, has filed an appeal seeking review by Ecuador's National Court of Justice of local and appellate court decisions holding the company liable for $18 billion for pollution of the Ecuadorian Amazon by Texaco Petroleum from 1964 to 1992.
Based in San Ramon, California, Chevron Corporation merged with Texaco Petroleum's parent company, Texaco in 2001 to form ChevronTexaco, Inc. In 2005, ChevronTexaco changed its name back to Chevron Corporation.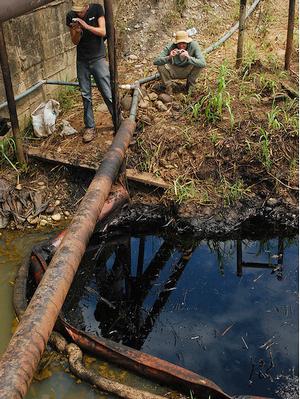 An unsuccessful attempt at contaning oil contamination in Lago Agrio (Photo by newmy51)
Chevron's appeal, called a petition for cassation, alleges that the lower courts violated the Ecuadorian constitution by refusing to take corrective action in response to "the extensive fraud and corruption committed by plaintiffs' lawyers and their representatives."
Chevron alleges that the lower court's judgment is unlawfully premised on fraudulent and scientifically baseless evidence; that the judgment ignores the releases of liability granted to Texaco Petroleum Co. by the government of Ecuador following a cleanup of Tex Pet's share of remediation sites in the 1990s; and that the judgment awarded punitive and other damages never requested in the plaintiffs' complaint and not allowed under Ecuadorian law.
"Throughout the course of this litigation, judges corruptly operating in concert with the plaintiffs' lawyers have created, rather than corrected, injustice," said Hewitt Pate, Chevron vice president and general counsel. "Today's appeal gives the National Court of Justice an opportunity to correct the grave injustices that have occurred in this case."
In addition, Chevron has served the government of Ecuador with a notice of arbitration for alleged breaches of the United States-Ecuador Bilateral Investment Treaty.
On February 11, Chevron will ask a panel of three private lawyers named as "arbitrators" under the Bilateral Investment Treaty to nullify the lengthy Ecuadorian court process that a year ago found the company liable for an $18 billion cleanup of Amazon land and waters.
Pablo Fajardo, the lead attorney for the approximately 30,000 Ecuadorian plaintiffs, wrote in a January 24 letter to Ecuador's Attorney General Diego Garcia Carrion, that such a move violates international law, Ecuador's own laws and Ecuador's separation of powers doctrine.
Chevron is asking the three-member arbitration panel, which meets in secret and refuses to let the Ecuadorian plaintiffs appear:
to order the Republic of Ecuador to decree that the judgment is not enforceable until the private arbitral panel has completed its process or there is a judgment of the National Court of Justice
to order the sovereign courts of Ecuador to affirm that Chevron does not have to request or post a cassation appeal bond per the usual requirements of Ecuadorian law
to order Ecuador to pay the cassation appeal bond in Chevron's place; or
to order Ecuador to mandate the affected communities and their representatives not take steps to enforce the judgment.
Fajardo says, "Chevron's annual revenues, roughly $240 billion in 2011, are five times the GDP of Ecuador, but that has not stopped the oil giant from seeking a private arbitration to force Ecuadorian taxpayers to foot the bill for the cleanup costs of the environmental disaster that the oil giant created in the South American nation."
After eight years of litigation, in February 2011, Ecuadorian Judge Nicholas Zambrano in Lago Agrio found that Texaco Petroleum had deliberately discharged more than 16 billion gallons of toxic "water of formation" into Amazon waterways.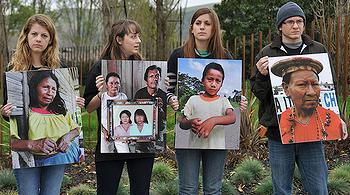 Demonstrators hold photos of Ecuadorian victims of oil pollution in front of Chevron's California headquarters, February 11, 2011 (Photo by Rainforest Action Network)
The toxic water poisoned rivers and streams used by local inhabitants for drinking water, harmed indigenous groups and caused a steep increase in rates of cancer and birth defects, among other health problems, Judge Zambrano found.
The judge ordered Chevron to pay $8.6 billion in damages and $860 million in attorneys' fees, and issue a public apology or pay an additional $8.6 billion penalty.
An Ecuadorian appellate court affirmed the decision on January 3, 2012.
Chevron has refused to pay, citing corruption and collusion between the Ecuadorian courts and the plaintiffs, which made a fair trial impossible. Chevron executives have vowed never to pay, despite having promised U.S. courts that the company would abide by rulings of the Ecuadorian judicial system as a condition of moving the trial to Ecuador in 2002.
"We now have a situation where Chevron, one of the wealthiest corporations in the world, is seeking the same type of taxpayer-funded bailout in Ecuador that distressed companies like AIG and General Motors secured in the United States during the financial crisis," said Fajardo. "This would be grossly unfair."
The per capita income in Ecuador is only $4,000 per year, and the cost of cleanup for each adult Ecuadorian would amount to a one-time $1,200 tax, according to Fajardo.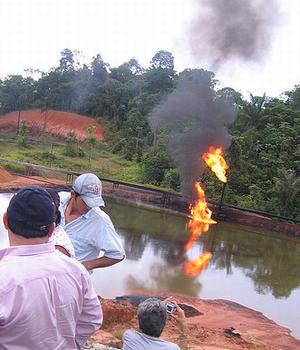 Oil fire on a lake polluted by Texaco in the upper Amazon basin, Oriente Province, Ecuador (Photo by Michael Dorsey)
An international law jurist from Peru has issued a letter to UN Secretary-General Ban Ki-moon, asking for a review of Chevron's "egregious misuse" of the investment treaty to evade its $18 billion liability in Ecuador, according to a letter released to thousands of arbitration specialists around the globe.
Jose Daniel Amado, a specialist in international arbitration, told the secretary-general that Chevron's latest attempt to deny the legal claims of the rainforest communities, "stands in direct violation of international law" and would "quash" the fundamental human rights of the 30,000 Ecuadorian citizens who initially brought suit against Chevron in the United States in 1993.
"Chevron has constructed what appears to be a calculated plan to manipulate a commercial investment dispute system to evade the outcome of a private litigation," wrote Amado, who has served as a consultant to the Ecuadorian plaintiffs.
Chevron is attempting the arbitration panel gambit after losing its case not only in the two Ecuadorian courts but also losing in the U.S. Court of Appeals for the Second Circuit in New York on January 26.
Craig Smyser of Smyser Kaplan & Veselka in Houston, an attorney for the Ecuadorians, called the Second Circuit ruling "a remarkable victory."
"That court rejected Chevron's efforts to declare the Ecuadorian judgment invalid and unenforceable and instead ordered the New York trial court to dismiss Chevron's claim for injunctive and declarative relief in its entirety," said Smyser.
"For 18 years, the Ecuadorians have sought vindication for Chevron's pollution of their land, rivers, and lives with toxic wastes as a result of Chevron's substandard drilling practices that would not have been permitted in the United States," Smyser said. "Instead of confronting its environmental despoliation, Chevron has engaged in an international smear campaign of lawyer and court bashing."
Copyright Environment News Service (ENS) 2012. All rights reserved.