Chambers Reinstated as Chief of the U.S. Park Police
WASHINGTON, DC, January 21, 2011 (ENS) – More than seven years after she was fired as Chief of the United States Park Police for giving and interview to a reporter revealing low staffing levels at parks, Teresa Chambers has been vindicated. All administrative charges against her have been dismissed by the Merit Systems Protection Board, which ordered that she be reinstated as Chief.
In its January 11 ruling, the Board ordered the Department of the Interior to pay Chambers all back pay, with interest, and other benefits under the Office of Personnel Management's regulations, within 60 calendar days and invited Chambers to file a motion for attorneys' fees and related expenses.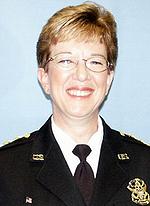 U.S. Park Police Chief Teresa Chambers (Photo courtesy Honest Chief)
"It is a tremendous honor to return to the United States Park Police and to work alongside the men and women of that organization who have the privilege of serving the law enforcement profession while also serving our country," said Chambers today.
The decision ended a long legal drama that revolved around whether federal civil servants could be fired for telling the truth. Chambers always maintained her innocence, keeping the public informed on her website, Honest Chief.
Days after speaking to a "Washington Post" reporter about low staffing levels at parks in the nation's capital, Chief Chambers, a 25 year veteran of the force, received a notice proposing her termination. On December 9, 2003, then Deputy Park Service Director Donald Murphy asked Chambers to surrender her gun and badge, placed her on administrative leave and ordered her not to speak any further with the media.
Since her legal challenge to her termination began, Chief Chambers has won two consecutive appeals before the Court of Appeals for the Federal Circuit, and following the Merit Systems Protection Board's ruling she will be reinstated effective January 31.
"This is a wonderful ruling, not only for Chief Chambers but for thousands who believe that honesty is part of public service," said attorney Paula Dinerstein with the nonprofit Public Employees for Environmental Responsibility, who argued the appeals for Chief Chambers. "The wheels of justice turn slowly but eventually they do turn."
PEER said in a statement after the Board's ruling, "Bush political appointees in the National Park Service and its parent agency, the Interior Department, cooked up a series of administrative charges against Chief Chambers. After leaving her on administrative leave for several months under orders not to speak to the media, Interior finally decided to terminate Chief Chambers in July 2004."
In April 2004, the National Park Service directed its superintendents to apply for prior approval before they depart from "talking points" provided to them on controversial issues, according to internal emails made public by PEER.
The long list of official talking points was unrelentingly positive about the Bush administration's handling of parks, despite bipartisan calls in Congress and requests by environmental groups for more funding to handle a multi-million dollar maintenance backlog.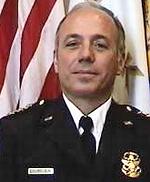 U.S. Park Police Chief Sal Lauro (Photo courtesy NPS)
Today, Secretary of the Interior Ken Salazar welcomed Chambers back to the Park Police force and said the current chief, Sal Lauro, will become a senior advisor on law enforcement activities and programs throughout the Department of the Interior.
Chief Lauro and Kim Thorsen, the deputy assistant secretary for law enforcement, security and emergency management will launch a comprehensive review of all aspects of law enforcement and will provide recommendations to the secretary, assistant secretary, and bureau heads on how to strengthen law enforcement.
"Chief Lauro has led the Park Police on a positive and ambitious agenda over the last two years," said Salazar, "and I look forward to Teresa Chambers continuing to advance that agenda."
The U.S. Park Police is the oldest uniformed constabulary in federal service, established in 1791 by President George Washington. It is now a force of more than 600 officers providing law enforcement services to areas within the National Park Service, primarily in Washington, DC, New York City and San Francisco.
"From strengthening security at the Statue of Liberty without diminishing the visitor experience, to serving as a strong, steady, and innovative leader for the force, Chief Lauro has charted the right course for the Park Police," said Jon Jarvis, the Director of the National Park Service. "I look forward to working with Teresa Chambers as she returns to the National Park Service and to continuing to advance down the path of progress that we are on."
"Each day, as part of the National Park Service, these officers, along with law enforcement rangers, walk through the pages of history as they protect and secure our national monuments and parks and those who visit them," Chambers said today. "I look forward to assisting Director Jarvis and the entire National Park Service team in continuing their fine record of service."
Copyright Environment News Service (ENS) 2011. All rights reserved.