NEW YORK, New York, February 10, 2010 (ENS) – The Natural Resources Defense Council Tuesday announced its endorsement of the first certification program for electronics recycling. The new e-Stewards Certification relies on independent, third-party auditors to verify safe and ethical disposal of the hundreds of tons of unwanted electronics discarded every year in North America.
Created jointly by the environmental community and business leaders, the new e-Stewards Certification and Standard is held by the nonprofit Basel Action Network.
"NRDC recognized that we have finally created a principled yet practical solution to e-waste recycling that environmentalists, businesses and consumers can all embrace," said Jim Puckett, executive director of the Basel Action Network. "We are thrilled to receive NRDC's coveted endorsement in the lead-up to our global launch.
The first companies to receive e-Steward Enterprise designations as well as the first Certified e-Steward recyclers will be announced in March.
These e-Stewards are North American electronics recyclers and asset managers who have been qualified as upholding the highest standard of environmental and social responsibility.
By March 1, accredited certifying bodies will independently assure conformity to the e-Stewards Standard. The criteria include no toxic e-waste dumped in landfills or incinerators, exported to developing countries, or sent to prison labor operations and accountability for the entire recycling chain of toxic materials.
The e-Stewards Standard is seen as an effective way to control the flood of hazardous old computers, TVs, monitors and other electronic waste shipped to developing countries for dismantling.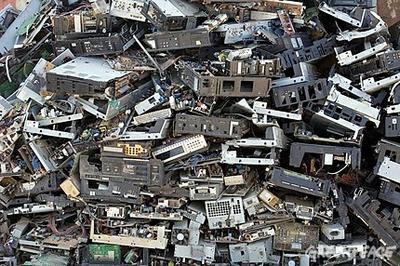 A pile of electronic waste on a roadside in Guiyu, China. February 6, 2010 (Photo by Virtual Chuck)
"This initiative is sorely needed," said NRDC senior scientist Dr. Allen Hershkowitz. "Many e-waste recyclers claim to be green, but in reality they rely on unsafe and ecologically damaging methods like dumping millions of tons of toxic waste each year in China, India and Africa. E-Stewards provide businesses and consumers with a first-of-a-kind seal to identify the truly responsible recyclers."
Electronic equipment contains toxics such as mercury, lead, cadmium, arsenic, beryllium, and brominated flame retardants. When burned, even more dangerous toxics can be formed such as dioxins and polycyclic aromatic hydrocarbons that can cause cancer and birth defects.
While there is some gold and platinum in obsolete electronics, there is not enough to cover the costs of responsibly managing it in developed countries. For this reason, it is exported to countries where workers are paid low wages and the infrastructure and legal framework is too weak to protect the environment, workers and communities.
The Basel Action Network explains that sending equipment and parts for reuse is "an important solution" that can be abused by falsely labeling scrap as reusable or repairable equipment. Often this scrap equipment ends up getting dumped in countries lacking any infrastructure to properly manage it.
The NRDC and Basel Action Network are calling on all electronics recyclers to become e-Steward Certified recyclers.
They are asking all businesses to become designated "e-Steward Enterprises" by agreeing to give priority to e-Steward recyclers for their old electronic assets.
The e-Stewards Certification and Standard program will feature an ANSI-ASQ National Accreditation Board certification system with third-party auditing. The funding to create the certification program was provided by the 14 recycling companies designated as e-Steward Founders.
The e-Steward Founders are Boliden AB, California Electronic Asset Recovery, Cascade Asset Management, ECS Refining, Electronic Recyclers International, GreenCitizen, Hesstech, Metech, Redemtech, RELectronics, the Surplus Exchange, Total Reclaim, Waste Management Recycle America, andWeRecycle!.
"Currently, the truly responsible recyclers in the U.S. and Canada face unfair competition from the thousands of unethical, so-called 'waste recyclers' in North America that would more accurately be called waste shippers," said Neil Peters-Michaud of e-Steward Founder, Cascade Asset Management.
"We strongly support a certified, audited program to separate the legitimate recyclers from the low-road operators," he said. "We urge consumers and businesses to only use qualified e-Stewards and thus make sure that their old electronics are being safely recycled here at home."
Already there are about 50 recyclers that are considered "Pledged e-Stewards." Some of the largest electronics recyclers in North America, these companies have been vetted by Basel Action Network and are licensed and committed to becoming certified within the next 18 months. Click here for a list.
Copyright Environment News Service (ENS) 2010. All rights reserved.
Environment News Service (ENS) © 2010 – 2013 All Rights Reserved.