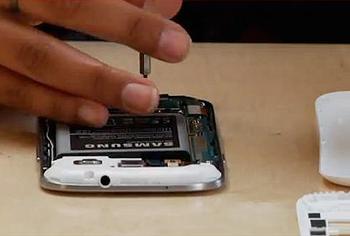 ANN ARBOR, Michigan, October 11, 2012 (ENS) – In a new study identifying which cell phones are the worst for toxic chemicals, researchers found that 100 percent of the 36 phones tested contain chemical hazards such as lead and mercury. The study was conducted to pressure phone manufacturers into reducing the toxic burden of their e-waste on the environment.
Americans discard 130 million cell phones every year and most end up in landfills or incinerators – only eight percent are recycled safely.
When unwanted cell phones are landfilled, these chemicals leach into groundwater; when they are incinerated, the toxics contaminate the air. Some states ban electronics from landfills and incinerators, but currently, 32 states have no such ban.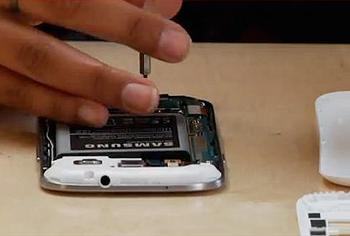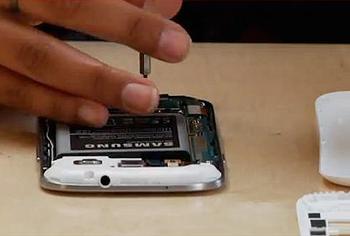 To learn more about chemicals in cell phones on today's market, researchers at the nonprofit Ecology Center completely disassembled 36 phones from 10 different manufacturers and determined the chemical composition of all interior and exterior components using X-ray fluorescence spectrometry.
In total, 1,105 samples were analyzed for 35 different chemical compounds and elements.
"Even the best phones from our study are still loaded with chemical hazards," said Jeff Gearhart, research director at the Ecology Center and founder of HealthyStuff.org, the Ann Arbor-based nonprofit group that released the test results last week.
"These chemicals, which are linked to birth defects, impaired learning and other serious health problems, have been found in soils at levels 10 to 100 times higher than background levels at e-waste recycling sites in China," said Gearhart. "We need better federal regulation of these chemicals, and we need to create incentives for the design of greener consumer electronics."
The phones tested represent 10 mobile phone manufacturers, including: Apple, Hewlett-Packard Development Company, HTC Corporation, Huawei Technologies Co. Ltd, LG Electronics, Motorola, Nokia Corporation, Palm, Research in Motion and Samsung Electronics.
Most of the 36 cell phones analyzed were models released in the last five years.
The researchers found that newer phones are better than older phones. Overall product ratings have improved by 33 percent since 2007. Gearhart says this reflects an increased focus by the industry on reducing chemical hazards.
The most toxic phone tested was also the oldest model – the Apple iPhone 2G.
But Apple products also showed the greatest improvement. The iPhone 2G, introduced in 2007, did rate as the poorest phone tested, but the two most recent Apple phones, the 4S and 5, were among the least toxic phones tested.
The Motorola Citrus ranked "least toxic phone," followed by the Apple iPhone 4S and the LG Remarq. The Samsung Captivate was also ranked as of "low concern."
By overall ranking, six of the 36 phones are of "low concern," including the new iPhone 5 and the Motorola Citrus.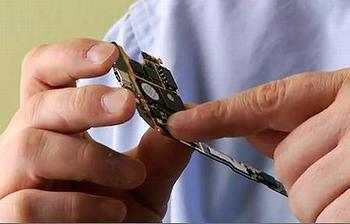 The iPhone 5 ranked fifth, better than its primary competitor, Samsung's Galaxy S III, which ranked ninth.
Samsung phones had the best average rating of all the phones tested.
Twenty-four of the phones tested were ranked of "medium concern," including the Samsung Eternity, the Motorola Droid X, and the BlackBerry Curve 8530.
Six phones were ranked of "high concern," including the Nokia N95 and iPhone 2G.
Apple, now among industry leaders, showed the greatest improvement. The iPhone 2G, introduced in 2007, rated as the poorest phone tested. The two most recent Apple phones, the 4S and 5, are among the best phones tested.
Click here for the full list of rankings at HealthyStuff.org.
Every phone sampled in the study contained at least one hazardous chemical, such as lead, bromine, chlorine, mercury and/or cadmium.
These substances can pollute throughout a cell phone's life cycle, starting with extraction of the minerals used in their manufacture. These substances can pollute when they are processed; during phone manufacturing; and when the phones are discarded.
The testing was done with the help of the people Gearhart calls "technology gurus" at ifixit.com, a San Luis Obispo, California company whose mission is to build a free repair manual for every thing.
"Repair is recycling! The best way to keep hardware out of landfills is to keep it working longer," say Luke Soules and Kyle Wiens, co-founders of ifixit.com. "Toxic electronic waste is a global problem that we all need to pitch in to solve. Self repair saves you money and helps the environment!"
"In 2009, 2.37 million tons of electronics were ready for what the Environmental Protection Agency calls 'end-of-life management' – code for broken, dead, outdated, and unwanted devices," said Wiens.
"Of the digital castoffs, only 25 percent made it into recycling centers," Weins said. "We can't allow the other 75 percent of our old electronics to become waste. All those toxics add up. E-waste is an enormous problem that can result in toxic chemicals seeping into drinking water and poisoning the environment."
The researchers found that some manufacturers, including Apple, Sony, Samsung and others, have started to shift to safer materials and chemistries.
Manufacturers are:
Using less hazardous resins, including thermoplastic copolymers and polyamide to replace polyvinyl chloride in cabling and other applications

Avoiding the need for cabling through simplified design

Using mercury-free flat panel liquid crystal displays and arsenic-free glass

Using bromine-free and chlorine-free printed circuit board laminates

Moving to less toxic, reactive phosphorous-based flame retardant chemistries
Copyright Environment News Service (ENS) 2012. All rights reserved.