Cell Phone Radiation 'Possibly Carcinogenic' to Humans
LYON, France, May 31, 2011 (ENS) – Electromagnetic radiation emitted by cell phones has been identified as "possibly carcinogenic to humans," based on an increased risk for glioma, a malignant type of brain cancer associated with wireless phone use. The classification comes in a study released today by the World Health Organization's International Agency for Research on Cancer, IARC.
From May 24 to 31, a Working Group of 31 scientists from 14 countries has been meeting at IARC in Lyon, to assess the potential cancer hazards from exposure to radiofrequency electromagnetic fields.
Some five billion of the world's nearly seven billion people have mobile phone subscriptions, the scientists estimate, noting that over the last few years, there has been mounting concern about the possibility of adverse health effects from exposure to radiofrequency electromagnetic fields emitted by wireless communication devices.
To reach their conclusion, the Working Group considered hundreds of scientific articles in three categories: personal exposures associated with the use of wireless phones; occupational exposures to radar and to microwaves; and environmental exposures associated with transmission of signals for radio, television and wireless telecommunication.
The scientists analyzed the exposure data, the studies of cancer in humans, the studies of cancer in experimental animals, and other relevant data.
The evidence was reviewed critically, and overall evaluated as being "limited" among users of wireless telephones for glioma and acoustic neuroma, and "inadequate" to draw conclusions for other types of cancers.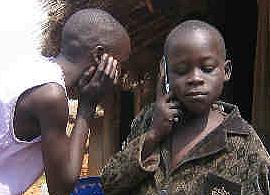 Boy with cell phone, Gulu, Northern Uganda (Photo by PovertyAction)
The evidence from the occupational and environmental exposures was also judged inadequate. The Working Group did not quantfy the risk; however, one study of past cell phone use, up to the year 2004, showed a 40 percent increased risk for gliomas in the highest category of heavy users who talked on their cell phones an average of 30 minutes per day over a 10-year period.
The scientists considered the fact that of the 1,237,913 new cases of brain cancers of all types that occurred around the world in 2008, gliomas accounted for two-thirds of these, or 825,275 cases.
They concluded that based on the available information, radiofrequency electromagnetic fields from cell phones should be classed in Group 2B, as "possibly carcinogenic to humans," rather than in Group 2A, as "probably carcinogenic to humans."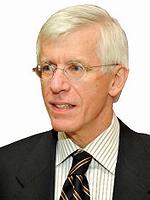 Dr. Jonathan Samet (Photo courtesy USC)
"The evidence, while still accumulating, is strong enough to support a conclusion and the 2B classification," said Working Group Chairman Jonathan Samet, MD, of the University of Southern California.
"The conclusion means that there could be some risk, and therefore we need to keep a close watch for a link between cell phones and cancer risk," said Dr. Samet.
Their conclusion has relevance for public health, particularly for users of mobile phones, as the number of users is large and growing, particularly among young adults and children.
"Given the potential consequences for public health of this classification and findings," said IARC Director Christopher Wild, "it is important that additional research be conducted into the long-term, heavy use of mobile phones."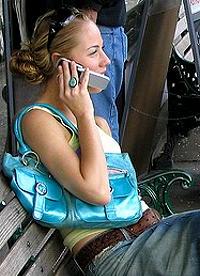 Teen girl on her cell phone, Atlanta, Georgia (Photo by birdtracks)
"Pending the availability of such information, it is important to take pragmatic measures to reduce exposure such as hands-free devices or texting," said Wild.
The terms "probably carcinogenic" and "possibly carcinogenic" have no quantitative significance and are used simply as descriptors of different levels of evidence of human carcinogenicity, with probably carcinogenic signifying a higher level of evidence than possibly carcinogenic, the experts explained.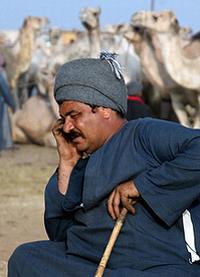 Camel salesman on his cell phone, Birqash, Egypt, February 2010 (Photo by Michael Shoop)
IARC's mission is to coordinate and conduct research on the causes of human cancer, the mechanisms of carcinogenesis, and to develop scientific strategies for cancer prevention and control.
The agency is involved in both epidemiological and laboratory research and disseminates scientific information through publications, meetings, courses, and fellowships.
The IARC Monographs Program is tasked with identifying environmental factors that can increase the risk of human cancer. These include chemicals, complex mixtures, occupational exposures, physical agents, biological agents, and lifestyle factors.
National health agencies can use this information as scientific support for their actions to prevent exposure to potential carcinogens.
The assessments of the cancer risk from radiofrequency electromagnetic fields will be published as Volume 102 of the IARC Monographs, which will be the fifth volume in this series to focus on physical agents, after Volume 55 (Solar Radiation), Volume 75 and Volume 78 on ionizing radiation (X-rays, gamma rays, neutrons, radionuclides), and Volume 80 on non-ionizing radiation (extremely low frequency electromagnetic fields).
A report summarizing the main conclusions of the IARC Working Group and the evaluations of the carcinogenic hazard from radiofrequency electromagnetic fields, including the use of mobile phones, will be published in the July 1 issue of the journal "The Lancet Oncology," and in a few days online.
Copyright Environment News Service (ENS) 2011. All rights reserved.