Cancun High-Level Talks Heat Up Over Climate Financing
CANCUN, Mexico, December 8, 2010 (ENS) – Committing funds to climate change mitigation and adaptation strategies in developing countries will lead to a safer, healthier and prosperous world for all, UN Secretary-General Ban Ki-moon told delegates at the United Nations climate change conference in Cancun today, urging them to find ways of raising the required resources.
"Climate financing is one of the most important aspects of our efforts to address the climate change challenge," Ban told a side event related to his High-level Advisory Group on Climate Change Financing.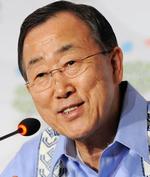 UN head Ban Ki-moon addresses delegates in Cancun. (Photo courtesy UN)
"It is not a panacea for the climate problem, but it is crucial to have adequate financial support for developing countries and for building trust between countries," he said.
The Advisory Group was constituted by the secretary-general and is co-chaired by Prime Ministers Meles Zenawi of Ethiopia and Jens Stoltenberg of Norway to look into mobilizing financing to help developing nations deal with climate change. In a report issued last month, the group stated that, while challenging, the goal of raising $100 billion annually by 2020 is feasible.
"There is no silver bullet – no one size fits all solution for raising these funds," Ban said. "We will need a variety of public and private sector sources. But with political will, leadership, appropriate public policy signals for the markets, and financial ingenuity, it can be done."
The Secretary-General urged delegates at the conference to "anchor" the findings and recommendations of the Advisory Group in their climate change negotiations.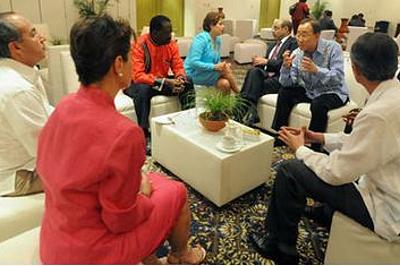 UN Secretary-General Ban Ki-moon, in blue shirt,confers with, clockwise from left: UNFCCC chief Christiana Figueres, Mexican President Felipe Calderon, Kenyan Prime Minister Raila Odinga, Mexican Minister for Foreign Affairs and President of COP16 Patricia Espinosa, Ethiopian Prime Minister Meles Zenawi, and Guatemalan President Alvaro Colom. (Photo by Paulo Filgueiras courtesy UN)
At the UN climate change conference in Copenhagen, Denmark, last December, developed nations pledged $30 billion of fast-track funding for developing countries through 2012 and committed to jointly raise $100 billion annually by 2020.
The World Bank today launched a new multi-million dollar fund to help developing countries cope with the challenges of climate change through the use of carbon market instruments and emissions trading mechanisms.
Over the objections of some green groups, World Bank President Robert Zoellick announced the establishment of the Partnership for Market Readiness at an event on the sidelines of the UN Framework Convention on Climate Change conference in Cancun.
"This new partnership, which brings together developed and developing nations, will help countries get ready to put in place domestic trading schemes and other market-based instruments to meet national mitigation objectives," he said.
"We know that the poorest countries will suffer the earliest and the most from climate change," said Zoellick. "They will bear the brunt of changing weather patterns, water shortages, and rising sea levels even though they are the least equipped to deal with them."
"The fact that developing countries are looking for market-readiness support is testament to the drive for climate action at the national level," Zoellick said. "These countries are not waiting, they're getting on with it as part of their development goals."
The partnership is aiming for a total capitalization of $100 million. It is expected to become operational in early 2011 and will support a range of carbon market readiness initiatives from technology sharing, to policy measures to institutional interventions.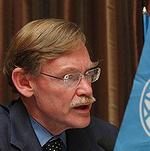 World Bank President Robert Zoellick launches Partnership for Market Readiness (Photo courtesy World Bank)
The partnership has received a total of more than US$20 million in pledges from Australia (A$10m), the European Commission (€5m) and the United States ($5m) in Cancun today, and an earlier pledge of US$5 million from Norway. In addition, Germany, Japan and the UK have announced their intention to fund support the initiative.
Zoellick was joined at the launch event by Chilean Minister of Energy Raineri Bernain, who presented his country's national emissions trading plan. Ministers and senior representatives from the European Commission, Australia, China, Colombia, Germany, Indonesia, Japan, Mexico, Norway, South Africa, Spain, Sweden, the United Kingdom and the United States participated.
Announcing Australia's financial contribution, Minister for Climate Change and Energy Efficiency Greg Combet said. "A broad and well-functioning carbon market will help countries reduce carbon pollution in the fairest, most efficient and cost effective way."
"China has launched low carbon economy pilots in five cities and eight provinces. China intends to explore feasibility of domestic emissions trading schemes to achieve mitigation," said Xie Zhenhua, vice chair of the National Development and Reform Commission. "The Partnership for Market Readiness will provide timely support for the initiative."
Another fund agreed today in Cancun is aimed at increasing access of small island states to renewable sources of energy instead of imported petroleum. Some small island countries spend up to half of their Gross Domestic Product on imported oil, incurring high domestic electricity costs and emitting greenhouse gases.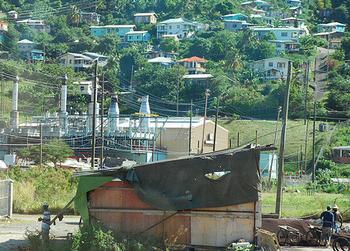 Grenada's Queen's Park Power Station runs on heavy fuel oil and diesel. (Photo by haasrw0977)
The World Bank and the UN Development Programme will facilitate the trust fund to be established from the memo of understanding signed today.
An 80 million Danish kroner ($US14.5 million) pledge of support from the government of Denmark launched the initiative, which is expected to help island states from the Africa, Caribbean, and Pacific Islands regions.
Zoellick jointly signed the agreement with Tillman Thomas, Prime Minister of Grenada and head of the Alliance of Small Island States; Lykke Friis, Denmark's minister for climate and energy; and UNDP Administrator Helen Clark.
"Reducing fossil fuel consumption is a win-win for small island developing states," said Clark. "It reduces the greenhouse gas emissions responsible for the rise in global temperatures, while at the same time improving energy security and freeing up national spending for investment in climate-resilient development."
"Small island developing states have been sounding the alarm about climate change for years now and have earned the title of the conscience of the climate convention," Zoellick said. "They are leaders in taking actions on adaptation, and the World Bank Group has increased support to them for this purpose."
But environmental groups are not sold on the effectiveness of the Partnership for Market Readiness, or any financing agreement with the World Bank at the helm.
In an open letter to the governments meeting in Cancun, dated November 28, nearly 60 nongovernmental organizations from around the world asked that the World Bank be excluded from climate financing and that a Global Climate Fund be established under the direct authority of the UN Framework Convention on Climate Change.
"The World Bank has a long track record of undermining human rights and ecological integrity. For example, in 2010 alone, the World Bank financed a record high US$6.3 billion to fossil fuel projects, a 138 percent increase over the previous year," the NGOs said in their letter. "An institution that actively promotes the causes of global warming should not be given a role in global climate finance."
Friends of the Earth International, one of the letter's signatory groups, said today that carbon markets and carbon offsetting are not solutions to climate change.
"Carbon offsetting only benefits carbon traders, like the World Bank, who profit enormously from the expansion of carbon markets," said FoEI. "The only way to tackle climate change is to radically reduce our consumption, emissions and reliance on fossil fuels, particularly in developed countries."
Siziwe Khanyile, Friends of the Earth South Africa, said, "The World Bank is a major climate polluter through its funding of oil, coal and gas projects in the global South and has wreaked havoc on the planet's forests and trampled on human and environmental rights throughout the developing world. It is past time for the World Bank to get out of climate finance and to once and for all stop filling its coffers by investing in false solutions like carbon trading."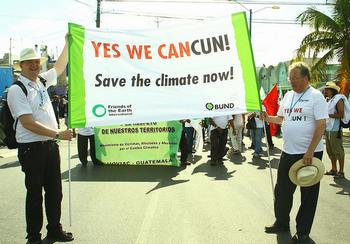 More than 1,000 demonstrators marched in Cancun demanding climate justice, December 7, 2010. (Photo by Sheila Menon / Marco Cadena courtesy Friends of the Earth International)
Karen Orenstein, Friends of the Earth US, said, "Carbon markets are an irreparably flawed means of addressing climate change. They are unreliable and subject to fraud, and they open the door to offset loopholes that undermine environmental integrity. They further entrench the economic arrangements that facilitate the North's over-consumption and have landed us in this climate crisis in the first place."
"An expansion of carbon trading will widen the escape hatch for rich countries to wriggle out of cutting their own emissions and risks a speculative bubble which could cause a double whammy of financial and environmental ruin," said Friends of the Earth's International Climate campaigner Sarah-Jayne Clifton.
The green groups support mechanisms such as a global feed-in tariff to guarantee prices for small-scale renewable energy projects, the sharing of green technologies, and tackling deforestation in a way that protects the rights of forest-dependent people.
NGOs are calling for rich countries to cut their emissions by at least 40 percent by 2020, without resorting to carbon offsetting, and for them to commit to legally-binding cuts under a second commitment period of the Kyoto Protocol, rather than under another, purely voluntary agreement such as the Copenhagen Accord.
This issue has split governments in Cancun, with some Latin American countries threatening to walk out if the Kyoto Protocol is not continued past the expiration of its first commitment period at the end of 2012.
Developing countries generally support the Kyoto Protocol, while the industrialized countries, including those which are bound by the protocol to reduce their emissions by an average of 5.2 percent below 1990 levels, favor the voluntary model.
Copyright Environment News Service (ENS) 2010. All rights reserved.