Canada Uses 'Legal Right' to Withdraw From Kyoto Protocol
OTTAWA, Canada, December 12, 2011 (ENS) – Canada is formally withdrawing from the Kyoto Protocol, the international treaty limiting greenhouse gas emissions, Environment Minister Peter Kent said in Ottawa today.
In the Foyer of the House of Commons, having just returned from the United Nations climate conference in Durban, South Africa, Kent said the Conservative government led by Prime Minister Stephen Harper has never supported the Kyoto Protocol since it came into power in 2006.
"Kyoto – for Canada – is in the past," Kent said. "As such, we are invoking our legal right to formally withdraw from Kyoto. This decision formalizes what we have said since 2006 – that we will not implement the Kyoto Protocol."
"As we said from the outset, the Kyoto Protocol did not represent the path forward for Canada," he said. "We produce just a tiny, two percent of global emissions. But because a previous Liberal government signed on to Kyoto in 1997 with no intention of ever meeting targets – then did nothing for years – Canada was lagging well behind by 2006."
Kent said that under the Kyoto Protocol, "Canada is facing radical and irresponsible choices if we are to avoid punishing multi-billion dollar payments."
The Kyoto Protocol requires that Parties reduce their greenhouse gas emissions by an average of 5.2 percent in the period 2008-2012.
To meet Canada's targets under Kyoto for 2012, said Kent, would be the equivalent of either "removing every vehicle of every kind from Canadian roads," or "closing down the entire farming and agricultural sector and cutting heat to every home, office, hospital, factory and building in Canada."
The cost of not taking this action would have been, "The loss of thousands of jobs or the transfer of $14 billion from Canadian taxpayers to other countries – the equivalent of $1,600 from every Canadian family – with no impact on emissions or the environment," said Kent. "That's the Kyoto cost to Canadians."
"The Durban Platform is a way forward that builds on our work at Copenhagen and Cancun," Kent said.
The Durban Platform, agreed by representatives of the 194 governments that are Parties to the UN Framework Convention on Climate Change, aims toward a legally-binding treaty that includes all countries.
By contrast, the Kyoto Protocol originally set emissions limits for 36 industrialized countries and the European Union. Now, not only Canada but Japan and Russia have announced that they are withdrawing from the protocol.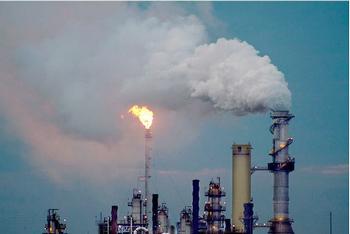 Syncrude pumps greenhouse gases into the atmosphere from its tar sands oil production facility in northern Alberta. (Photo by Liam Mullany)
"We remain committed to negotiating an international climate change agreement that works. That means getting a pact that involves all the major emitters," said Kent. "We will work toward this in the coming weeks and months. It will not be easy but it is important."
The new greenhouse gas limitation treaty must be written by 2015 and would take effect no later than 2020.
Not all Canadian politicians share the Conservatives' position on pulling Canada out of the Kyoto Protocol, say New Democrat MPs from Quebec: Alexandre Boulerice, Marjolaine Boutin-Sweet, Francois Choquette and Pierre Jacob, who attended a rally in support of the protocol in Montreal on Saturday. The NDP is Canada's Official Opposition.
Leader of the Liberal Party, Dr. Kirsty Duncan wrote in an Open Letter to Canadians on December 8, "Canadians should be deeply concerned about the government's abdication of leadership on issues related to climate change, specifically its performance in meeting international climate commitments; setting science-based emissions targets; developing incentives for low-carbon technologies; reducing greenhouse gas emissions; and putting in place adaptation measures necessary to respond to the risks of climate change."
"Canadians should also be critical of the Conservatives who, upon coming to power, immediately killed Project Green, a comprehensive climate plan put in place by the previous Liberal government," Duncan wrote. "Independent third-party stakeholders state that the plan would have allowed Canada to come close to meeting its Kyoto targets."
"The Conservative government must realize our home, the planet Earth, is finite. When we compromise the air, water, soil and the variety of life, we steal from the endless future to serve the fleeting present," wrote Duncan. "The time for government action is now. If we want to ensure a healthy planet for our children and grandchildren, we simply cannot afford to wait."
Green Party of Canada leader, MP Elizabeth May, attended the Durban talks. She said Canada's legal withdrawal from the Kyoto Protocol "would hurt the new agreements from Durban before the ink is dry."
"The frustrating, maddening, even terrifying aspect of climate talks is that greenhouse gas levels keep rising while multilateral negotiations try to determine the time table by which they will be reduced – eventually," said May.
But the Conservatives have set their course and they are holding to it. Kent said today, "Before this week, the Kyoto Protocol covered less than 30 percent of global emissions. Now it covers less than 13 percent – and that number is only shrinking. The Kyoto Protocol does not cover the world's two largest emitters, the United States and China, and therefore will not work."
"It is now clear that Kyoto is not the path forward for a global solution to climate change; instead, it is an impediment," said Kent.
Canada's environmental community is outraged by the government's withdrawal from the protocol.
"This is a truly shameful day for Canada," said Tria Donaldson, Pacific Coast campaigner for the Wilderness Committee and a former youth delegate to the UN climate talks.
"As someone who has attended international climate talks, I can testify to the fact that Canada's reputation has been tarnished abroad by governments who are putting the reckless expansion of the tar sands ahead of our collective future," said Donaldson.
Gillian McEachern, Climate and Energy Program manager with the nonprofit Environmental Defence, said, "Canada had already disregarded the commitment made under the Kyoto Protocol to cut carbon pollution, and has not put in place rules to limit emissions from big polluters like the tar sands industry."
"The Harper government continues to fail Canadians and the world on the most urgent issue of our time," said Christy Ferguson, Greenpeace climate and energy unit head. "We need to turn away from the tar sands and make Canada a win on climate change."
Copyright Environment News Service (ENS) 2011. All rights reserved.