Canada Rejects Gold-Copper Mine Over Environmental Concerns
OTTAWA, Ontario, Canada, November 2, 2010 (ENS) – The Canadian government today turned down a proposal for a gold-copper mine in central British Columbia due to environmental concerns, while authorizing a second gold-copper mine on B.C.'s northwest coast to proceed.
Taseko Mines' Prosperity mine project 125 kilometers from the city of Williams Lake was denied federal authorization because mine development would convert two natural fish-bearing lakes and a creek into a mine waste impoundment area.
However, Thompson Creek Metals' proposal for the Mount Milligan mine, north of the coastal city of Prince George, has been granted federal authorization.
"The government has considered both projects carefully, particularly their environmental impacts," said Environment Minister Jim Prentice. "We believe in balancing resource stewardship with economic development."
"The Mount Milligan project has been designed in a way that minimizes impacts to the environment, while the significant adverse environmental effects of the Prosperity project cannot be justified as it is currently proposed," said Prentice.
The proposed Prosperity open-pit mine is on the traditional lands of the Xeni Gwet'in First Nation, a member of the Tsilhqot'in National Government, which won a court case recognizing its rights to the area.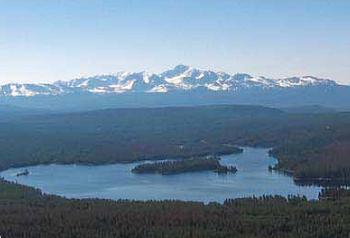 Under Taseko's Prosperity mine proposal Fish Lake would become a mine waste impoundment. (Photo courtesy Environment Canada)
One of Canada's largest undeveloped gold-copper deposits, the Prosperity deposit contains 5.3 billion pounds of copper and 13.3 million ounces of gold, according to Taseko, which estimates the project has a pre-tax net present value of C$3 billion.
In June, the British Columbia government issued a 25-year mining lease to Taseko, following a provincial environmental assessment which environmental groups and First Nations say failed to consider all the potential impacts identified by the federal process.
Prentice appointed a federal review panel in January to assess the impacts of the Prosperity Mine. Hearings were held from March 22 to May 3 and were attended by 2,700 attendees who made 320 different presentations.
The federal panel released its report on July 2, 2010, concluding that, "The project would result in significant adverse environmental effects on fish and fish habitat, on navigation, on the current use of lands and resources for traditional purposes by First Nations and on cultural heritage, and on certain potential or established Aboriginal rights or title."
"The panel also concludes that the project, in combination with past, present and reasonably foreseeable future projects would result in a significant adverse cumulative effect on grizzly bears in the South Chilcotin region and on fish and fish habitat."
The panel said damage from the Prosperity mine would be "high magnitude, long-term and irreversible."
Prentice said today that the federal government "agreed with the panel's conclusions about the environmental impacts of the project."
Sierra Club B.C. Executive Director George Heyman said today, "Today's decision illustrates why devolving environmental assessment to B.C. to 'streamline' the process would be a disaster. B.C. gave the green light to this project, putting short-term economic interests ahead of species, ecosystems and First Nations rights."
"It boggles my mind that the B.C. government would have even considered destroying a huge, well-stocked fishing lake that is of great significance to an indigenous community, and is surrounded by cultural sites including First Nations burial grounds," said Heyman. "Today's decision points to serious flaws in the B.C. environmental assessment process."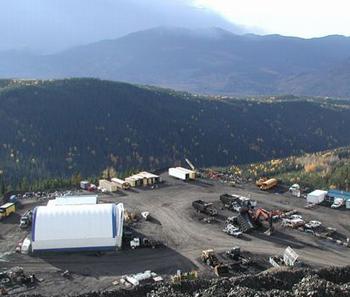 Construction is proceeding on Thompson Creek Metals' Mount Milligan mine. (Photo courtesy Thompson Creek Metals)
Environmentalists are calling on the Canadian government to close a loophole in the federal Fisheries Act that allows metal mining corporations to use Canadian lakes to dispose of the millions of tonnes of toxic waste rock and tailings they generate.
Fish Lake would have been Canada's fifth pristine natural water body authorized for destruction under this loophole, which was originally introduced solely to allow mines already approved and in existence to complete their economic life cycle.
The Mount Milligan mining project, which was approved today, went through both provincial and federal environmental assessments. Both determined that, with appropriate mitigation measures, the project is not likely to cause significant adverse environmental effects.
Located 155 km (96 miles) north of Prince George between the communities of Mackenzie and Fort St. James, the Mount Milligan project will consist of an open pit mine, processing plant and infrastructure, a tailings impoundment area, explosives factory, a 29 kilometer (20 mile) access road and a 92 km (57 mile) transmission line.
The mine will produce about 60,000 tonnes of ore per day over a projected 15-year mine life, employ 600 people during construction and create about 300 permanent positions during operations. The mine will produce an estimated 52 million tonnes of acid generating waste rock and tailings, requiring a tailings impoundment area.
A fish habitat compensation plan has been developed including construction of spawning and rearing channels in a nearby creek. The project will recycle effluent to reduce use of freshwater and minimize the creation of mining effluent, minimizing the environmental footprint of the mining project.
The Canadian government will monitor and oversee the development and implementation of the fish habitat compensation plan, and has authority under the Fisheries Act to take corrective measures.
Thompson Creek is in the process of constructing the Mount Milligan mine, which is expected to be in production in 2013.
Copyright Environment News Service (ENS) 2010. All rights reserved.