Canada Chops Environmental Reviews, Fires Scientists, Responders
OTTAWA, Ontario, Canada, April 17, 2012 (ENS) – Conservation advocates across Canada are warning today that more environmentally-destructive development will be approved now that the Conservative Harper Government has slashed environmental reviews. In the next 10 years, more than 500 projects representing over C$500 billion in new investments are proposed across Canada.
The plan for "responsible resource development" was announced today by Minister of Natural Resources Joe Oliver at Automatic Coating Ltd. in Toronto, which produces high-performance liquids and powder coating used on oil and gas pipelines.
Minister of Natural Resources Joe Oliver, MP (Photo courtesy Natural Resources Canada)
"The Harper Government's plan for Responsible Resource Development will create good, skilled, well-paying jobs in cities and communities across Canada, while maintaining the highest possible standards for protecting the environment," said Oliver. "It will help prevent the long delays in reviewing major economic projects that kill potential jobs and stall economic growth by putting valuable investment at risk."
"In 2010, the natural resource sectors employed more than 760,000 workers in communities throughout the country. The mining and energy sectors alone represent 10 percent of the Canadian economy and 40 percent of our exports," said Oliver. "The potential for job creation and economic growth is enormous."
The plan has the support Canadian business and labor leaders, including the Federation of Canadian Municipalities, the Prospectors and Developers Association of Canada, and Canadian manufacturers and exporters.
But the New Democrats, Canada's official opposition party, blasted the policy, saying that it "jeopardizes not only the environment, but also the health and prosperity of Canadians."
"These new measures will severely gut the environmental protection process in Canada," said NDP Environment Critic Megan Leslie, MP. "After slashing funding to the Canadian Environmental Assessment Agency, they're now saddling it with the obligation to do more complex reviews, faster, with fewer resources."
The new policy follows the announcement last week that hundreds of federal scientists in charge of environmental monitoring are being laid off as part of the 1,500 government professionals affected by Conservative budget cuts.
"Doctors, biologists, chemists are being shown the door. These scientists monitor environmental changes that can threaten the health of Canadians," said MP Hélène LeBlanc, the NDP's science and technology critic.
Green Party Leader Elizabeth May, MP called the new policy "outrageous."
"Prime Minister Harper has dropped any pretence that he cares about Canada's natural environment, reducing the federal government's oversight role to miniscule proportions," said May, who represents British Columbia's Saanich-Gulf Islands in Parliament.
"It is full steam ahead for development, with rubber stamps in the place of actual regulation," she said. "Canada's natural resources will pay the price and future generations will have to suffer the aftermath."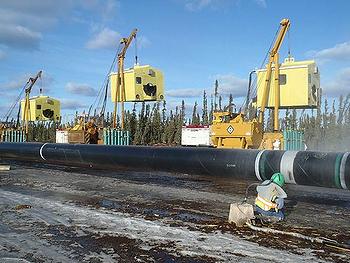 Pipeline under construction across Alberta with welding shacks on booms (Photo by Jason Woodhead)
Environmental groups are dismayed. "This means that Big Oil will get a free pass to do whatever it wants and citizens will be saddled with the risk of oil spills, toxic contamination and climate change," according to Environmental Defence, an environmental action organization based in Ottawa.
"These changes make it clear that powerful oil interests are running the show with the federal government bending over backwards to do their bidding," said Gillian McEachern of Environmental Defence. "It won't be much comfort to people dealing with a dangerous oil spill in their backyard that the company will get a slap on the wrist when government could have prevented the problem in the first place with a real assessment of the risks."
"Comprehensive environmental reviews are an essential part of a functioning democracy, because they ensure full assessment of all major industrial projects," said Gwen Barlee, policy director of the Wilderness Committee, based in Vancouver. "We are concerned that these cut backs amount to a weakening of environmental standards – it is reckless and irresponsible to make it easier for potentially harmful projects to get through the approval process."
The measures announced by Minister Oliver include shortening the overall time for the review process, and handing responsibility for review of some developments to the provinces.
The new federal policy moves to a "one project, one review" system for reviews of major projects "by recognizing provincial processes as substitutes or equivalents to federal ones as long as they meet the requirements under the Canadian Environmental Assessment Act."
Federal assessment efforts will focused on major projects "that can have significant environmental effects," the minister said.
The policy sets legally binding timelines for hearings and assessments – 24 months for panel reviews, 18 months for National Energy Board hearings and 12 months for standard environmental assessments.
Timelines are set for key regulatory permitting processes, including the Fisheries Act, the Species at Risk Act, the Navigable Waters Protection Act, the Canadian Environmental Protection Act and the Nuclear Safety and Control Act.
The government is consolidating the number of organizations responsible for reviews from more than 40 to three: the Canadian Environmental Assessment Agency, the National Energy Board and the Canadian Nuclear Safety Commission.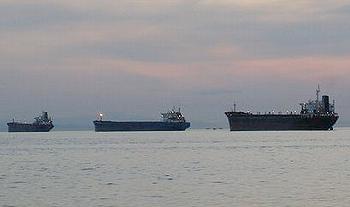 Oil tankers in Vancouver's Burrard Inlet waiting to load (Photo by Andrew Spofford)
"New tar sands mines and pipelines threaten water, land and human health across the country, yet under the new rules announced today mean that Canadians who will be at risk will have even less of a say," warned McEachern.
"Key federal agencies such as the Department of Fisheries and Oceans will no longer play a role in environmental assessments. This raises concerns about the protection of fish, rivers and oceans," McEachern said. "Enbridge's proposed Northern Gateway tar sands pipeline would cross 800 streams and rivers, many important salmon habitat, and send supertankers along B.C.'s coast."
Oliver said the federal government will providing more than C$35 million over two years for marine safety and $13.5 million over two years to strengthen pipeline safety. The government intends to pass regulations to strengthen the tanker safety regime and increase the number of oil and gas pipeline inspections each year from 100 to 150 inspections.
Also, the Harper Government says the policy introduces important new environmental protections.
For the first time, there will be enforceable environmental assessment decision statements under the Canadian Environmental Assessment Act. Proponents of major projects will have to comply with conditions set out in the decision statements or face financial penalties ranging from $100,000 to $400,000.
The plan requires follow-up programs after all environmental assessments to verify the accuracy of the predictions regarding potential environmental effects and to determine if mitigation measures are working as intended.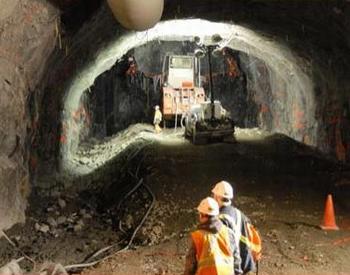 Workers in a tunnel at Hydro-Quebec's Shipshaw optimization project (Photo courtesy Louisbourg SBC)
For the first time, federal inspectors will have the authority to examine whether or not conditions of a decision statement are met.
For the first time, administrative monetary penalties will be assessed for violations of the Canadian Environmental Assessment Act, the Nuclear Safety and Control Act and the National Energy Board Act. The penalties could range from $25,000 to a maximum of $100,000 for violations of the Nuclear Safety and Control Act, and the National Energy Board Act.
Yves Thomas Dorval, president of the Employers Council of Quebec, said on March 29 after the government's budget statement previewed the new policy, "An important aspect of this budget … is the simplification of the review process for large-scale natural resource projects. While still ensuring that the environment is protected, this review will now have a clearly defined timeline. The Employers' Council believes that this is a winning formula for Quebec in situations where these reviews are necessary."
In British Columbia, environmentalists worry that hundreds of oil tankers will pass through coastal waters without oversight.
The new policy follows last week's statement by U.S.-based Kinder Morgan that it plans to almost triple the capacity of its Trans Mountain pipeline, which would mean a massive expansion up to 360 oil tankers a year in Burrard Inlet.
Emergency oil-spill responders in B.C. are among those who will be laid off due to budget cuts at Environment Canada.
"This is a recipe for disaster. Plans for hundreds of tankers even while cutting the emergency response unit on the west coast," said Ben West at the Wilderness Committee. "On top of all that, now we have a further weakening of the review process: who could possibly think this is a good idea?"
Copyright Environment News Service (ENS) 2012. All rights reserved.