Cambodian Forest Activist Shot Dead by Military Police
PHNOM PENH, Cambodia, April 26, 2012 (ENS) – Chut Wutty, a prominent Cambodian forest defender, was fatally shot today in an incident in Koh Kong province in which a military police officer also died.
The deaths have been confirmed by military police spokesman Kheng Tito, although details of the incident remain unclear.
Wutty, 41, founder and director of the Natural Resource Protection Group, dedicated his life to halting illegal logging and destruction of Cambodia's environment.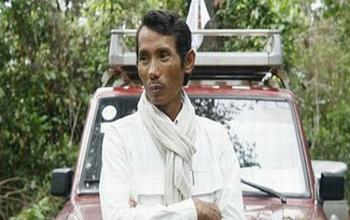 Chut Wutty in the forest he worked to protect (Photo courtesy KI Media)
He was killed after military police apprehended him at Veal Bei in Mondul Seima district on behalf of a company that asked them to stop him from shooting photos of their development, Tito told the "Phnom Penh Post."
At the time of the incident, Wutty was driving two journalists from "The Cambodia Daily" newspaper through an area near the Central Cardamom Protect Forest.
The two reporters, Cambodian journalist Phorn Bopha and Ukrainian Olesia Plokhii, were detained by police but they have been released.
The Cambodian Center for Human Rights says Wutty, a former soldier, often has been subject to threats as a result of his work in this area of southwestern Cambodia.
"In 2001 as part of a small Conservation International team sent to patrol for illegal logging in the Cardamom mountains, he was threatened by a military commander who said he would kill him over his investigations into illegal logging. He had to flee his hotel and rent a boat in the middle of the night that took him to safety," the human rights group said today.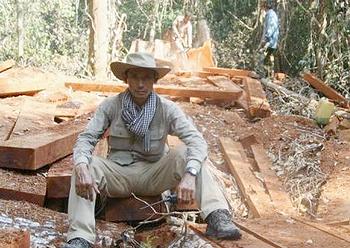 Chut Wutty with illegal logs and timbers (Photo courtesy KI Media)
In the face of continued threats and harassment, Wutty campaigned continually against the destruction of Cambodia's natural resources.
In 2011, he was threatened with arrest and criminal charges as a result of his work raising awareness of the destruction of Prey Lang forest in Cambodia's northeast, said CCHR.
In August and September, two training events he conducted with the Cambodian Center for Human Rights in Kampong Thom province for some 70 community members affected by the destruction of Prey Lang forest were disrupted by police and military police armed with AK-47s.
"He gave his life to save what is sacred to the indigenous peoples of Cambodia: Prey Lang," wrote Mu Sochua today on Cambodian website KI Media. "His life was always in danger but his soul was as pure as Prey Lang."
"We need to dig deep, deep down for the root cause of the problem and the question that we should ask: Who is selling Cambodia to companies? Economic concessions authorized by the prime minister go beyond arable land to pristine forests of Cambodia," wrote Sochua.
Wutty was known for helping expose a state sell-off of land in national parks and for speaking out against corruption in business and government.
"Chut Wutty was one of the few remaining Cambodian activists willing to speak out against the rapid escalation of illegal logging and land grabbing which is impoverishing ordinary Cambodians and destroying the country's rich natural heritage," said Patrick Alley, director of Global Witness, a nonprofit based in London and Washington, DC that campaigns against environmental and human rights abuses.
Corruption and violence in Cambodia's forest sector has been well documented over many years, Alley said. "The extent of the risks he and other activists face has been laid bare in the most shocking and tragic manner. He will be very sorely missed."
Wutty is not the first to be killed, and sadly, may not be the last," he said. "But the stakes for Cambodia's people and its environment are now just as high, as forest and land clearance proceeds at a devastating pace."
"The world must not stand by and simply watch," Alley said. "Cambodia's international donor partners must prevail upon the government, as a matter of urgency, to open up its notoriously murky natural resource sector and hold the most powerful and violent illegal loggers and land grabbers to account."
Wutty is survived by his wife, two daughters and a son.
Copyright Environment News Service (ENS) 2012. All rights reserved.