California Votes In Democrats, Rejects Proposition 23
SACRAMENTO, California, November 3, 2010 (ENS) – In California, voters elected Democrat Jerry Brown as governor, a post he held in the 1970s. Brown has been serving as California's attorney general in the administration of the current governor, Republican Arnold Schwarzenegger, who has promoted a clean energy agenda.
In his victory speech last night in Oakland, Brown outlined his vision for a greener California. "I see a California once again leading on renewable energy, leading on education. We are all God's children and while I understand politics, I will always carry with me my sense of that missionary zeal to transform the world – that's always been my calling. That's what it's all about – the vision."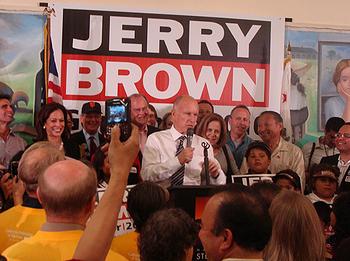 Governor-elect Jerry Brown at a rally in Salinas, California, November 1, 2010 (Photo by JT Gus)
Brown has promised to implement a 33 percent renewable energy portfolio standard and facilitate the installaiton of 20,000 megawatts of new renewable energy – 12,000 in distributed generation and 8,000 megawatts in large scale renewable projects like solar and wind farms.
San Francisco's environmentally supportive Mayor Gavin Newsom, a Democrat, has been elected California's lieutenant governor.
California voters returned Democrat Barbara Boxer to her seat in the U.S. Senate. She has been chairing the Environment and Public Works Committee, promoting bills to address climate change, protect people from lead in drinking water, and from contaminants resulting in "clusters" of cancer and birth defects. She has supported legislation to lift the cap on corporate liability for oil spill damages.
In the 53 House races, California voters backed Democrats in all but 19 districts. One race is still hanging by a thread. In Congressional District 11, all precincts have reported but the votes are still being counted – two-term Democratic Congressman Jerry McNerney is ahead of Republican San Ramon attorney David Harmer by a mere 121 votes.
The California electorate defeated Proposition 23, voting 61.3 percent in favor of keeping the state's greenhouse gas reduction law, the Global Warming Solutions Act, AB32, the strongest clean energy law in the nation.
A "yes" vote on Proposition 23, funded by Texas oil money, would have suspended the law until the state' unemployment rate stayed at or below 5.5 percent for four consecutive quarters.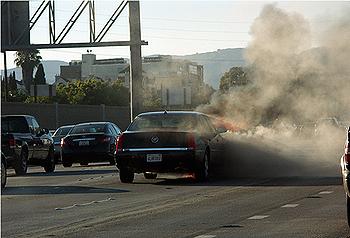 Car catches fire in the midst of a Los Angeles highway traffic jam. (Photo by FontFont)
Wade Crowfoot, political director of the Environmental Defense Fund said, "By rejecting Prop. 23, Californians voiced their support for economic expansion in the booming clean tech sector and improved air quality and public health. By supporting the implementation of the landmark AB 32 clean energy law, California will be able to pioneer a range of pollution reduction measures that spur cleaner energy technology."
"It's a true win-win situation for a state with 12.5 percent unemployment and in which 91 percent of residents live in a county with substandard air quality," Crowfoot said.
Gabe Elsner, campaign cirector for the Power Vote California, credited the defeat of Proposition 23 to the youth vote. "The California Student Sustainability Coalition's Power Vote Campaign united thousands of young Californians behind a creative grassroots campaign that exposed Big Oil's dirty ploy, and mobilized thousands of voters to defeat it," he said.
Power Vote California's "No on 23" campaign, in partnership with CALPIRG and Environment California, organized on over 50 campuses and collected over 160,000 pledges from young people to vote "No" on Proposition 23.
"The campaign partnered with student networks across the state to turn out the youth vote, worked with a community coalition to launch the Clean Energy Tour, a music tour merging arts and activism, and confronted oil interests bank-rolling the intitative, like the Koch Brothers," said Elsner.
A company owned by oil billionaires Charles and David Koch contributed $1 million to advocate Proposition 23. The contribution came from Flint Hills Resources LP, based in Wichita, Kansas, a wholly-owned subsidiary of Koch Industries.
Another $4 million was contributed by Valero Energy of San Antonio, Texas, a manufacturer and marketer of transportation fuels, petrochemical products and power, while petroleum refiner and marketer Tesoro also based in San Antonio, contributed $1.525 million to support Proposition 23.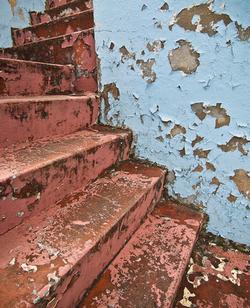 Peeling lead paint in San Francisco's Mission District (Photo by James Wacht)
While turning down Proposition 23, California voters approved Proposition 26, which expands the definition of a "tax" under California law. As a result of this expansion, some fees and other charges imposed by the state or by cities or counties could no longer be enacted by a simple majority vote of the Legislature. Instead, a two-thirds supermajority vote would be required – the same vote now required to pass a budget or a new tax.
UCLA Law professors Cara Horowitz, Sean Hecht and M. Rhead Enion conclude in an October 26 report that Proposition 26 will "undercut the principle that polluters should pay for harms they cause."
They conclude that approval of Proposition 26 will erect barriers to funding many environmental and public health programs in California, including the Global Warming Solutions Act, and the Green Chemistry Initiative that have already been enacted but that are not yet well funded.
The lead paint fee and oil spill response fee are just two of many similar fees that Proposition 26 would convert into taxes, the law professors.
Starting in 1991, owners of petroleum products received at marine terminals, marine pipeline operators, oil refineries, marine pipelines in California have paid a $.25 per barrel fee for response to and cleanup of marine oil spills, related wildlife care and spill-related damages.
In 1997, the State Supreme Court ruled that the lead industries, whose products are the major causes of childhood lead poisoning, can be required to pay fees to mitigate the harm their products created in the community.
Both these fees could be affected by approval of Proposition 26. Under the measure, the UCLA law professors say the California legislature also will likely repeal at least two product sustainability laws that fund product stewardship programs to prevent bulky products and harmful chemicals from entering landfills.
The professors say the measure creates a new barrier to ensuring that existing environmental and public health fees keep up with changing needs or with inflation.
Copyright Environment News Service (ENS) 2010. All rights reserved.