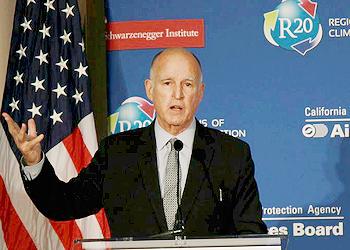 SACRAMENTO, California, September 9, 2016 (ENS) – Ten years after California adopted the toughest greenhouse gas emission reduction goals in the nation, Governor Jerry Brown Thursday strengthened that commitment, signing two bills that require the state to cut emissions at least 40 percent below 1990 levels by 2030.
The bills, SB 32 by Senator Fran Pavley and AB 197 by Assemblymember Eduardo Garcia, both Democrats, require the state to invest in the communities hardest hit by climate change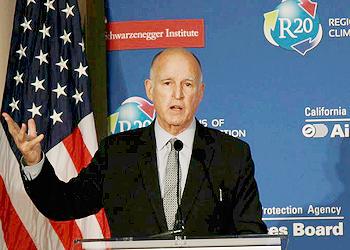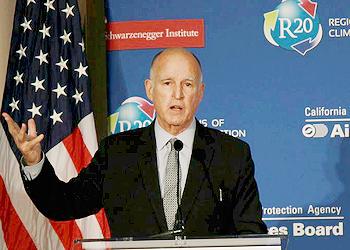 "Climate change is real, and knowing that, California is taking action," said Governor Brown. "SB 32 and AB 197 are far-reaching moves that continue California on its path of vast innovation and environmental resilience."
Governor Brown signed the legislation from the Vista Hermosa Natural Park, a 10-acre urban wilderness project built atop an old oil field and the first public park built in more than 100 years in the densely populated western edge of downtown Los Angeles.
California is on track to meet or exceed the current target of reducing greenhouse gas emissions to 1990 levels by 2020, as established in the California Global Warming Solutions Act of 2006 (AB 32), co-authored by Pavley, then an Assemblymember.
"SB 32, extends our work into the future by setting a 2030 greenhouse gas emissions target of 40 percent below 1990 levels," Pavley said.
Governor Brown issued an executive order last year to reduce greenhouse gas emissions in California 40 percent below 1990 levels by 2030, a goal which is now codified by SB 32.
The new 2030 requirement in SB 32 will help make it possible to reach the ultimate goal of reducing emissions 80 percent under 1990 levels by 2050.
"With its Clean Car Law in 2002 and the Global Warming Solutions Act in 2006, California took a global lead in adopting policies to clear the air, transition to clean energy and reduce climate pollution," said Senator Pavley.
"Those policies have fueled billions of dollars in private investment and spawned a thriving clean-energy sector. SB 32 sends an unmistakable message that California is resolute in its commitment to remain on that healthy and prosperous course," she said.
"In order for California to remain an economic and environmental leader the state will need to also be a trailblazer on issues related to equity," said Assemblymember Garcia. "Placing the health and economic impacts of climate policy on vulnerable populations second will stunt the state's prosperity."
AB 197 establishes a legislative committee on climate change policies to help continue to ensure the state's actions to reduce greenhouse gas emissions are conducted with transparency and accountability.
"Today is a proud day for California," said Senate President pro Tempore De León. "Together we redoubled our commitment to global climate leadership and building the clean energy economy of tomorrow, while ensuring environmental justice so all Californians benefit from our climate policies."
"SB 32 extends California's landmark greenhouse gas reduction goals. AB 197 changes the game on how we make sure those goals are reached," said Assembly Speaker Anthony Rendon. "The successful effort behind these two bills is the latest sign of a growing consensus that protecting the environment and improving public health are inextricably linked and that maintaining that link is key to advancing future environmental actions. The Assembly—where AB 32 was passed 10 years ago—will be vigilant and vigorous in making sure California's climate change goals are met, and are met as we all intended."
For full text of the bills, visit: http://leginfo.legislature.ca.gov
California's Leadership on Climate Change
While California emits around one percent of the world's greenhouse gases, the state is playing a leading role in broadening collaboration among subnational leaders.
The state is spearheading the Under2Coalition, a global climate pact among cities, states and countries to limit the increase in the world's average temperature to below two degrees Celsius.
A total of 135 jurisdictions representing 32 countries and six continents have now signed or endorsed the agreement. Together, they represent more than 783 million people and $21 trillion in GDP, equivalent to more than a quarter of the global economy. Signatories commit to either reducing greenhouse gas emissions 80 to 95 percent below 1990 levels by 2050 or achieving a per capita annual emission target of less than two metric tons by 2050.
In the past year, Governor Brown has traveled to the United Nations headquarters in New York, the United Nations Climate Change Conference in Paris, the Vatican in Italy and the Climate Summit of the Americas in Toronto, Canada to call on other leaders to join California in the fight against climate change.
Governor Brown also joined an unprecedented alliance of heads of state, city and state leaders – convened by the World Bank Group and International Monetary Fund – to urge countries and companies around the globe to put a price on carbon.
These efforts build on a number of other international climate change agreements with leaders from the Czech Republic, the Netherlands, Mexico, China, North America, Japan, Israel, Peru and Chile and Governor Brown's efforts to convene hundreds of world-renowned researchers and scientists around a groundbreaking call to action – called the consensus statement – which translates key scientific climate findings from disparate fields into one unified document.
Last October, Governor Brown signed landmark legislation, SB 350, to double the rate of energy efficiency savings in California buildings and generate half of the state's electricity from renewable sources by 2030.
Governor Brown also committed to reduce today's petroleum use in cars and trucks by up to 50 percent within the next 15 years; make heating fuels cleaner; reduce the release of methane, black carbon and other potent pollutants across industries; and manage farm and rangelands, forests and wetlands so they can store carbon.
The impacts of climate change are already being felt in California and the lawmakers project the effects will cause the greatest pain to the state's most vulnerable populations.
Copyright Environment News Service (ENS) 2016. All rights reserved.