California Renews Rebates for Zero-Emission Vehicles
SACRAMENTO, California, July 5, 2012 (ENS) – The California state agency responsible for clean air has approved $27 million for rebates to buyers of electric and plug-in hybrid passenger cars, trucks and buses.
The California Air Resources Board voted June 28 to approve the funding for its Air Quality Improvement Program, a statewide rebate incentive.
Complementing this investment will be up to an additional $5 million dollars from the California Energy Commission.
"This unique incentive program makes ultra-clean cars affordable for more Californians, helps slash smog-forming pollution and cuts greenhouse gas emissions," said Air Resources Board Chairman Mary Nichols.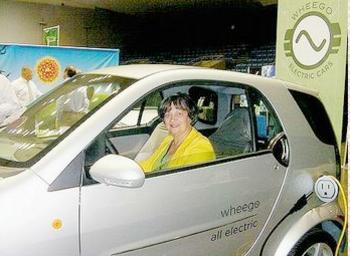 Mary Nichols, head of the California Air Resources Board, tries a Wheego electric car, assembled in Ontario, California. (Photo by Wheego)
"By expanding the market for the world's most advanced technology vehicles, California remains the global center for clean cars and generates a wide range of new jobs to manufacture, service and fuel them," Nichols said.
Incentives for hybrid and zero-emission trucks and buses will be funded with $10 million.
Another $2 million of funding will be used for advanced-technology demonstration projects supporting the commercialization of new vehicle and equipment technologies to help pave the way for healthier air for California.
Since this program began in 2008, there have been more than 7,500 passenger cars and over 1,000 trucks or buses that have received incentives through the Air Quality Improvement Program.
The program is designed to accelerate the number of ultra-clean vehicles sold in California and help establish a sustainable market for them.
The program also supports the comprehensive Advanced Clean Car regulation the Air Resources Board adopted earlier this year. That regulatory package builds on California's already tough standards to reduce smog-forming emissions as well as greenhouse gas emissions.
The new regulation includes a separate requirement that one in seven new cars sold in 2025 in California be a zero emission vehicle. A state government agency, the Air Resourves Board oversees all air pollution control efforts in California to attain and maintain health-based air quality standards.
Click here for information on the rebate project, including an application and required documents, list of eligible vehicles and real-time funding status.
The Air Quality Improvement Program is a voluntary incentive program that allows up to $40 million per year, depending on revenues, through 2015 for the Air Resources Board to fund advanced technologies needed to meet long-term air quality and climate change goals.
Nichols says the state's early investment in zero-emission and plug-in hybrid technologies will prime the market for the larger number of these vehicles needed to promote a cleaner and healthier environment.
Copyright Environment News Service (ENS) 2012. All rights reserved.