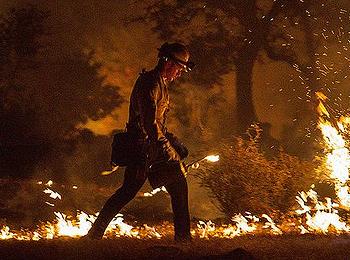 SACRAMENTO, California, August 22, 2012 (ENS) – Wildfires that have destroyed homes, forced evacuations and caused road closures prompted California Governor Jerry Brown to issue an emergency proclamation today for three northern California counties at their request.
"I find that conditions of extreme peril to the safety of persons and property exist due to the fires in the counties of Plumas, Shasta, and Tehama," the governor said in his proclamation. "The fires have destroyed residences and threaten thousands of homes and other structures, causing residents to be evacuated, roads to be closed, and emergency shelters to be opened."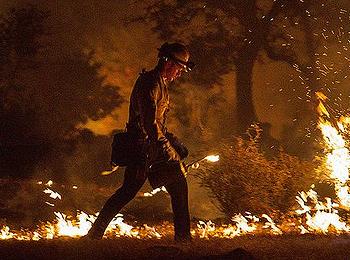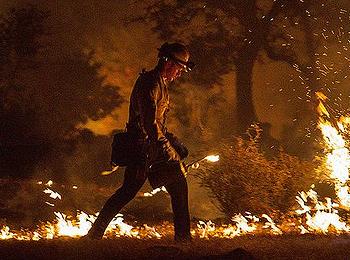 The Ponderosa Fire near Manton in Tehama County has now burned 24,323 acres and is 50 percent contained. The fire was started by lightning on August 18 and has spread to neighboring Shasta County.
Thousands of people have been ordered to leave their homes as the blaze in thick forest threatens rural communities. About 3,500 homes in an area along the border of Tehama and Shasta counties are threatened as the fire continues to expand.
On Saturday, the Shasta County Sheriff's Office closed Highway 44 between Shingletown and Viola and evacuated area residents from at least 700 homes. Since then, security details have been patrolling the evacuated areas and will remain until the residents are allowed to return to their homes.
"At this time it is too early to speculate when Highway 44 road closure will be lifted," the Shasta County Sheriff's Office said this morning. "Law enforcement and fire personnel are evaluating the fire. We are looking at the weather and safety conditions hour by hour in hopes to allow the residents to return to their homes safely."
"Resources are stretched thin and fire suppression activities are still in effect," said the sheriff's office. "We do not want to lift closures prematurely  and open up the area with unsafe conditions."
In neighboring Plumas County, the Chips wildfire started on July 29 in the Plumas National Forest northwest and upslope of Belden, a small community in Plumas County. It has consumed more than 62,820 acres, and continues to burn. Mandatory evacuations are in place for the communities of Prattville, Canyon Dam and the Big Meadows area. The cause of the fire is under investigation.
The Chips Fire has closed Highway 89 from Butt Lake Road to 4.3 miles north of Greenville due to heavy smoke and a large amount of emergency equipment on the roadway.
High winds pushed the fire into containment lines along Highway 89 yesterday, but crews got a break today as winds eased off and temperatures moderated to normal seasonal levels.
Along the southern edge of the Chips Fire a burnout operation is planned for tonight to take advantage of the lower temperatures and increased moisture in the air. The low intensity burn is taking place in an area where firefighters have had difficulty securing the control line. This will protect a critical communication site from uncontrolled fire in the area, fire officials said.
In northwestern California's Mendocino County, the North Pass Fire in Williams Valley 10 miles northeast of Covelo is exhibiting "extreme fire behavior," officials said. Sparked by lightning, it is actively burning in heavy timber, moving northeast into the Yolla Bolly Middle Eel Wilderness. More than 700 firefighters both on the ground and in the air are actively battling the blaze.
The Mendocino County Sheriff's Office Tuesday issued a mandatory evacuation order for all residents of Indian Dick Road east of the town of Covelo and residents on Indian Dick Road from the intersection of Mendocino Pass Road north to the Trinity County Line and east to the Tehama County Line. The order includes all campsites at Howard Lake Campground, Little Doe Campground and Hammerhorn Lake Campground.
An enormous wildfire caused by lightning is burning on the California-Nevada border east of Susanville. The Rush fire started about 15 miles southeast of Ravendale on August 12. It now has burned an area measuring 42 miles long and 16 miles wide covering 313,911 acres east of U.S. Highway 395 in an area of grass, sagebrush and junipers.
Other wildfires continue to burn in Arizona, Idaho, Nevada, Oregon, Washington and Montana, and weather experts say the fire threat will grow worse over the next few days due to gusty winds and dry conditions.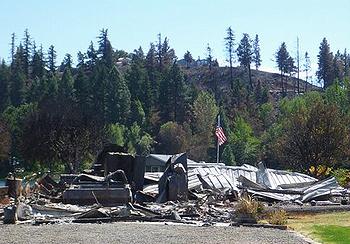 About 80 people spent Monday night in American Red Cross shelters in California, Idaho and Washington where disaster workers are providing shelter, meals, mental health support and clean-up supplies to those affected.
The Red Cross has provided some 200 overnight stays and more than 2,300 meals and snacks near Seattle, Washington, where the Taylor Bridge Fire is burning. The fire is believed to have been started by construction work on the nearby Taylor Bridge.
This wildfire has burned dozens of homes and charred more than 20,000 acres just five miles southeast of the town of Cle Elum. With more than 1,000 fire personnel battling the Taylor Bridge blaze, it was 90 percent contained Tuesday night, and fire officials are optimistic they will have it fully contained by Friday. After full containment, crews will stay in the area for weeks to monitor hot spots.
In south central Oregon, the Barry Point lightning fire has burned 146 square miles and is just 65 percent contained. Containment is expected by Saturday, fire officials say, but meanwhile 158 structures are threatened. The fire is burning in heavy dead and down trees on steep rocky terrain, with 1,131 people  battling strong winds in hot and dry conditions.
Fire officials report some of the fires burning across the West may not be fully contained until October.
Copyright Environment News Service (ENS) 2012. All rights reserved.