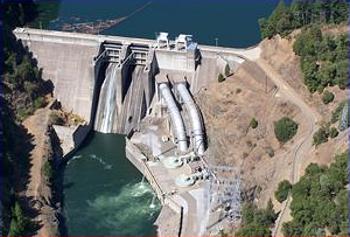 SACRAMENTO, California, August 10, 2012 (ENS) – California could lose up to 20 percent of its hydropower generation as climate change causes high-elevation reservoirs to shrink, finds a new report from the California Natural Resources Agency and the California Energy Commission.
"Climate change is expected to affect the quantity and timing of water flow in the state," said Kaveh Madani, a former postdoctoral researcher at the University of California, Riverside's Water Science and Policy Center who led the science team that authored the report.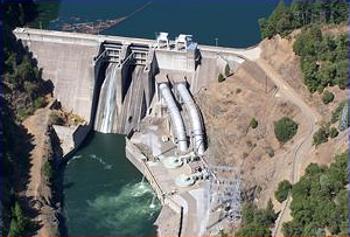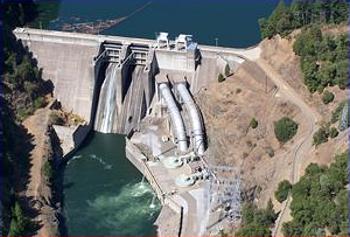 "Under dry climate warming, the state will receive less precipitation, with most of it as rain instead of snow, impacting hydropower supply and operations," said Madani. "The big problem is that hydropower will be less available when it is most needed and expensive – in the summer months."
Madani projects that under those conditions hydropower operators could suffer a drop in revenues of eight to 18 percent.
Madani's report is one of several conducted by 26 research teams that together comprise the state's third climate change assessment released since 2006.
The assessment covers current and projected climate change impacts on the state's energy, water, agriculture, coastal regions and public health. Areas of focus include the San Francisco Bay Area, the Sacramento-San Joaquin Delta and Santa Barbara.
"We know that climate change will significantly affect the state's energy supply and demand," said Energy Commission Chair Robert Weisenmiller. "This groundbreaking research gives us the data and analytical tools we need to better plan, forecast and prepare to meet the state's energy needs as we face climate challenges."
This assessment follows up on the Governor's Conference on Extreme Climate Risks and California's Future, held last December in San Francisco. The new studies provide a foundation for the 2012 Climate Adaptation Strategy, with completion expected in December.
"The governor is committed to rigorous climate science and understanding the impacts of climate change on California so that we can respond, adapt, and continue to prosper," said Ken Alex, senior policy advisor to Governor Jerry Brown, and director of the Office of Planning and Research. "Wise investment in our state's future depends on the science, and is key to strengthening California's economy and protecting the health of our citizens."
The assessment studies find that California will continue to get hotter. Statewide average temperatures increased by about 1.7 degrees Fahrenheit from 1895 to 2011. Temperatures are expected to rise by 2.7 degrees F. above 2000 averages by 2050.
Temperatures will rise more in inland areas than at the coast. Historically, in Sacramento, temperatures of 101 degrees F. or higher have occurred four times a year on average. There may be as many as 25 such days by 2050. If greenhouse gas emissions decrease, that number would decrease.
Each degree of increase in mean daily apparent temperature – a combination of temperature and humidity – corresponds to an increase in deaths from cardiovascular conditions, and more hospitalizations for at-risk populations. Minority and low-income residents have lower access to common ways of coping with heat, such as shade from tree canopies and transportation to cooling centers.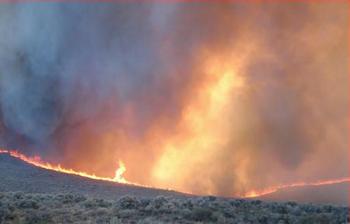 Wildfire risk will be higher, possibly more than doubling before 2085 in some areas.
Chief Ken Pimlott, director, California Department of Forestry and Fire Protection, said firefighters must have the right tools to prevail.
"These studies provide the tools we need now to further our plans for the risks that climate change brings – more frequent and more intense wildfires, longer fire seasons, and a decline in the health of our state's conifers," said Pimlott.
California will get drier, the research shows. By 2050, dry water years are expected to increase by eight percent in the Sacramento Valley and by 32 percent in the San Joaquin Valley, compared to the last half of the 20th century.
The state's lack of a groundwater tracking and monitoring system currently hampers appropriate planning.
California will see accelerated rising sea levels. Sea level along California's coastline rose about seven inches in the last century. The rate is expected
to accelerate. By 2050, sea level could be 10 to 18 inches higher than in 2000.
If sea level rises 16 inches higher than it is now, a 100-year flood would prohibit access to 23 emergency-responder fire stations in the San Francisco Bay Area.
Rising sea levels raise the risk of saltwater intrusion into coastal groundwater supplies, and into the Sacramento-San Joaquin Delta.
As early as 2050, what is currently considered a 100-year-storm may become an annual event. In addition, sea-level rise, combined with wind and waves, will make storms along the coast more destructive.
California's wildlife and agriculture are threatened. An estimated 83 percent of the state's 121 native freshwater fish species are at high risk of
extinction.
"Migration corridors" should be protected to allow animal and plant species to relocate to more suitable habitats as the climate changes.
The state's agriculture sector, which generates more than $30 billion a year and provides more than one million jobs, can thrive if appropriate crop-specific and location-specific measures are taken. The state's most vulnerable agricultural areas are in the Salinas Valley, the corridor between Merced and Fresno, Imperial Valley and the Sacramento-San Joaquin Delta.
"Significant increases in wildfires, floods, severe storms, drought and heat waves are clear evidence that climate change is happening now," said Secretary for Natural Resources John Laird. "These reports use cutting-edge science to provide an analytical roadmap, pointing the way for taking concrete steps to protect our natural resources and all Californians."
Click here to view the assessment reports, along with the summary "Our Changing Climate 2012," on the California Climate Change Portal.
Copyright Environment News Service (ENS) 2012. All rights reserved.
Environment News Service (ENS) © 2012 All Rights Reserved.