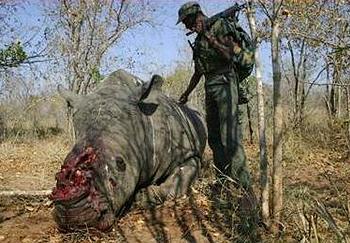 LOS ANGELES, California, May 15, 2013 (ENS) – A father and son team from Orange County, described by prosecutors as being "at the apex of the rhino horn smuggling pyramid within the United States," each will spend more than three years in prison on federal smuggling and money laundering convictions.
Vinh Chuong "Jimmy" Kha, 49, of Garden Grove, was sentenced to 42 months in federal prison for overseeing a U.S.-based operation that prosecutors argued played a direct role in a huge increase in rhinoceros poaching in Africa over the past several years.
Felix Kha, 27, the son of Jimmy Kha, also of Garden Grove, was sentenced to 46 months in federal prison for working with alongside his father in the scheme that generated millions of dollars that provided them with profits, as well as money to purchase more contraband rhino horns and pay bribes to customs officials in at least one other nation.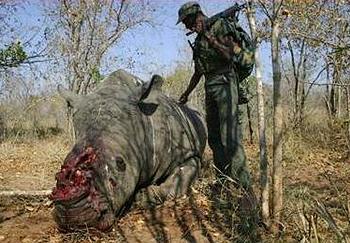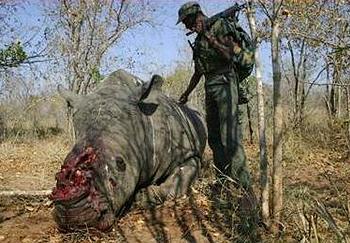 "The Khas' smuggling operation fueled international demand and played a significant role in driving the price of rhino horn to nearly $25,000 per pound," said U.S. Attorney Andre Birotte Jr. "It was that rising value of rhino horn that encouraged ruthless poachers to scour the South African wilderness in search of profits. The Khas played a role in pushing species like the African black rhino to the brink of extinction, which is why we aggressively prosecuted this case and sought lengthy prison terms."
The rhino horns acquired by the Khas during the course of their conspiracy had a market value of up to $2.5 million, prosecutors say.
In their plea agreements, both defendants admitted that they purchased the horns in order to export them overseas to be sold and made into libation cups or used for traditional medicine. They admitted making at least one illegal payment to Vietnamese customs officials to ensure clearance of horn shipments to that country, and evading income taxes owed in 2009 and 2010.
The Khas and Win Lee were sentenced this afternoon by U.S. District Judge Christina Snyder, who said the Khas engaged in "conduct not acceptable by anyone in the world."
Calling the matter a "serious crime against the environment and wildlife," Judge Snyder said, "There are portions of Africa where the rhino is gone, and Lord knows if they will ever come back."
In addition to the prison terms, the Khas were each ordered to pay a $10,000 fine. Judge Snyder also ordered them to pay a cumulative total of more than $185,000 in tax fraud penalties to the Internal Revenue Service.
Both Khas, along with the father's company, were also ordered to pay a total of $800,000 in restitution to the Multinational Species Conservation Fund, a fund managed by the U.S. Fish and Wildlife Service to support international efforts to protect and conserve rhinos and other critically endangered species around the world.
A third defendant in the case, Win Lee Corporation, which is owned by Jimmy Kha, was sentenced today to five years of probation and ordered to pay a $100,000 fine after it pleaded guilty to charges of smuggling and wildlife trafficking.
The Khas each pleaded guilty last September to five felony counts – conspiracy, smuggling, wildlife trafficking in violation of the Lacey Act, money laundering and tax evasion.
The Khas were among 14 people charged with federal crimes as a result of "Operation Crash," an ongoing investigation led by the U.S. Fish and Wildlife Service.
"On average, a rhino is slaughtered in Africa every 11 hours to feed the black market for their horns," said Fish and Wildlife Service Director Dan Ashe. "Criminals in this country who are cashing in on this illegal trade should know that the United States will hold them accountable for their crimes and do everything possible to protect wild populations of rhinos."
Rhinoceros are a prehistoric species and one of the largest herbivores on earth. All rhinoceros species are protected under U.S. and international law, and the black rhinoceros is listed as an endangered species.
Despite national and international protection efforts dating back 40 years, the demand for rhino horn and black market prices have skyrocketed recently due to the value that some cultures have placed on the horns for ornamental carvings, good luck charms or purported medicinal purposes.
For decades, rhino poaching was an isolated event in countries like South Africa, where the number of wild rhinos illegally killed there averaged 15 animals a year – until 2008 when the Khas began trafficking rhino horns.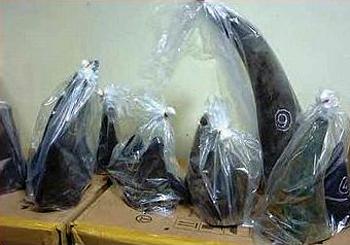 At the peak of the Khas' wildlife trafficking conspiracy in 2011, 448 wild rhinos were slaughtered that year for their horns in South Africa alone. Between 2007 and the end of 2011, the poaching of wild South African rhinos increased 3,400 percent.
In sentencing papers filed in U.S. District court, prosecutors argued that "although they themselves did not shoot the rhinos, defendants Jimmy and Felix Kha share direct culpability for the recent spike in the price of rhino horn, the increase in Vietnamese and Chinese demand for rhino, and thus the consequent wholesale slaughter of rhinos in the wild in Africa in recent years."
From January 2010 through February 2012 the Khas conspired with others throughout the United States to purchase white and black rhinoceros horn with the knowledge that these animals were protected by federal law as endangered and threatened species.
"The Khas engaged in egregious criminal conduct by taking the horns of a species on the brink of extinction and making millions of dollars in the illegal trade in rhino horns," said Ignacia S. Moreno, Assistant Attorney General for the Justice Department's Environment and Natural Resources Division. "The Khas' sentence sends a strong message that those who violate the law by illegally trading in rhino horns will be held accountable to the fullest extent of the law."
Operation Crash is an investigation being conducted by the U.S. Fish and Wildlife Service, which has received extensive assistance from the U.S. Postal Inspection Service, IRS – Criminal Investigation, and U.S. Immigration and Customs Enforcement's Homeland Security Investigations.
The case against the Khas was prosecuted by the United States Attorney's Office for the Central District of California and the Department of Justice's Environmental Crimes Section.
Copyright Environment News Service (ENS) 2013. All rights reserved.