California Adopts Advanced Clean Car Rules
SACRAMENTO, California, January 30, 2012 (ENS) – The California Air Resources Board has unanimously approved new emissions rules for cars and light trucks for model years 2017 through 2025.
Adopted on Friday, California's new package of clean car rules is intended to save drivers money on fuel, cut smog and greenhouse gases and make the state a world leader in clean car technology.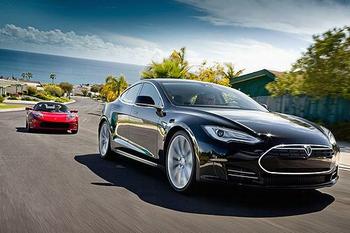 Tesla electric cars, Model S Alpha and Roadster, in California (Photo courtesy Tesla Motors)
The Advanced Clean Cars program approved Friday has been in development by state and federal officials over the past three years. The new rules will clean up gasoline and diesel-powered cars and ease the way for zero-emission technologies, such as battery electric, plug-in hybrid and hydrogen fuel cell cars.
"The California Advanced Clean Car rules will clean our air, fight climate change and provide cars that save consumers thousands of dollars at the pump," said Air Resources Board Chairman Mary Nichols.
By 2025, when the rules will be fully implemented, new automobiles would emit 34 percent fewer global warming gases and 75 percent fewer smog-forming emissions, as compared to 2014 levels, the ARB projects.
The program combines the control of smog-causing pollutants and greenhouse gas emissions into a single coordinated package of requirements for model years 2017 through 2025.
The package covers fueling infrastructure for the increasing numbers of zero-emissions hydrogen fuel cell vehicles planned for California. "The Board's action will create thousands of new jobs, transforming California into the advanced car capital of the world," Nichols said. "California is now in pole position in the race to provide next-generation ultra-clean cars to the global car market."
The Advanced Clean Cars program is composed of four separate, but related components.
Greenhouse gas standard for cars and light trucks, model years 2017-2025 The new standard drops greenhouse gas emissions to 166 grams per mile, a reduction of 34 percent compared to 2016 levels. This will be achieved through existing technologies, the use of stronger and lighter materials, and more efficient drivetrains and engines, said the Air Resources Board.

The board is working with the U.S. Environmental Protection Agency and National Highway Traffic Safety Administration to propose the new greenhouse gas standard for model year 2017 to 2025 vehicles. This standard builds on California's first-in-the-nation standard later adopted in 2010 by the federal government as part of the national program.

The strengthened standard took three years to develop through an unprecedented federal-state fact-finding process with shared engineering and technical studies.

Reducing Smog-Forming Emissions California will have to reduce smog-forming pollution by an additional 75 percent from 2014 levels to help meet more stringent federal air quality standards expected in the next few years.

With more than 26 million cars on the road, California continues to have the nation's worst air quality.

Zero Emissions Vehicle Regulation The ZEV regulation builds on a program in place since 1990 and is designed to rapidly increase ZEV production to early commercial volumes. This will place California on a path to reduce greenhouse gas emissions by 80 percent by 2050, a goal adopted by many nations and believed necessary to stabilize Earth's temperature.

By mid-century, 87 percent of cars on the road will need to be zero-emission vehicles to achieve that the 2050 greenhouse gas reduction goal, the Board said Friday.

The new regulation is expected to result in more than 1.4 million ZEVs on the road by 2025 – amounting to 15.4 percent of new vehicle sales in that year and keeping California on track to reach the mid-century climate goal.

Clean Fuels Outlet The Clean Fuels Outlet regulation ensures that fuels such as electricity and hydrogen are available to meet the fueling needs of the new advanced technology vehicles as they come to market.

This rule is designed to support the commercialization of zero-emission hydrogen fuel cell vehicles planned by vehicle manufacturers by 2015, which will require increased numbers of hydrogen fueling stations, first in urban areas, then across the state.
Under the new regulations, consumer savings on fuel costs would average $6,000 over the life of the car – more than offsetting the average $1,900 increase in vehicle price for the ultra-clean, high-efficiency technology.
Copyright Environment News Service (ENS) 2012. All rights reserved.