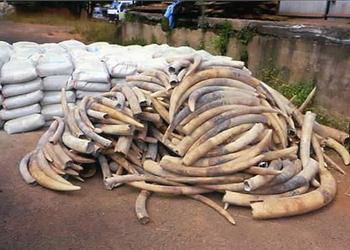 LILONGWE, Malawi, October 7, 2017 (ENS) – Two brothers who are among East Africa's most wanted wildlife criminals were arrested in Malawi this week on charges of attempting to smuggle hundreds of elephant tusks, according to Interpol, the world's largest police organization.
Brothers Chancy and Patrick Kaunda of Malawi, who were the subjects of Interpol Red Notices issued at the request of Tanzania, are suspected of attempting to export 781 elephant tusks from Tanzania to Malawi without the proper permits in 2013.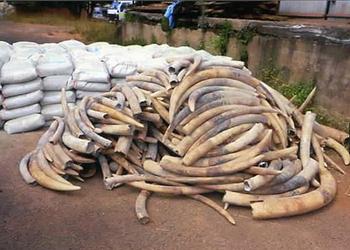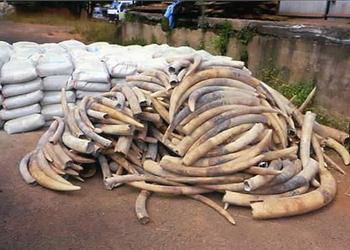 The illegally transported tusks, valued at US$5.8 million, were concealed in a shipment of bags of cement.
The Malawi Police, in cooperation with Tanzanian authorities and supported by a team deployed by Interpol, apprehended one of the fugitives in northern Malawi on October 4.
Intelligence uncovered during the arrest assisted police in locating and apprehending the second brother a few hours later.
The arrests took place within the framework of Operation Usalama IV, an operation led by the Eastern Africa Police Chiefs Cooperation Organization and the Southern African Regional Police Chiefs Cooperation Organization, with support from Interpol.
The two-day operation targeted transnational crimes, including human, drug and arms trafficking, people smuggling, terrorism, counterfeit and illicit goods and environmental crime.
"These arrests demonstrate the commitment of Malawi and Tanzania to combating the organized crime networks active in environmental crime through an intelligence-led law enforcement approach," said Henri Fournel, coordinator of Interpol's Project Wisdom.
"We congratulate our colleagues for apprehending these fugitives, and commend all our member countries in Africa and Asia for their continued dedication in the fight against international ivory trafficking," said Fournel.
The arrests highlight the importance of ongoing cooperation between Interpol's Project Wisdom and local authorities to tackle the illegal trafficking of ivory and rhinoceros horns in Africa.
Funded by The Wildcat Foundation, Project Wisdom encourages Interpol's 192 member countries to prioritize international exchange of information and to expand their use of Interpol policing capability, including its color-coded notices system to investigate, locate and apprehend environmental criminals.
The results of the largest ever continent-wide wildlife survey, the Great Elephant Census, was released in September 2016 at the World Conservation Congress in Hawaii. Census-takers found that Africa now has just 352,271 savanna elephants in 93 percent of the species' range, down from several million at the turn of the 20th century.
The aerial survey covered 18 African countries, including Tanzania, which has been especially hard hit by poaching for ivory.
The current yearly loss, a result of poaching, is estimated at eight percent. That amounts to about 27,000 elephants killed every year.
The authoritative IUCN Red List of Threatened Species classifies the savanna elephant in Africa as Vulnerable to Extinction, a 2004 listing that is one step up from the Endangered listing of 1996.
Copyright Environment News Service (ENS) 2017. All rights reserved.