Bluefin Tuna Boycott Popular, Australia Protects Southern Bluefin
SAN FRANCISCO, California, December 9, 2010 (ENS) – Just 10 days after the Center for Biological Diversity called for a boycott of bluefin tuna in sushi restaurants, the advocacy group said today more than 20,000 people from all 50 states and 91 countries have signed a pledge not to eat bluefin or patronize restaurants where it is sold.
Bluefin tuna are being pushed to extinction by decades of overfishing. Market prices soaring to $177,000 for a single bluefin earlier this year motivate illegal and unreported fishing, and a large black market was documented in a report published in October by the International Consortium of Investigative Journalists.
The western Atlantic population of bluefin has dropped by more than 80 percent since 1970, while the eastern Atlantic population dropped by 74 percent between 1957 and 2007.
Last spring, western Atlantic bluefin tuna, which breed in the Gulf of Mexico, were harmed by the BP oil spill at the height of their spawning season. The Center cites scientific estimates that the spill killed more than 20 percent of juvenile western Atlantic bluefin tuna and negative effects of the oil spill are expected to persist into the future.
"Even prior to this catastrophic spill, the Atlantic bluefin tuna was in severe decline and on a path toward extinction," the Center warns.
In November, the International Commission for the Conservation of Atlantic Tunas, the intergovernmental agency charged with managing bluefin tuna failed to cut next year's quota's to the levels recommended by its own scientists for the species' recovery.
Immediately after the ICCAT meeting ended the Center for Biological Diversity launched its boycott, hoping that restaurant goers would save the unique fish by reducing demand for it.
"By voting with their wallets, consumers are saving bluefin tuna by keeping it off their plates and steering clear of sushi restaurants with the rare fish on their menu," said Catherine Kilduff, a staff attorney at the Center, which in May sought U.S. Endangered Species Act protections for Atlantic bluefin.
The National Marine Fisheries Service is now deciding whether or not to list the Atlantic bluefin tuna as endangered or threatened in response to the Center's petition.
"Eating bluefin tuna is handing out a death sentence to the last remaining survivors of this majestic marine species," said Kilduff.
Bluefin tuna can grow up to 10 feet long and can weigh as much as 1,200 pounds. Unlike almost all other fish, bluefin tuna are warm-blooded and able to regulate their body temperature. Top ocean predators that sometimes hunt cooperatively, bluefin tuna can cross the Atlantic in just 60 days.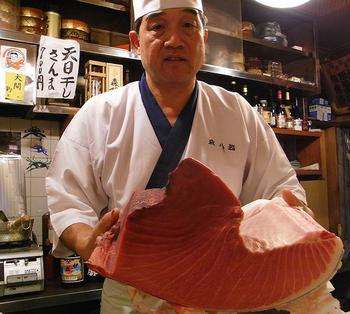 Tokyo chef holds a choice piece of bluefin tuna(Photo by M. Brew)
The boycott also calls on chefs and restaurant owners to sign a pledge not to buy or serve bluefin. Five restaurants in the United States that advertised bluefin tuna on their online menus in November – Nobu in New York City, Las Vegas and Los Angeles, Sushitaro in Washington, DC and Kabuto Sushi in San Francisco – received hand-delivered requests to stop serving bluefin.
As of today, none of the five have stopped serving bluefin, although Kilduff says Sushitaro, no longer specifies online that its "fatty tuna" is bluefin.
Consumers can tell if the tuna on a menu is bluefin by asking restaurant personnel or noting the price. "If it's expensive," says Kilduff, "it could be bluefin."
The southern bluefin tuna, which swims in Australian waters, was promised protection by the Australian government in November.
After many thwarted attempts, Humane Society International announced success in having southern bluefin tuna formally protected under Australia's national environment laws as a threatened species.
The southern bluefin tuna population has been reduced to 4.6 percent of its unfished biomass.
The Humane Society submitted a nomination for the southern bluefin to be protected under the Commonwealth Environment Protection and Biodiversity Conservation Act in December 2006 and on November 24 Environment Minister Tony Burke announced that protection will be granted.
Even so, southern bluefin tuna has not been listed in the category the Humane Society says it qualifies for, Critically Endangered, because that would put a stop to the commercial exploitation and export of the fish from Australia.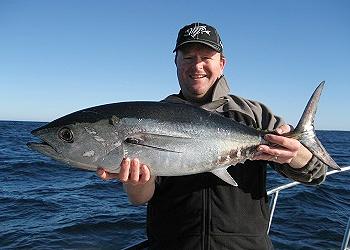 An Australian recreational fisherman holds his catch of southern bluefin tuna. (Photo by Tom Ashby)
Instead, Minister Burke has opted for the lesser Conservation Dependent listing which is the lowest protection available for a threatened species and which allows for continued fishing and exports.
"This listing will not prevent or restrict fishing or create additional regulatory burden on the industry," said Burke. "Fishing can continue under existing arrangements but it will now be a legal requirement that the species remain under a plan of management that includes actions to stop its decline and support its long-term recovery."
"Australia's tuna fishers are already working towards sustainable management, such a plan is already in place," the minister said.
"Because of its highly migratory nature, a global management strategy is the only way to help the recovery of southern bluefin tuna," said Burke. "A ban on southern bluefin tuna fishing in Australia would not necessarily result in a reduction of global catch, as the global catch limit may not change."
"A Conservation Dependent listing allows for continued southern bluefin tuna fishing but gives the federal environment minister stronger opportunities to intervene in management to ensure recovery," said the Humane Society's Alexia Wellbelove. "The minister must ensure southern bluefin tuna does not continue to suffer business as usual and that management actions are in place to achieve its recovery."
"Scientists have predicted that only a zero catch gives the southern bluefin tuna population a decent chance of recovering to 20 percent of its unfished biomass in 20 years," said Wellbelove. "The minister now needs to insist southern bluefin tuna gets this respite from fishing in Australian waters and that Australia works to achieve this internationally at the Commission for the Conservation of Southern Bluefin Tuna."
The International Union for the Conservation of Nature classifies the western Atlantic bluefin tuna population and the southern bluefin tuna as Critically Endangered with an extremely high risk of extinction in the wild in the immediate future.
The IUCN classifies eastern Atlantic bluefin tuna as Endangered, meaning that it faces a very high risk of extinction in the wild in the near future.
Copyright Environment News Service (ENS) 2010. All rights reserved.