Blackbirds That Fell on Arkansas Died of Trauma
BEEBE, Arkansas, January 4, 2011 (ENS) – Thousands of dead blackbirds that fell from the sky in Beebe, Arkansas on New Year's Eve died from "massive trauma," according to Arkansas state officials.
Results from preliminary testing released Monday by the Arkansas Livestock and Poultry Commission Veterinary Diagnostic Lab show that the red-winged blackbirds suffered trauma "primarily in breast tissue, with blood clots in the body cavity and internal bleeding."
All major organs were normal and the birds appeared to be healthy, the lab results showed. Gizzards and stomachs of the birds were empty.
In addition to the red-winged blackbirds, common grackles, brown-headed cowbirds and European starlings were also found dead in the streets of Beebe.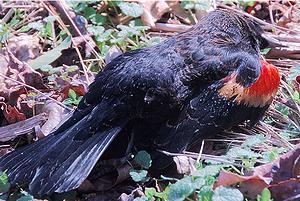 One of more than 5,000 dead blackbirds in Beebe, Arkansas, January 3, 2011. (Photo by EnjoyArkansas)
According to the lab report, "Further tests will be done to rule out other causes, but the birds suffered from acute physical trauma leading to internal hemorrhage and death. There was no sign of any chronic or infectious disease."
Air testing showed the air over Beebe was clean of toxins.
The Arkansas Game and Fish Commission said, "It is not apparent what caused the birds' unusual behavior, although loud noises were reported shortly before the birds began to fall from the sky. Blackbirds have poor night vision and do not typically fly at night."
Beginning at about 11:30 pm on December 31, Arkansas Game and Fish Commission wildlife officers received reports of blackbirds falling from the sky in a square-mile area of Beebe. They estimate that up to 5,000 birds fell before midnight. Most of the birds were dead, but some were alive when officers arrived.
Game and Fish officers flew over the area in a helicopter to gauge the scope of the event. They found no dead birds outside of the initial square-mile area.
The Beebe City Council held an emergency meeting Saturday morning and hired U.S. Environmental Services to pick up and dispose of the dead birds on streets, in yards and on rooftops.
"The flock could have been hit by lightning or high-altitude hail," said Game and Fish ornithologist Karen Rowe.
Another scenario may have been that New Year's Eve revelers shooting off fireworks in the area may have startled the birds from their roost, she said. "The birds may have died from stress."
Three days after the Beebe bird deaths, about 500 red-winged blackbirds and starlings were found dead along a quarter-mile stretch of highway in Louisiana, 300 miles to the south.
On Monday, hundreds of dead and dying birds lay across a quarter-mile stretch of Louisiana Highway 1 near Pointe Coupee Parish. Louisiana state officials have sent some of the dead birds to labs in Georgia and Wisconsin to obtain toxicology reports that might yield clues to the cause of their deaths.
"Mass bird die-offs can be caused by starvation, storms, disease, pesticides, collisions with manmade structures or human disturbance," says Greg Butcher, director of bird conservation with the National Audubon Society, which is monitoring the situation.
Butcher said the birds that died are abundant species that flock together in large nighttime roosts during the winter months. Roosts can contain from tens of thousands to 20 million individuals or more.
"We do need to keep a close watch to see if a pattern develops," said Melanie Driscoll, Audubon's director of bird conservation for the Mississippi River Flyway. "But if these incidents are isolated, they do not represent a significant threat to our native bird populations."
"Far more concerning in the long term," Driscoll said, "are the myriad other threats birds face, from widespread habitat destruction and global climate change to inappropriate energy development and invasive species."
Copyright Environment News Service (ENS) 2011. All rights reserved.