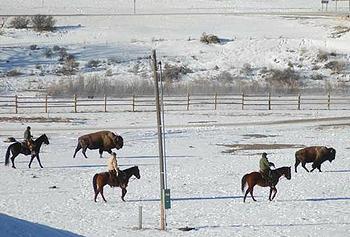 WEST YELLOWSTONE, Montana, January 3, 2013 (ENS) – The nonprofit bison advocacy group Buffalo Field Campaign and the U.S. Department of Agriculture have reached a settlement that requires the agency to process and respond to Freedom of Information Act, FOIA, requests from citizens nationwide in a "timely" manner.
The settlement, filed in Montana federal district court on Wednesday, resolves a complaint by Buffalo Field Campaign alleging that the USDA's Animal and Plant Health Inspection Service, APHIS, had improperly withheld government documents and had engaged in a "pattern or practice" of failing to respond to public information requests in a timely manner.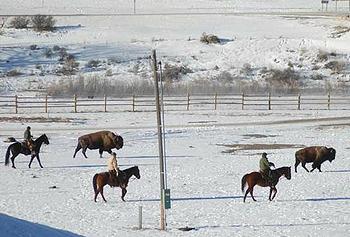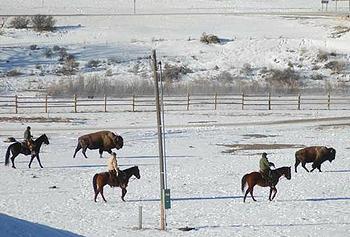 The complaint alleged that APHIS had repeatedly delayed public disclosure of the documents sought by Buffalo Field Campaign by giving itself extensions of time not permitted by the Freedom of Information Act.
Requests made pursuant to the Freedom of Information Act require federal agencies to respond within 20 business days; in some instances, Buffalo Field Campaign says APHIS gave itself months of improper extensions.
"The Freedom of Information Act is a powerful tool for the public to shed light on what the government is up to," says Daniel Brister, executive director of Buffalo Field Campaign. "We will be watchdogging this settlement to ensure that APHIS complies with the public's Freedom of Information Act requests."
Buffalo Field Campaign was founded in 1997 to stop the slaughter of Yellowstone's wild buffalo, protect the natural habitat of wild free-roaming buffalo and other native wildlife, and to work with people of all Nations to honor the sacredness of the wild buffalo.
The last wild population is currently estimated at fewer than 4,300 individual buffalo. Wild bison are currently ecologically extinct throughout their native range in North America.
Yet, state, federal, and tribal governments, including Yellowstone National Park, are aiming to kill hundreds of wild buffalo this winter through hunting, slaughter, or both. The agencies state that they want to "even the sex ratio" and have placed a heavy target on female buffalo, wanting to kill at least 400.
Yellowstone National Park states that a "skewed sex ratio" has resulted from years of capture and slaughter operations, which have removed more bulls than cows from the population.
"In other words," said Buffalo Field Campaign in a statement, "the government is saying they will slaughter more buffalo to mitigate the impact of slaughtering so many buffalo."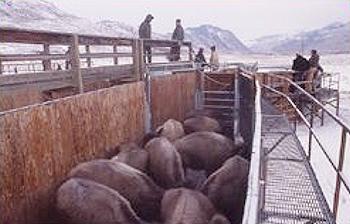 The advocacy group had submitted many public information requests to shed light on APHIS's bison population control experiments, births and deaths and welfare of bison in quarantine and associated costs, funding agreements with the Montana Department of Livestock, and investigative reports tracing sources of brucellosis infection in Montana cattle.
All of the documents received from APHIS have been posted online at the group's website:
http://www.buffalofieldcampaign.org/legal/aphisfoia.html
As a result of the lawsuit, APHIS will augment its Freedom of Information Act training program so the "unusual circumstances" provision of the FOIA, which allows agencies additional response time under certain specific circumstances, is properly used and followed by APHIS in responding to public information requests.
APHIS has agreed to implement new procedures including a phone number or Internet link for the public to use to check on the status of their public information requests.
"Prompt public access to government records is a necessary ingredient for a healthy, transparent democracy," says Daniel Snyder, an attorney with the Law Offices of Charles Tebbutt, P.C., who represented Buffalo Field Campaign in its lawsuit.
"Timely access is even more critical here, where the records sought by Buffalo Field Campaign illuminate the federal government's deplorable treatment of Yellowstone's threatened wild buffalo population," said Snyder.
"The new procedures APHIS must implement nationwide as a result of this lawsuit should result in the punctual disclosure of records requested by the public," he said.
Attorney John Meyer from the Cottonwood Environmental Law Center in Bozeman, Montana, also represented Buffalo Field Campaign as local counsel.
APHIS will pay Buffalo Field Campaign's attorneys' fees and costs to settle the Freedom of Information Act lawsuit.
Copyright Environment News Service (ENS) 2013. All rights reserved.