Biodiversity Pacts Signed on Genetic Resources, Global Conservation
NAGOYA, Aichi, Japan, October 29, 2010 (ENS) – Governments today agreed to a new treaty on how nations cooperate in commercializing genetic resources from living organisms, as for example, when a plant's genetic material is turned into a pharmaceutical product.
The deal that establishes an International Regime on Access and Benefit Sharing of Genetic Resources comes on the last day of the Convention on Biodiversity meeting in Nagoya, following intense all-night negotiations and 18 years of discussion and debate.
Representatives of the 193 governments meeting Nagoya also agreed on a global action plan to prevent the extinction of threatened animals and plants and conserve intact habitats over the next decade.
"This is a day to celebrate in terms of a new and innovative response to the alarming loss of biodiversity and ecosystems," said Achim Steiner, executive director of the UN Environment Programme, which administers the Convention on Biological Diversity. "I would like to congratulate all governments concerned for bringing a fresh vision to the more intelligent management of life on Earth."
"It is also an important moment for the United Nations and the ability of countries to put aside the narrow differences that all too often divide in favor of the broader, shared issues that can unite peoples and nations," said Steiner.
Framed as a Protocol to the main Convention on Biodiversity, the agreement on genetic resources outlines how the benefits flowing from conversion of genetic material into a commercial product are shared with the countries and communities who have conserved and managed that resource, often for millennia. The agreement is expected to help those communities overcome poverty and achieve sustainable development.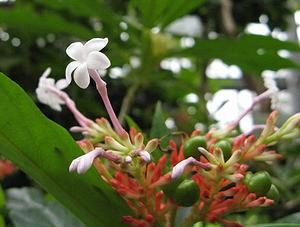 Rauvolfia serpentina, or Indian snakeroot contains a number of bioactive chemicals and is declining in the wild due to collection for its medicinal uses. (Photo by Pieria)
The global action plan consists of 20 targets designed to tackle the extinction crisis and restore the Earth's natural capital.
Under the new plan, governments agreed to increase the extent of land-based protected areas and national parks to 17 percent of the Earth's surface up from around 12.5 percent now, and to extend marine protected areas to 10 percent, up from under one percent currently.
Other elements of the extensive plan include, by 2020, lifting the extinction risk from known threatened species.
The governments agreed to study resource mobilization to help developing countries meet the new targets in the plan based on a methodology that relates support to needs and gaps.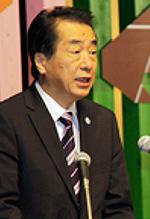 Japanese Prime Minister Naoto Kan offers US$2 billion. (Photo courtesy ENB)
The host country, Japan Wednesday announced a fund of US$2 billion for developing countries to use over the next three years to protect plants and animals from extinction.
Prime Minister Naoto Kan said, "Our generation must resist the ongoing extinction and bequeath to future generations our rich and abundant Earth."
The governments also decided to take a precautionary approach in terms of emerging areas such as geo-engineering in order to combat climate change and the development of synthetic biofuels.
"This conference must be viewed as a success and a major global achievement," said Russ Mittermeier, president of the U.S. based nonprofit Conservation International. "We were able to solve the key issues that were blocking the negotiations and ended up with a strategic plan with 20 targets to protect biodiversity over the next decade."
"Countries were able to come together as a global community and look beyond their national agendas to focus on the future of life on Earth and its essential role in human development and poverty alleviation," Mittermeier said. "We were optimistic from the beginning and are happy with the end result."
Harrison Ford, actor, conservationist and vice chair of Conservation International, told conference delegates that both developed and developing countries must look beyond their national interests and form a global alliance to stop the current environmental crisis.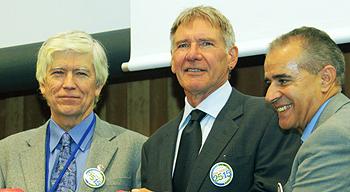 From left: Russel Mittermeier, president, Conservation International; Harrison Ford, vice chair Conservation International and Convention on Biological Diversity Executive Secretary Ahmed Djoghlaf (Photo by Franz Dejon courtesy ENB)
"This is a critical moment for environmental ministers to work together to set bold ambitious targets to protect nature and the services it provides," Ford said Thursday. "Decisions made here will not only impact our planet's environmental health, but the well-being of every person, family, and nation."
"We've seen history in the making here in Nagoya with a landmark agreement now in place that defines the future for life on Earth," said Julia Marton-Lefevre, director general of the International Union for the Conservation of Nature, which maintains the IUCN Red List of Threatened Species.
"Here in Japan the international community have moved closer to the realization that it's time we stopped considering nature as expendable, and any related expenditure a write-off," she said. "It's time we valued and conserved nature."
CITES Secretary-General John Scanlon, also representing the Ramsar Convention on wetlands, the Conservation of Migratory Species of Wild Animals and the World Heritage Convention, emphasized the strong ties between biodiversity loss, climate change, desertification and poverty reduction, and suggested joint implementation as a strategy for collaboration.
Prince Albert of Monaco called for a new beginning on biodiversity and the courage to shoulder collective responsibilities by pursuing a new development path that recognizes the value of nature.
The stakes have indeed been high at the Nagoya conference.
The latest IUCN Red List of Threatened Species, released two days ago, showed that nature's very backbone is at risk – with a third of species assessed seriously threatened and many among them facing the risk of extinction, said Marton-Lefevre.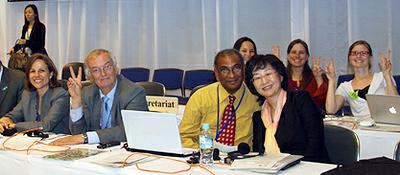 Staff of the Convention on Biological Diversity Secretariat are pleased with the outcome of the Nagoya meeting. (Photo courtesy Earth Negotiations Bulletin)
The Economics of Ecosystems and Biodiversity study, known as TEEB, released at the conference last week, warns that many of the benefits of nature that we have been taking for granted and enjoyed for free are at risk of running out.
The UNEP Global Biodiversity Outlook 3 showed that we are on the verge of catastrophic and irreversible tipping points.
Environmental leaders hope that the cooperative attitude that forged the agreements reached in Nagoya will carry over to the climate change negotiations set to begin November 29 in Cancun, Mexico.
Jim Leape, Director General of WWF International, said, "The ministers have worked hard over the last three days to forge this agreement. We hope their spirit and determination will be carried into other fora, including the upcoming climate talks in Cancun."
Conservation Internation's leader Mittermeier said, "This agreement comes at a critical time as the pressures on the environment are growing fast and the responses have been too weak. It is especially timely in light of the UN climate talks in Cancun coming up in a month, and many of the countries at the CBD highlighted the needed for greater collaboration between these two conventions."
Copyright Environment News Service (ENS) 2010. All rights reserved.
Environment News Service (ENS) © 2010 – 2012 All Rights Reserved.