BEIJING, China, May 18, 2012 (ENS) – Beijing's new automotive fuel standards in effect as of May 31 are equivalent to the European Union's Euro V standard, the strictest in the world, say city officials.
All fuel sold by retailers in the Chinese capital will be required to meet the new standards, which are expected to reduce sulfur dioxide emissions from 50 to 10 milligrams per kilogram, according to the Beijing Environmental Protection Bureau.
Chinese-language media report that the country's fuel suppliers already have developed gasoline and diesel fuels that meet the requirements of the Beijing V standard.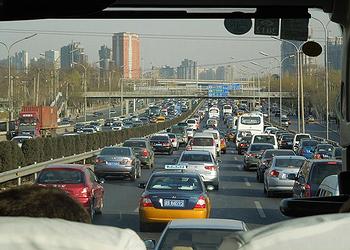 Smog hangs over a Beijing traffic jam, March 2012 (Photo by Roger Adams)
"The new Beijing V standard fuel, once implemented, will greatly reduce the amount of pollutants in the air, including the PM 2.5, (particulate matter with a diameter smaller than 2.5 micrometers) and improve the city's air quality," said Li Kunsheng, director of the bureau's vehicle management department.
"The capital will become the first in the nation to meet the benchmark," said Li.
Li said Beijing's new standards will be close to the Euro V fuel standards, the strictest in the world.
The most vital improvement of the new fuel is that it contains less sulfur, an air pollutant and component of acid rain. "Excessive sulfur will lead to greater pollution," Li said.
The cleaner fuel will increase engine efficiency and reduce fuel consumption, he said.
Nitrogen oxide emissions will be limited to 0.06 grams, down from the 0.08 grams in the existing national IV standard, while particulate matter emissions are limited to less than 0.0045 grams per kilometer.
The new standard requires cleaner emissions as vehicles get older, increasing the compliance limit to vehicles with 160,000 km on the odometer compared to 100,000 km in the national IV standard.
Zeng Zhiling, director of LMC Automotive Asia Pacific Forecasting, told the "China Daily" newspaper that the Beijing V standard will pressure automakers to make models that meet two separate standards – one for Beijing market and another for the rest of the country. The production of low-sulfur fuel will increase costs, said Fu Xingguo, an engineer at Sinopec Corp, China's largest oil refiner.
However, he said, the price of fuel will not be raised in the coming six months.
Fu said Sinopec and China National Petroleum Corporation have mastered the technologies of petroleum refining, with the country's oil processing capacity reaching 450 million tons in the year 2011.
Copyright Environment News Service (ENS) 2012. All rights reserved.