Bayer Pledges to Withdraw Its Most Toxic Pesticides
MONHEIM, Germany, September 29, 2011 (ENS) – Bayer CropScience will remove its most deadly pesticides from the market by the end of 2012 as part of its "ongoing portfolio optimization efforts" the company has announced.
The World Health Organization, WHO, has classified the active ingredients in pesticides according to their acute toxicity, with Class 1 being the most toxic.
When 2012 ends, says Bayer, all its remaining WHO class I products will have been phased out.
"With this commitment we fulfill our promise to end the production and marketing of these formulations," said Sandra Peterson, Bayer CropScience chief executive.
In close coordination with local registration authorities and the company's customer base, chemicals in this category will be replaced by more modern, targeted and environmentally-friendly formulations, she said.
"Our WHO Class 1 replacement initiative is fully in line with our commitment to sustainable agriculture and global food security," Peterson said.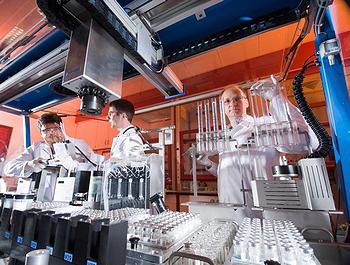 High-tech robots help scientists at Bayer CropScience in Monheim to search for new active ingredients. (Photo courtesy Bayer CropScience)
Philipp Mimkes from the Dusseldorf-based nonprofit Coalition Against Bayer Dangers said, "This is an important success for environmental organizations from all over the world who have fought against these deadly pesticides for decades. But we must not forget that Bayer broke their original promise to withdraw all class I products by the year 2000. Many lives could have been saved."
"It is embarrassing that the company only stopped sales because the profit margins of these chemical time bombs have fallen so much," said Mimkes.
Kavitha Kuruganti, national convener of the Alliance for Sustainable and Holistic Agriculture, a nationwide network of more than 400 organizations in India, was pleased with the company's promise.
"We welcome this long overdue move from Bayer," Kuruganti rejoiced. "We have ample evidence from the ground to prove that we don't need hazardous pesticides in our farming. Non-pesticidal management of crops is fast-spreading in different parts of India and data shows that the incomes of farmers improve when they eliminate pesticides from their agriculture."
Bayer has a world market share in pesticides of 20 percent. The World Health Organization estimates the number of people who are poisoned by pesticides at three to 25 million per year. At least 40,000 people are killed accidentally by pesticides and the estimated number of unreported cases is much higher, says Coalition Against Bayer Dangers.
"Bayer products contribute enormously to the millions of poisonings each year," Kuruganti said.
In its 1995 Annual Report the company pledged to "replace products with the Classification 1 of the World Health Organisation with products of lower toxicity" within five years. But the company failed to keep that promise.
Bayer still sells products that contain active ingredients in WHO Class 1a, extremely hazardous, and 1b, highly hazardous, including Thiodicarb, Fenamiphos, Aldicarb and Ethoprophos.
The Coalition against Bayer Dangers is demanding an immediate ban on the broad-spectrum herbicide glufosinate and a suspension of all approvals of glufosinate-resistant crops.
A European Food Safety Authority evaluation states that glufosinate poses a high risk to mammals. The substance is classified as reprotoxic, with laboratory experiments showing premature birth, intra-uterine death and abortions in rats.
The European Parliament voted to ban pesticides classified as carcinogenic, mutagenic or toxic to reproduction. Permits for 22 substances, among them glufosinate, will not be renewed.
Copyright Environment News Service (ENS) 2011. All rights reserved.