Ban Urges Ban on Nuclear Weapons Testing: Nine Nations Needed
NEW YORK, New York, September 23, 2011 (ENS) – UN Secretary-General Ban Ki-moon today urged the nine essential countries that have not ratified the Comprehensive Nuclear-Test-Ban Treaty to do so quickly, with the aim of bringing it into force by 2012.
"We know that a comprehensive ban on nuclear tests is an indispensable stepping stone to a nuclear-weapon-free world," he told a conference of governments on the Comprehensive Nuclear-Test-Ban Treaty, being held in New York on the margins of the annual general debate of the UN General Assembly.
The CTBT bans all nuclear explosions in all environments, for military or civilian purposes. It was adopted by the UN General Assembly on September 10, 1996 but it has not entered into force.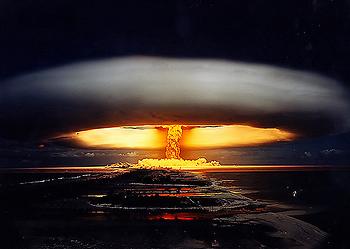 The French nuclear test codenamed Licorne was fired on July 3, 1970 over the Pacific atoll of Mururoa. (Photo by the French Army restored and posted by Pierre J.)
Out of a total listed number of 195 countries in the world, 182 have so far signed the CTBT and 155 have ratified it.
Ban said that calls for bringing the treaty into effect are growing, at the international political level as well as from the many victims and survivors he has met during his travels.
"We gather at a moment for action," said Ban. "My message is clear: Do not wait for others to move first. Take the initiative. Lead. The time for waiting has passed," he said. "We must make the most of existing – and potentially short-lived – opportunities."
"We must face facts. Until we have universal adherence to a legally-binding global norm against nuclear testing, there is no guarantee that nuclear tests will not happen again," said Ban.
For the treaty to enter into force ratification is required from the so-called Annex 2 States. Of these, nine nations – China, North Korea, Egypt, India, Indonesia, Iran, Israel, Pakistan, and the United States – have yet to ratify it. Many of these nine countries have nuclear weapons.
Annex 2 states are countries that participated in the CTBT's negotiations between 1994 and 1996 and possessed nuclear power reactors or research reactors at that time.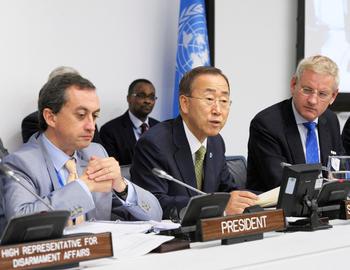 UN Secretary-General Ban Ki-moon urges nuclear weapons states to ratify the Comprehensive Nuclear-Test-Ban Treaty, September 23, 2011 (Photo by Evan Schneider courtesy UN)
Ban welcomed indications by Guatemala, Iraq, Papua New Guinea and Thailand of their intention to ratify the treaty. He also took note of the expressions of intent of some remaining Annex 2 States and said he looks forward to their prompt action.
Talks with the United States are ongoing. This morning Ellen Tauscher, U.S. Under Secretary of State for Arms Control and International Security Affairs, met with Tibor Toth, executive secretary of the Comprehensive Nuclear-Test-Ban Treaty, at the State Department.
Later today, Tauscher told the CTBT Conference, "The CTBT is central to leading nuclear weapons states toward a world of diminished reliance on nuclear weapons and reduced nuclear competition. With a global ban on nuclear explosive tests in place, states interested in pursuing or advancing their nuclear weapons programs would have to either risk deploying weapons uncertain of their effectiveness or face international condemnation, and possible sanctions, for conducting nuclear explosive tests."
"The United States has observed a moratorium on nuclear explosive testing since 1992 and our policies are already consistent with the central prohibition of the treaty," said Tauscher. "We announced last month a voluntary in-kind contribution of $8.9 million to support projects that will accelerate development of the CTBT verification regime," she said.
"It has been 12 years since our Senate failed to give its advice and consent to the ratification of the CTBT," she told the conference. "Lack of support stemmed from two concerns: the verifiability of the Treaty and the continuing safety and reliability of America's nuclear deterrent without nuclear explosive testing."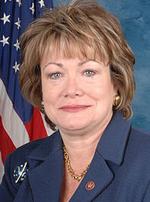 Ellen Tauscher (Photo courtesy U.S. State Dept.)
"Today, there have been dramatic developments on both fronts and we have a much stronger case to make in support of ratification," Tauscher said.
"The Obama Administration remains committed to securing U.S. ratification of the Comprehensive Nuclear Test Ban Treaty," Tauscher told an international conference in Paris in July. "We are initiating a significant process of engagement with Members of our Congress to highlight what has changed since the Senate last took up this Treaty," she said.
Today's conference is happening 15 years after the treaty opened for signatures.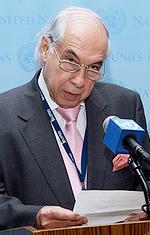 Sergio Duarte, September 23, 2011 (Photo by J.C. McIlwaine courtesy UN)
"The treaty's entry into force is long overdue," Sergio Duarte, UN High Representative for Disarmament Affairs, told reporters today.
He said the final declaration adopted by the conference this morning underlines this urgency and the importance that ratifying and signatory States attach to the treaty's entry into force.
"This conference is taking place at a time when the international community is imbued with momentum to further strengthen efforts against the proliferation of nuclear weapons and to pursuing a world free of nuclear weapons," he said, delivering a statement on behalf of the Secretary-General. "The CTBT is indispensable to these efforts."
The Preparatory Commission for the Comprehensive Nuclear-Test-Ban Treaty Organization is building an International Monitoring System to ensure that no nuclear explosion goes undetected.
There are currently over 280 monitoring facilities in 85 countries. The data registered by the monitoring system also can be used for disaster mitigation such as earthquake monitoring, tsunami warning, and the tracking of the levels and dispersal of radioactivity from nuclear accidents.
Tauscher told the CTBT conference today that the United States has continued to provide the full costs of operating, maintaining and sustaining 34 certified International Monitoring System stations among those assigned by the treaty to the United States.
When fully completed, there will be IMS facilities in 89 countries. When the CTBT enters into force, all the technical data gathered via the International Monitoring System will be available to all States Parties.
Copyright Environment News Service (ENS) 2011. All rights reserved.