Ban: Climate Change Agreement 'Beyond Our Reach – For Now'
DURBAN, South Africa, December 7, 2011 (ENS) – United Nations Secretary-General Ban Ki-moon told ministers and government leaders at the UN climate talks in Durban that while "real progress" is possible at the talks, "the ultimate goal of a comprehensive and binding climate change agreement may be beyond our reach – for now."
"It would be difficult to overstate the gravity of this moment," said the UN chief. "Without exaggeration, we can say: the future of our planet is at stake – people's lives, the health of the global economy, the very survival of some nations."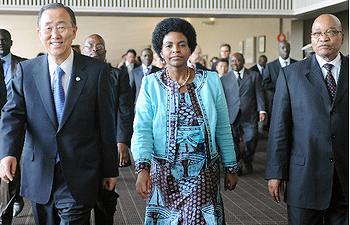 Entering the Durban conference center, UN Secretary-General Ban Ki-moon, Conference President Maite Nkoana-Mashabane, South African President Jacob Zuma (Photo courtesy United Nations)
Twelve heads of state and government, as well as 130 ministers and delegates from 194 countries, are taking part in the high-level discussions at the 17th Conference of the Parties (COP17) to the United Nations Framework Convention of Climate Change and the 7th Session of the Conference of the Parties to the Kyoto Protocol.
"Let me speak plainly," Ban told 15,000 delegates in the plenary hall. "We must be realistic about expectations for a breakthrough in Durban. We know the reasons: grave economic troubles in many countries, abiding political differences, conflicting priorities and strategies for responding to climate change. And it may be true, as many say: the ultimate goal of a comprehensive and binding climate change agreement may be beyond our reach – for now."
"Yet, let me emphasize, none of these uncertainties should prevent us from making real progress here in Durban," said Ban. "Indeed, we can and must move forward on key issues. I am pleased that many parties have proposed creative ways forward."
"In the absence of a global binding climate agreement, the Kyoto Protocol is the closest we have," said Ban. "While Kyoto alone will not solve today's climate problem, it is a foundation to build on, with important institutions."
"It provides the framework that markets sorely need. Carbon pricing, carbon trading depend on a rules-based system. It is important that we do not create a vacuum. Therefore, I urge you to carefully consider a second commitment period of the Kyoto Protocol here in Durban," Ban said, to applause.
Ban urged the delegates to show leadership in Durban and pull the world "back from the abyss."
"The science is clear," Ban declared. "The World Meteorological Organization has reported that carbon emissions are at their highest in history and rising. The Intergovernmental Panel on Climate Change tells us, unequivocally, that greenhouse gas emissions must be reduced by half by 2050 if we are to keep the rise in global temperatures to 2° C since pre-industrial times. According to the International Energy Agency, we are nearing the "point of no return" and we must pull back from the abyss."
2011 was another year of climate extremes – record floods in Central and South America and Southeast Asia, drought-induced famine in Africa, and severe water shortages throughout the Pacific region.
To address these threats, the European Union's roadmap toward a new legally-binding climate agreement that would take effect after 2020 has been a focus of negotiations during the first week of the Durban talks. The proposal would include commitments from both developed and developing countries.
But an EU delegate told reporters, on condition of anonymity, that China turned down the idea of adopting legally-binding limits on its greenhouse gas emissions during a closed door meeting Monday with EU Climate Commissioner Connie Hedegaard.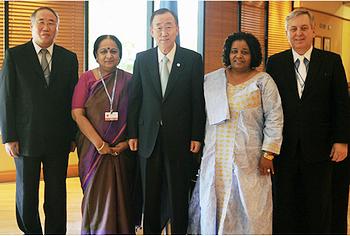 UN Secretary-General Ban Ki-moon meets with BASIC country ministers in Durban. From left: Xie Zhenhua of China, Jayanthi Natarajan of India, Secretary-General Ban, Edna Molewa of South Africa, Luiz Alberto Figueiredo of Brazil. (Photo courtesy ENB)
Indian Environment Minister Jayanthi Natarajan, speaking also for the BASIC group that includes the large emerging economies of China, Brazil and South Africa, said Tuesday, "Some countries have projected the question of a legally-binding agreement in future as a panacea for climate change. This is completely off the mark."
"This question confuses implementation with ambition," she said. "There is an ambition gap because the Kyoto Protocol parties have not fulfilled their political obligations. There are more in the wings that are preparing to announce their intention to forsake their international obligation."
"We need to ensure that the parties meet their commitments whether under the Convention or the Kyoto Protocol," said Natarajan. "Developing countries should not be asked to make a payment every time an existing obligation becomes due on the part of developed countries."
Brazil also holds the position that the second phase of the Kyoto Protocol is necessary "in order that the fight against climate change continues firm and consistent."
Brazilian President Dilma Rousseff Tuesday called for a renewal of the Kyoto Protocol. "We really would like COP17 to approve the second commitment period of the Kyoto Protocol. That's Brazil's position. We consider this essential," she said.
For the small island states most at risk of climate change, a second commitment period under the Kyoto Protocol is an urgent necessity, and a legally-binding agreement in 2020 represents extreme danger.
"After a year of record emissions growth and the hottest temperatures on record, the push by the world's biggest carbon polluters to delay flies in the face of the overwhelming evidence in support of immediate action and represents a betrayal of the people most vulnerable to climate change and the world," said Ambassador to the UN Dessima Williams of the Caribbean island nation of Grenada, speaking for the Association of Small Island States.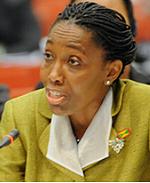 Dessima Williams of Grenada (Photo courtesy ENB)
"AOSIS is calling on the Durban conference to deliver agreement on a second five-year commitment period under the Kyoto Protocol, a process to rapidly ramp up mitigation ambition, and a mandate to quickly conclude a new parallel legal agreement in 2012 to cover those not bound by the Kyoto Protocol," she said.
"As noted last week by the International Energy Agency, delaying action until 2017 would close the door to any hope of keeping warming below 2°C, and put humanity on a course to the devastation of 4°C of warming and many meters of sea-level rise," said Williams.
The questions surrounding payments and finance for climate adaptation and mitigation have been some of the most contentious issues at Durban, but today the European Union came up with a new multi-billion euro financial resource.
Commissioner Hedegaard announced a proposal by the European Commission to devote more than 14 billion euro to climate mitigation and adaptation actions in the countries most vulnerable to climate change.
"With this proposal, the EU shows its clear commitment to contribute its fair share to long-term climate finance," said Hedegaard. "But the EU and other advanced economies will face serious fiscal constraints in the years to come. Therefore climate finance cannot only be public money alone. We need innovative sources of financing, in particular, in the private sector and carbon markets."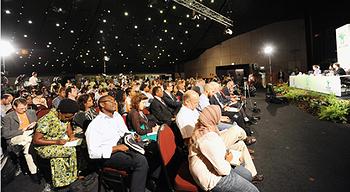 Delegates in Durban (Photo courtesy ENB)
Xie Zhenhua, head of the Chinese delegation, told the high-level delegates that the most important tasks of of the conference should include fulfilling the Bali Road Map negotiations, setting wealthy nations' emission-cut pledges in a second commitment period of the Kyoto Protocol and non-Kyoto developed countries' comparable emission targets, as well as launching the Green Climate Fund.
"Action is the best language," Xie said.
Xie unveiled China's goal of cutting greenhouse gas intensity by 17 percent during its 12th Five Year plan (2011-2015). In 2009, China pledged a 40-45 percent emission cut target from 2005 levels by 2020.
An action plan of China's State Council shows that China will allocate emission targets to each province, and link the accomplishments with provincial officials' appraisal system, the Xinhua state news agency reports.
The action plan, distributed to Xinhua but not yet officially announced, says China will launch pilot projects to test a carbon emissions trading system, to somewhat similar to the European Union's Emissions Trading System, based on voluntary emission offsets.
Creating a body to govern a $100 billion a year Green Climate Fund is a central issue at climate conference, but negotiations are still underway and it is not clear whether the final document will mention how the money will be in the fund.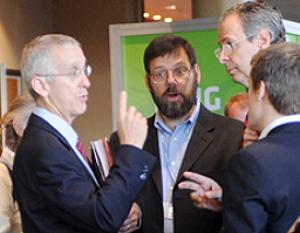 U.S. top negotiators, from left: Todd Stern and Jonathan Pershing, in a corridor at Durban (Photo courtesy ENB)
A high level advisory group appointed by Ban said last year that money should flow from governments, private investment and also from sources such as a levy on the global shipping and aviation industries.
The fund is intended to help developing countries adapt to the impacts of climate change and to help them cut their own future emissions.
Last year at the climate conference in Cancun, government leaders approved a $10 billion a year fast-track fund from 2010 to 2012, which is supposed to scale up to $100 billion a year by 2020.
Top U.S. climate negotiator Todd Stern told reporters today, "I have a fair amount of confidence that this is going to get done in a positive way. We are very supportive of the Green Fund."
Norwegian Prime Minister Jens Stoltenberg, who co-chaired the advisory group with Ethiopian Prime Minister Meles Zenawi, said during a panel discussion, "It is challenging, but it is feasible to mobilize $100 billion by 2020. But we have to do many different things and look for different sources of finance."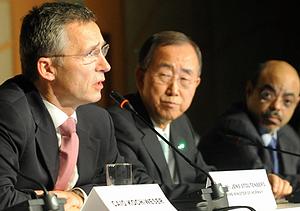 From left: Norwegian Prime Minister Jens Stoltenbert; UN Secretary-General Ban Ki-moon, Ethiopian Prime Minister Meles Zenawi in Durban (Photo courtesy ENB)
In his address to the delegates, Prime Minister Stoltenberg said, "We are again reminded of the stark realities of climate change. Floods, cyclones and drought are putting millions at risk. We will all be affected. But the peoples that are most vulnerable, will be the most severely hit."
"I remember the optimism in Kyoto when we agreed on the Kyoto Protocol," Stoltenberg said. "A legally binding agreement covering about half of total global emissions."
But, he said, "Our optimism from Kyoto was unfounded. Since then we have suffered serious setbacks and disappointments. From Kyoto to Durban the Protocol has shrunk to a third of its potential. It could end up covering only 15 percent of global emissions instead of 50."
At the same time, he said, "The emissions are increasing, and they are increasing at an accelerating pace. Last year the emission of greenhouse gases was at the highest level ever. But we cannot afford to give up."
He held out hope for a long-term legally binding climate agreement. "If we reach agreement here in Durban to work towards a broad legally binding agreement," he said, "Norway is willing to take on a second commitment period under the Kyoto Protocol."
Stoltenberg cited what he called "encouraging examples" of countries that are introducing effective climate policies and actions:
Australia has just introduced a price on carbon.
China is becoming more energy efficient and is testing emission trading systems.
Brazil is reducing deforestation and thus keeping millions of tonnes of carbon locked up.
Bangladesh and Rwanda are putting in place strategies for reducing risks and adapting to unavoidable climate change.
Ethiopia is launching its Climate-Resilient Green Economy Strategy.
The Maldives, Costa Rica and Norway are all aiming to become carbon neutral.
In the evening, the UNFCCC Secretariat launched Momentum for Change, a new initiative celebrating adaptation and mitigation success stories. One of the featured initiatives was reforestation of a landfill site in Durban, which is building on the efforts to offset the 2010 World Cup. This project is also designed to engage the local community and create jobs by training "tree-preneurs" to manage the reforestation.
Under the Momentum for Change Initiative, the UNFCCC secretariat will create a series of platforms to recognize and encourage such projects. The first platform of the series is created in partnership with the Bill & Melinda Gates Foundation, and focuses on successful and effective private-public partnerships, in particular those that benefit the urban poor in developing countries.
Copyright Environment News Service (ENS) 2011. All rights reserved.