Awash in Plastic Bags, Ho Chi Minh City Tries a Tax
HO CHI MINH CITY, Vietnam, May 1, 2012 (ENS) – The Department of Natural Resources and Environment in Vietnam's largest city has again proposed banning free carry-out plastic bags.
The nine million people in Ho Chi Minh City throw away 60 metric tonnes of plastic bags every day, the department said, discarding them in the nearest street, gutter, canal or tossing them into the Saigon River.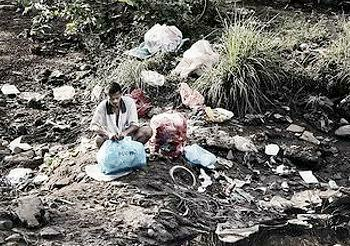 Man searches through rubbish dumped behind a restaurant on a canal in Ho Chi Minh City (Photo by leefie)
Most of the used plastic bags make their way into landfills, which are quickly filling up, causing a serious impact to the environment. Only a very small fraction of these plastic bags are recycled.
Under the proposal, first advanced in 2008 then refined and reintroduced in 2009, local authorities would increase the recycling of plastic bags and encourage the production of biodegradable bags.
This time around, the Department of Natural Resources and Environment has asked the city government to establish a steering committee that would manage plastic bag use by local retailers.
The average capital city resident used some 288 plastic bags per year, said a press statement issued by the city legislature in 2009.
It is difficult to change the embedded habit of carrying groceries out of the store in a plastic bag, laments a Department of Natural Resources and Environment staff member.
For example, after receiving fresh fish in a plastic bag, a buyer at Ho Chi Minh City's Thai Binh Market asked that it be double bagged to keep from soiling her hands.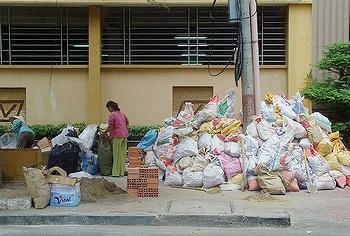 Plastic bag trash piles up on the streets of Ho Chi Minh City (Photo by Adam Fletcher)
Later that day, the two plastic bags are sitting in her trash can. Multiply this use and discard pattern by nine million and environmental disaster is just around the corner.
The threat is related to the sheer volume of bags clogging landfills, and also to the resources needed to produce, transport and recycle them, and the emissions resulting from these processes.
Single-use plastic bags also clog pipes and drains, interfering with the part urban ecosystems can play in reducing the impact of flood events.
In an attempt to deal with the problem, the Ministry of Natural Resources and Environment has applied a tax of between VND30,000 and VND50,000 (US$1.43 and 2.39) per kilogram on plastic bags, according to an April 30 report in the newspaper published by the Ho Chi Minh City Party Committee of the Communist Party of Viet Nam.
The only exceptions are bags that are environmentally friendly such as biodegradable plastic bags.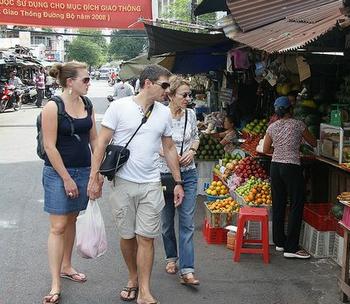 Plastic bag at a market in Ho Chi Minh City (Photo by c7knet)
The tax is meant to reduce the use of plastic bags and heighten awareness of their environmental impact. But many small shopowners say their customers demand plastic bags, despite the higher pricing.
To sweeten the offer, the Department of Natural Resources and Environment also proposes that loans on favorable terms be extended to firms that are involved in reducing industrial pollution and recycling of waste.
However, many plastic bag recycling plants have been forced to move or close down due to environmental violations.
They often emit toxic fumes and smoke into the air and neighbors constantly complain about the stench from the large quantities of plastic being processed.
In a typical decision, an owner of a small recycling shop in the Binh Chanh District said that he is shutting down his plastic recycling operation as the process is not cost effective.
Ngo Nguyen Ngoc Thanh, deputy director of the Ho Chi Minh City Waste Recycling Fund, said there has been no official research on the amount of used plastic bags being recycled.
It is necessary to limit use of plastic bags, Thanh said, so the city has set a target of reducing 40 percent of plastic bags by 2015.
Copyright Environment News Service (ENS) 2012. All rights reserved.