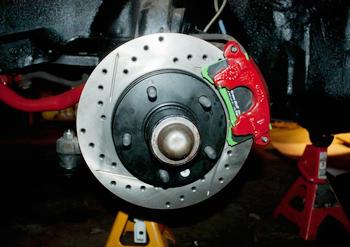 WASHINGTON, DC, January 21, 2015 (ENS) – An agreement to reduce the use of copper and other toxic materials in motor vehicle brake pads was signed Wednesday in Washington by the automotive industry, an organization representing the 50 U.S. states and the U.S. Environmental Protection Agency.
The Copper-Free Brake Initiative calls for cutting copper in brake pads to less than five percent by 2021 and 0.5 percent by 2025.
The voluntary initiative also will cut the amount of mercury, lead, cadmium, asbestiform fibers and chromium-6 salts in brake pads.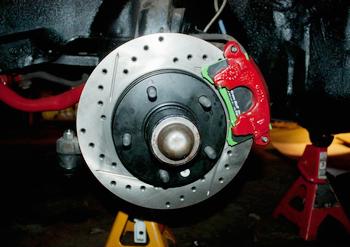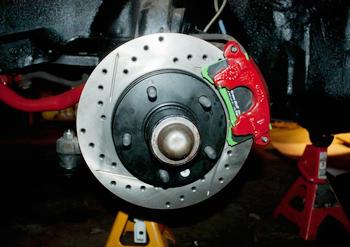 These moves will reduce runoff of these materials from U.S. roads into streams, rivers and lakes, where these materials can harm fish, amphibians and plants.
Stan Meiburg, acting deputy administrator for EPA, said the agency, "…is proud to partner with the automotive industry and the states to reduce the use of copper in motor vehicle brake pads, which means less of this material running off our roads and into our nation's waterways."
"The environment and public health in our country will benefit from this type of collaboration between the public and private sector," he said.
The signing took place during the SAE 2015 Government/Industry Meeting at the Washington Convention Center. SAE International, initially established as the Society of Automotive Engineers, is a U.S.-based, globally active professional association and standards organization for engineering professionals in the transport industries.
"This historic MOU [memorandum of understanding] will provide the motor vehicle industry with consistent copper reduction guidelines and eliminate the potential for disparate state regulations," said Steve Handschuh, president and CEO of the Motor and Equipment Manufacturers Association, one of the groups that signed the agreement.
"This has been a proactive, collaborative effort by regulatory agencies, states and the motor vehicle industry to reduce copper in U.S. streams, rivers and waterways," Handschuh remarked.
California and Washington have already passed requirements to reduce these materials in brake pads. Before those states enacted their rules, dust from vehicular braking released an estimated 1.3 million pounds of copper into California's environment in 2010 and about 250,000 pounds into Washington's environment in 2011.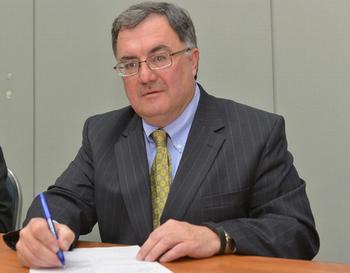 Estimates for California show copper in urban runoff down as much as 61 percent due to changes in brake pad composition.
Robert J. Martineau, Jr., president of the Environmental Council of the States (ECOS) and commissioner of the Tennessee Department of Environment and Conservation, said, "ECOS is proud to be part of an agreement that will make a meaningful contribution to improved water quality across the nation. This effort shows how states, the federal government and industries can work together to develop innovative, non-regulatory ways to reduce pollution."
Copper is a primary pollutant of concern found in highway stormwater runoff.
In some areas copper far exceeds EPA's water quality criteria for aquatic life. Elevated levels of copper are toxic in aquatic environments and may adversely affect fish, invertebrates, plants, and amphibians. Acute toxic effects may include mortality of organisms and chronic toxicity can result in reductions in survival, reproduction, and growth.
Copper is also directly toxic to the salmon olfactory system, even at very low exposure concentrations, which degrades salmon's ability to avoid predators.
One source of copper includes wearing of vehicle brake pads onto roadway surfaces where it comes into contact with stormwater and is discharged into nearby waterways.
The Copper-Free Brake Initiative includes:
• Education and outreach to bring about the nationwide reduction in brake pads of copper and the other materials.
• Testing friction materials and constituents for alternatives.
• Marking and labeling friction material packaging and product.
• Providing reporting registrars' and agents' contact information to manufacturers, suppliers and other industry entities.
• Working towards achieving the goals in the Copper-Free Brake Initiative within specified timeframes.
In addition to EPA and the Environmental Council of the States, eight industry groups signed the initiative: Motor & Equipment Manufacturers Association; Automotive Aftermarket Suppliers Association; Brake Manufacturers Council; Heavy Duty Manufacturers Association; Auto Care Association; Alliance of Automobile Manufacturers; Association of Global Automakers, Inc.; and the Truck and Engine Manufacturers Association.
The Alliance of Automobile Manufacturers, the leading advocacy group for the auto industry, represents 77 percent of all car and light truck sales in the United States, including the BMW Group, Chrysler Group LLC, Ford Motor Company, General Motors Company, Jaguar Land Rover, Mazda, Mercedes-Benz USA, Mitsubishi Motors, Porsche, Toyota, Volkswagen Group of America and Volvo Cars North America.