Automotive CEOs Plan Eco-Friendly Products, Green Jobs
DAVOS, Switzerland, January 23, 2012 (ENS) – Eighty percent of automotive CEOs see developing environmentally-friendly products or services as an "important part" of their companies' innovation strategy, finds the annual survey of CEOs by PriceWaterhouseCoopers.
On January 24, on the eve of the annual World Economic Forum in Davos, Switzerland, Dennis Nally, chairman of the PwC network, will reveal the results of firm's 15th annual global CEO survey.
To discover "how chief executive officers are approaching growth during a time when sustainable economic growth is far from certain," PwC polled 1,201 business leaders in 69 countries in the last quarter of 2010, and conducted further in-depth interviews with 31 CEOs.
Advance information from the survey released by PwC indicates that, in general, chief executives are nearly as confident of growth in the coming year as they were in the boom years, even though the global economy is still recovering from PwC called "the worst economic crisis in 75 years."
Fifty automotive CEOs in 20 countries said innovation is critical. They are brainstorming with supply chain partners to improve fuel efficiency and partnering with governments – responding to new regulatory requirements and using government programs to help drive sustainable innovation.
"Now, with their worst fears about the crisis behind them and an emerging recovery ahead," says the survey report, automotive CEOs are "adopting new attitudes and approaches, tailored to dealing with the issues of the multi-speed global recovery that they hope is underway."
BMW i8 all-electric concept car with gull-wing door open at the Detroit Auto Show, January 2012. (Photo by plasmahead)
Fifty-two percent of automotive CEOs are "very confident" of revenue growth over the next 12 months, compared to just 20 percent last year, and they're moving in greener directions.
"Every country in the world is focused on improving fuel economy and reducing CO2 emissions. It's turned out to be an excellent strategy. It was strong before the recession, it was strong during the recession and it's strong after the recession," said Timothy Manganello, CEO of BorgWarner, the Michigan-based vehicle parts and systems supplier.
Governments and automotive CEOs share priorities such as ensuring that laid-off automotive workers find new employment.
"The most promising areas are new 'green jobs,'" the PwC survey report says. "As the industry moves away from its reliance on the internal combustion engine, many skilled workers will be needed to help produce new battery technologies."
Stephen Roell, chairman and CEO, Johnson Controls, told the survey team about one new technology that lowers emissions and fuel consumption – the start-stop battery.
"This is an advanced lead-acid battery that helps stop and start vehicle engines at red lights and other intermittent stops, as a way to reduce greenhouse gas emissions and fuel consumption. The technology, which is best known in Europe, can lower emissions by five to 12 percent," Roell said.
"Consumer demand has been very high, he said. "The assumption had been that the stop/start battery would be embraced and adopted by 2015, but it's happened much more quickly, and now the industry is scurrying to meet capacity demands."
The survey cites some green job initiatives already in place, for example, Driving Change, a research consortium of Indiana, Michigan, and Ohio Labor Market Information Offices, which is "tackling changes in the automotive industry and resulting workforce needs."
CEOS said cooperation of government with automotive companies looking to intensify their own green technologies will be critical to making such programs a success.
Automakers are gearing up to meet governmental requirements to slash emissions and boost fuel economy.
The European Union has stipulated that by 2012, emissions from 65 percent of vehicles on its roads be reduced to 130 grams of CO2 per kilometer. By 2015, the number of vehicles expected to conform is 100 percent, followed by a mandate that by 2020 CO2 emissions be dropped to 95 g/km.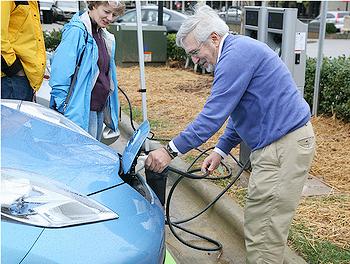 Electric car owner plugs in to a new charging unit in Raleigh, North Carolina, January 22, 2012 (Photo by North Hills Raleigh)
EVs are one option for meeting these regulations as well as the U.S. government's new stricter corporate average fuel economy standards that will hit 54.5 percent by 2025. But there are many competing "and often synergistic" technological alternatives, the PwC report says, adding, "In the longer term, we believe that EVs and the underlying technology, as well as some of the other options, will be vital to the industry's broader efforts to reshape the global automotive landscape."
Government help will be "vital," and it may take a variety of forms, the CEOs said. Mainstream consumers may not yet be ready for electric vehicles, so some governments are offering or proposing incentives. Others are providing or planning rebates, grants, and loans.
Such programs are one reason why 32 percent of automotive CEOs told the survey teams that they expect government assistance, like financing, tax credits and technology transfer, to boost their innovation output.
Roell said the auto industry has been "surprising" in its ability to bounce back.
"In terms of resiliency, I've been surprised to the extent the automotive markets recovered in 2010. We also were surprised at how far they fell the preceding year," Roell said. "The supply base, for the most part, has weathered it much better than I thought it would. Had liquidity and access to capital been prolonged, we would have had a lot more issues in our industry around the supply base."
More automotive CEOs are focusing primarily on the BRIC countries – Brazil, Russia, India and China – as the most important sources of future business growth than their peers in the survey population as a whole.
They are particularly interested in China: 64 percent see it as a top future market, which is 25 percentage points more than the overall average. The country is already the largest vehicle market in the world and rapidly getting bigger.
Copyright Environment News Service (ENS) 2012. All rights reserved.
© 2012, Jim Crabtree. All rights reserved.