Autism Experts Urge Reform of U.S. Chemicals Law
WASHINGTON, DC, June 8, 2011 (ENS) – Environmental health and autism experts Tuesday called for reform of the outdated U.S. law regulating chemicals, the Toxic Substances Control Act of 1976.
They warned that the recent sharp rise in autism is likely due, in part, to the cocktail of toxic chemicals that pregnant women, fetuses, babies and young children encounter.
"Lead, mercury, and other neurotoxic chemicals have a profound effect on the developing brain at levels that were once thought to be safe. With some complex combination of insults, little brains reach a tipping point," warned Donna Ferullo, director of program research at The Autism Society, told reporters on a conference call convened by the Safer Chemicals, Healthy Families Coalition.
The nationwide coalition represents more than 11 million people, including parents, health professionals, advocates for people with learning and developmental disabilities, reproductive health advocates, environmentalists and businesses.
Today in the United States, about one in every 110 children has autism, a disorder of neural development characterized by abnormalities of social interactions and communication, severely restricted interests and highly repetitive behavior. Boys are affected more than girls – one in every 70 boys will have autism.
Ferullo called autism the "fastest growing developmental disability in the United States."
"It has increased 600 percent in the last two decades – 1.5 million Americans are living with autism," she said. "This epidemic within one generation cannot be solely accounted for by genetic causes, or wider diagnostic criteria or even increased awareness."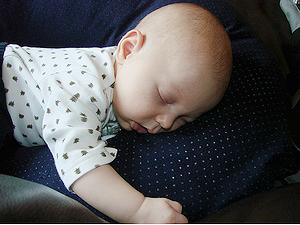 Baby boy asleep on a breastfeeding pillow (Photo credit unknown)
Current research and past twin studies, where twins have the same genes but different environments, implicate environmental exposures and gene-environment interaction in the development of autism, Ferullo said.
"Developing fetuses, young children, and their parents are exposed to many more chemicals than in the 1970s when the Toxic Substances Control Act became law," she said.
"Today, to a mother carrying BPA, mercury, phthalates, and brominated flame retardants, is born a baby with 200 contaminmants already in its cord blood," said Ferullo. "The developing brain is exquisitely sensitive to environmental exposures from conception through childhood."
A new study of products designed for newborns, babies and toddlers, including car seats, breastfeeding pillows, changing pads and other items made with polyurethane foam, found that 80 percent of products tested contained chemical flame retardants that are considered toxic. The peer-reviewed study was published in May in the "Environmental Science & Technology Journal."
Four products contained penta-BDE, a substance so toxic it is banned in 172 countries and 12 U.S. states, and is subject to a national phaseout. Fourteen products contained TCEP, a carcinogenic flame retardant on California's Proposition 65 list of cancer-causing chemicals.
Other detected retardants had so little health and safety data on them that their effects are currently unknown. The study found that the same flame retardants are also in children's bodies and widely dispersed throughout the environment and in food.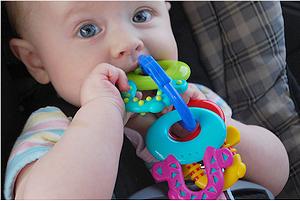 Teething on soft plastic releases phthlates, plasticizers known to disrupt the endocrine system. (Photo credit unknown)
"We know that little people tend to bite, lick, mouth, wet and fully experience these products, and absorb more potentially toxic chemicals than adults by both habits and percentage of small body weight," said Ferullo.
"For example, a wet mattress sends an entirely new combination of untested vapors into a small, vulnerable system. Frequent and multiple exposures to chemicals, combined with an inadequate detoxification pathway, do not ensure healthy development of the brain and immune system," she said.
Irva Hertz-Piccotto, PhD, chief of the Division of Environmental Health at University of California, Davis and a faculty member at the Mind Institute, said because the fetus responds to hormones from the mother, researchers need to look to endocrine-disrupting chemicals for causes of autism.
She, too, pointed a finger at PBDEs, the flame retardants used in consumer products. "Most are banned now, but because they are persistent in the environment and in the body, they still interfere with healthy development," she said.
Bisphenol A, a plasticizer in food packaging, water bottles and can linings, as well as antimicrobials added to soaps, towels, toothpastes and socks could potentially play a role in autism or other disorders," Hertz-Piccotto warned.
"We are at the beginnings of understanding," she said, explaining that the entire of scientific community was "derailed by blame-the-parent publications in the 1960s. This has set us back."
Suruchi Chandra, MD, is a psychiatrist at the True Health Medical Center in Naperville, Illinois, where she guides families through the different biomedical interventions for autism and related disorders.
She said doctors "don't even consider influence of environmental toxins" because they have no training in this field.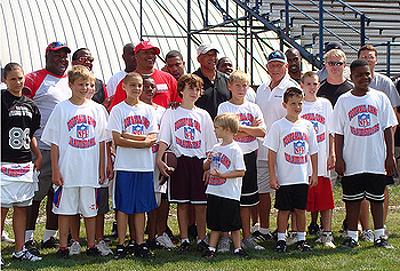 Football team for boys with autism, Ohio (Photo credit unknown)
Autism could be due to prolonged exposure over years to many toxins, she said. "There is no simple way of measuring this."
"I teach parents to avoid exposure to toxics, to avoid high pesticide foods, to use nontoxic cleaners. These strategies can be beneficial but they place these overstressed families in the position where they have to be hypervigilant."
"There is only so much parents can do," Chandra said. "Even if home is free of toxins, the child goes to school where toxins are. This points to the need for improved policies that regulate chemicals."
Lisa Huguenin, PhD, knows this from her experience as the mother of a nine-year-old boy with autism.
Huguenin has a doctorate in environmental science/exposure measurement and assessment from Rutgers University and the University of Medicine and Dentistry of New Jersey. She has worked at the state and federal levels in the area of occupational exposure to toxic chemicals and has taught college level classes on the subject.
"If I, a person well educated about human exposure to chemicals, still have questions and worry about the safety of products I buy every day," said Huguenin, so does the ordinary person."
"There is no reason a chemical that goes into a children's product can be marketed without being tested," she said.
"It costs $3 million to raise a child with autism as compared with a cost of $300,000 to raise a typical child," said Huguenin. "It's time to stop field testing chemcials on one of our most vulnerable populations – children."
Reform the Toxic Substances Control Act now, she urged, saying, "Every passing moment means another child might have to suffer, like my son Harrison."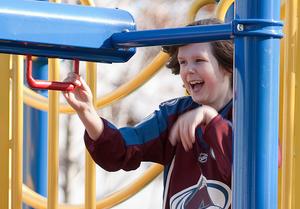 An autistic boy flaps his hand (Photo credit unknown)
Since 1976 when the Toxic Substances Control Act was enacted, very little data has been collected on the effects of most chemicals used widely in everyday products on the developing nervous system.
For most of the 3,000 chemicals produced in highest volume, over one million pounds per year, only 12 have been adequately tested for neurotoxicity.
Andy Igrejas, national campaign director with Safer Chemicals, Healthy Families, said the pending Safe Chemicals Act of 2011, introduced earlier this year by New Jersey Senator Frank Lautenberg, a Democrat, could help alleviate autism and other serious health problems.
Igrejas said the relevant chairmen in the House, Republicans Fred Upton, who chairs the Energy and Commerce Committee, and Environment and chair of the Economy Subcommittee John Shimkus, said they are "open to reforming" the chemicals law.
The bill would require most chemicals to be given a basic level of health and safety screening by the U.S. EPA and the information recorded in a publicly available database. The agency would rely on recommendations made by the National Science Academy in 2008, which called for assessment of cumulative exposure to different chemicals that all impact the brain.
"We have 84,000 chemicals in commerce and only five have been restricted," Igrejas said.
He sees a groundswell of public opinion building in favor of better legislation governing chemical testing. "There's momentum and legitimacy behind the need for reform nationally," he told reporters on the teleconference.
Eighteen states have enacted 78 different laws restricting chemicals in some way, Igrejas explained. In addition, 280 organizations in the coalition's campaign, the American Assocation of Pediatrics, the American Medical Association and other professional organizations have called for reform.
Copyright Environment News Service,ENS, 2011. All rights reserved.