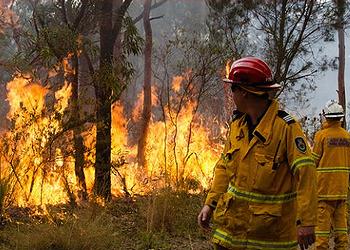 SYDNEY, Australia, October 23, 2013 (ENS) – Live ordnance training exercises conducted by the Australian Army last week touched off a catastrophic bushfire that has burned
more than 47,000 hectares of bushland, a New South Wales Rural Fire Service investigation has determined.
The State Mine fire started on Marrangaroo Army Range in the Blue Mountains of New South Wales near the city of near Lithgow last Wednesday, October 16. There were no total fire bans in place at the time.
Acting Minister for Defence Senator George Brandis said today in a statement, "I have seen reports that the State Mine fire near Lithgow may have been caused by live ordnance exercises on Marangaroo Defence Range on Wednesday 16 October 2013."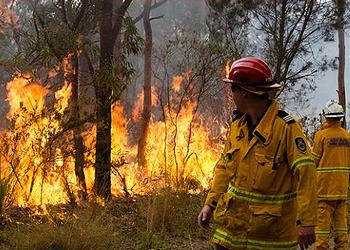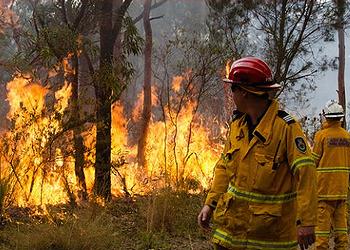 Senator Brandis said he spoke to the Acting Chief of the Defence Force, Air Marshal Mark Binskin, last night about the matter.
"The Australian government and the Australian Defence Force take this issue very seriously and continue to fully cooperate with the New South Wales authorities, including the New South Wales Police, who are investigating the fire," Brandis said. "The Australian government is doing everything it can to help the New South Wales authorities bring the fires under control."
Defence is also conducting an inquiry into the circumstances surrounding this explosive ordnance training activity.
Wildfires are blazing in a circle around Sydney, as Australia experiences its hottest year on record.
NSW Premier Barry O'Farrell said NSW government agencies are providing a coordinated response to the bush fire emergency to provide support to those in need.
The premier offered condolences to the family of a 63-year-old man who suffered a fatal heart attack Tuesday while defending his home against bushfires at Lake Munmorah on the NSW central coast.
"Given the hostile conditions we saw yesterday, it's a testament to the professionalism of the members of the Rural Fire Service, Fire and Rescue NSW, National Parks and Wildlife Services, NSW Police and other emergency services agencies in NSW that we have not seen a greater loss of life," O'Farrell said.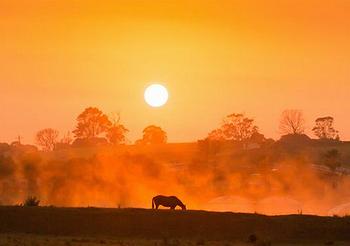 "This morning I have spoken to the Prime Minister and I can assure all affected communities that everything is being done by the state and federal governments get urgent help to people needing assistance," said the premier.
For those unable to return home, evacuation centers have been set up and staff from the Department of Family and Community Services together with nongovernmental organizations are coordinating emergency housing, clothing, toiletries, blankets, food and counseling.
On Monday the Insurance Council of Australia sent a team of disaster specialists to the area to help bushfire policyholders with questions about their insurance claims.
ICA CEO Rob Whelan said 855 claims had been lodged with insurers, with losses of more than A$93 million.
The ICA expects more claims will be lodged this week. Whelan said the situation in the Blue Mountains remains uncertain, with fires still raging and more properties potentially vulnerable.
The "Sydney Morning Herald" reports today that the Army's training manuals covering live ordnance training are not up to date due to lack of financial resources to update them and that instructions about when these training exercises can be conducted safely are contradictory.
Fairfax Media, which owns the "Sydney Morning Herald," has confirmed that Defence also started a bushfire at the weekend in South Australia with another explosives exercise. A spokesman for the South Australian Country Fire Service confirmed that Defence had been responsible for starting a fire at the Cultana training area, south of Port Augusta, on Saturday and that it was 'part of an exercise.'"
Australia's largest environmental group says the fires are in part the result of the "new climate reality" and that Australians must start cutting carbon pollution now.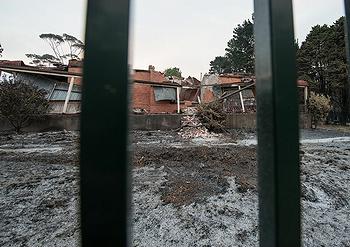 ACF's Dr. Paul Sinclair writes, "Sydney is, quite literally, on fire right now. Homes and cars are being lost as bushfires rage, fueled by a record-setting heat wave which NSW Fire Commissioner Greg Mullins says he's never seen the likes of so early in the year."
"Coincidentally, last week also saw the release of the Intergovernmental Panel on Climate Change's report unequivocally telling us if we don't start acting to rein in pollution, we can expect more of it," writes Sinclair.
"In Australia, the problem we face is that we have been polluting unheeded for decades, and now we are beginning to pay the price," Sinclair writes. "That price is a risk to our health and our wellbeing – access to clean drinking water, access to affordable food. The price is more frequent, more devastating bushfires, droughts and floods."
"We know what causes this," writes Sinclair. "The pollution that our society creates is heating up the planet, and threatening our health and wellbeing. Not generations hence – now. Most people alive today will live to experience these unsafe conditions that scientists are now expecting with 'extreme confidence,' which is science-speak for 'virtually certain.'"
"And if we know that our pollution is causing this, we know how to turn it around," Sinclair writes. "Normally reserved, conservative organisations like the OECD, the International Monetary Fund and the World Bank are all on the record saying countries like Australia need a market-based price system to give polluters the right incentive to pollute less."
But, Australia's newly elected Liberal Prime Minister Tony Abbott campaigned on reversing the fledgling price on carbon emissions put in place by the previous Labor government, and he intends to dismantle the carbon price structure as soon as possible.
In fact, Abbott today accused the executive secretary of the UN Framework Convention on Climate Change, Christiana Figueres, of "talking through her hat" when she indicated the science supports a link between global warming and bushfires.
There is "absolutely" a link between climate change and wildfires, Figueres told CNN reporter Christiane Amanpour on Monday.
"The World Meteorological Organization has not established a direct link between this wildfire and climate change – yet," Figueres said. "But what is absolutely clear is the science is telling us that there are increasing heat waves in Asia, Europe, and Australia; that there these will continue; that they will continue in their intensity and in their frequency."
Prime Minister Abbott told Neil Mitchell on Radio 3AW, Melbourne on Wednesday, "Look, we've had bad fires since almost the beginning of European settlement. … So, look, climate change is real as I've often said and we should take strong action against it, but these fires are certainly not a function of climate change, they're just a function of life in Australia."
Australian Greens Leader Christine Milne was outraged. "Tony Abbott has insulted UN climate chief Christiana Figueres, but the real losers out of his science denialism are the future victims of extreme bushfires, droughts and storms in Australia," she said.
"Tony Abbott is the Prime Minister for Science Denialism. He thinks his opinion on global warming outranks the evidence of the best scientists in the world. It is arrogance in the extreme," fumed Milne. "The Prime Minister's hubris on global warming will see Australia swelter and burn, and our people suffer."
Copyright Environment News Service (ENS) 2013. All rights reserved.