Australia Cuts Green Programs, Imposes Tax to Fund Flood Recovery
CANBERRA, Australia, January 28, 2011 (ENS) – Australian Prime Minister Julia Gillard Thursday proposed a one-year tax to pay for recovery from the recent disastrous floods that have submerged much of the state of Queensland, and other locations across southeastern Australia.
Gillard said preliminary estimates, following consultation with the Queensland government, indicate that the federal government will need to invest A$5.6 billion in rebuilding flood-affected regions, with most to be spent on rebuilding essential infrastructure.
"Two-thirds of that funding will be delivered through spending cuts," said Gillard. "The other third will be provided by a modest one-year progressive levy that won't be paid by people directly affected by the floods or by low-income earners."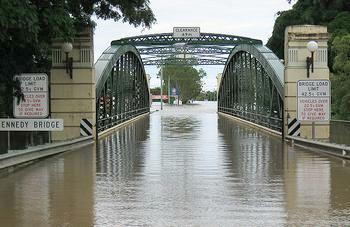 Flood closes Kennedy Bridge over Queensland's Burnett River in East Bundaberg, nearby residents were evacuated, December 29, 2010. (Photo by cdv1610)
The Australian Greens, environmental groups and the renewable energy industry opposed the plan, blaming climate change for the widespread flooded and demanding that the government cut subsidies to the coal mining industry to fund recovery.
The Prime Minister said the government will rebuild Queensland while delivering a budget surplus as promised in 2012-13. But she warned that recovery could cost even more than today's A$5.6 billion estimate.
"It is important to note that estimates of the impact of the floods are preliminary, and do not take into account what is expected to be a hit to government revenues as tax receipts fall in the aftermath of the floods," Gillard said.
The government plans to make A$2.8 billion in spending cuts, including removing industry assistance and cutting back other green programs by abolishing the Green Car Innovation Fund and the Cleaner Car Rebate Scheme and making other cuts – most of them to environmental programs.
Gillard plans to reduce and defer spending on the Carbon Capture and Storage Flagships and Solar Flagships programs and the Global Carbon Capture and Storage Institute.
Capping annual claims under the Liquefied Petroleum Gas Vehicle Scheme. The LPG Vehicle Scheme provides grants for the LPG conversion of a registered motor vehicle or the purchase of a new vehicle fitted with LPG prior to first registration.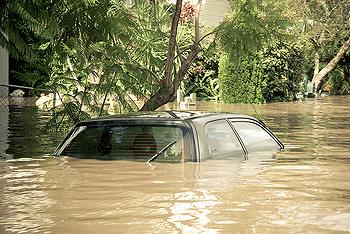 Flooded street in Queensland's capital of Brisbane, January 12, 2011 (Photo by Paul Sickling)
But on Thursday the Prime Minister announced that from July 1 the LPG Vehicle Scheme will be capped at 25,000 claims for each financial year for the life of the scheme.
The government will also cap funding for the Renewable Energy Bonus Scheme – Solar Hot Water Rebate, which is available to help homeowners, landlords or tenants replace their electric storage hot water systems with solar or heat pump hot water systems. Eligible households can claim a rebate of $1,000 for a solar hot water system or $600 for a heat pump hot water system through the rebate.
To help pay for flood recovery Gillard said the government will halt Round Two of the Green Start Program. In the first round, the government funded the delivery of on-site home energy assessments to improve the energy efficiency of homes. In the second round, the government had planned to seek proposals from community and welfare NGOs to improve energy efficiency in homes of low-income and disadvantaged Australians.
The Gillard government will cap funding for the 10-year-old Solar Homes and Communities Plan, which offers A$8,000 for the installation of solar photovoltaic systems.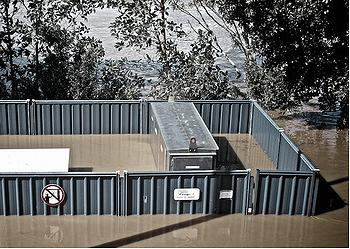 Flooded electrical substation on the Bremer River in Ipswich, a Brisbane suburb, January 13, 2011 (Photo by Jim McKee)
In addition to the planned A$2.8 billion in spending cuts, A$1 billion will be freed up by delaying some infrastructure projects.
The new tax on people earning over $50,000 is expected to raise $1.8 billion.
Gillard said "someone earning $60,000 a year will pay less than a dollar a week, while someone on average annual adult full-time total earnings of $68,125 will pay $1.74 a week. Anyone directly affected by the floods will not have to pay the levy at all."
The Prime Minister promised, "Every cent raised through these measures will go directly to flood-affected regions across Australia."
But the Australian Greens, whose support the Gillard government needs to stay in power, are opposed to the levy.
The full tax on excess profits by the coal mining industry, as recommended by Treasury, should be imposed with half set aside for future natural catastrophes in Australia, Greens Leader Bob Brown said in Hobart last week.
"Scientists agree that current floods come from record-high temperatures of Australian oceans this season," said Brown.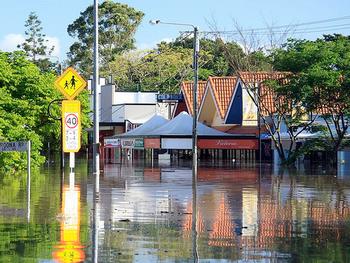 Flooded village of Rosalie, Brisbane, Queensland, January 13, 2011 (Photo by Angus Veitch)
"It is unfair that the cost is put on all taxpayers, not the culprits," Senator Brown said.
"Burning coal is a major cause of global warming. This industry, which is 75 percent owned outside Australia, should help pay the cost of the predicted more severe and more frequent floods, droughts and bushfires in coming decades. As well, 700,000 seaside properties in Australia face rising sea levels."
Australia's largest environmental group, the Australian Conservation Foundation, today also called for the federal government to fund flood recovery by cutting subsidies and tax breaks that promote fossil fuel use and greenhouse pollution, not by slashing funding to climate action programs.
ACF Executive Director Don Henry said, "It's right for the government to help people rebuild after these devastating floods, but it should use fossil fuel subsidies to fund the work."
"While no single extreme weather event can be directly attributed to climate change, this summer's floods are entirely consistent with what climate scientists have been warning for decades," Henry said. "By cutting greenhouse pollution we can reduce the severity of extreme weather events and help protect our people and our economy."
It makes no sense to fund the clean-up of the worst floods in Australia's history by cutting investment in climate change solutions, according to the Clean Energy Council, an industry association of more than 440 renewable energy and energy efficiency member companies.
Clean Energy Council Chief Executive Matthew Warren said the Gillard government is in danger of losing its way on delivering an effective climate change strategy for Australia by assuming a carbon price, currently under negotiation, will be the "silver bullet" to address the problem.
"The reality is that climatic events like the recent floods are likely to become more severe and frequent with the impacts of climate change," Warren said. "Cutting funding for clean energy projects that will ultimately mitigate this impact is as bizarre as it is counterproductive."
Copyright Environment News Service (ENS) 2011. All rights reserved.