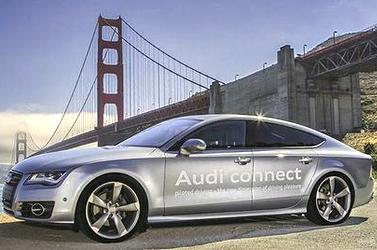 SACRAMENTO, California, September 16, 2014 (ENS) – Audi will be the first automaker to receive a newly established autonomous driving permit issued by the State of California. The German manufacturer says it is working to bring self-driving cars to the marketplace within five years.
A range of new regulations governing tests of automated driving on California roads took effect Tuesday. The regulations require surety bond coverage of at least $5 million for each vehicle covered by a license and allow testing on any state road.
"Audi is a driving force behind the research taking automated driving from science fiction to pre-production readiness," said Scott Keogh, president, Audi of America. "Obtaining the first permit issued by the State of California shows that we intend to remain the leader in this vital technology frontier."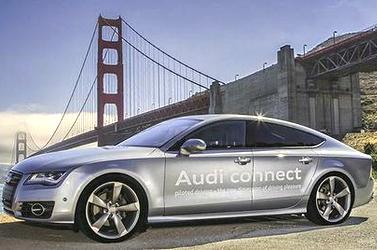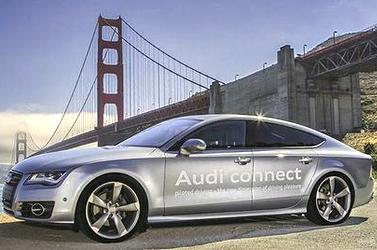 Audi's research is aimed at preparing an automated Piloted driving system for freeway traffic conditions.
While the German company has conducted research over tens of thousands of miles in Europe and other U.S. states where such testing is permitted, California roads are crucial to Audi Piloted driving testing because the state is home to the Audi Electronics Research Lab (ERL).
ERL engineers are working on issues, such as human-machine interface prompts that indicate when the human or the vehicle are handling driving functions.
Audi and ERL researchers have been involved in the pursuit of self-driving cars from its earliest stages.
Audi, ERL and Stanford University engineers collaborated on the development of the Autonomous Audi TTS Pikes Peak car, which completed the challenging 12.42-mile route of the Pikes Peak International Hill Climb race in Colorado in 27 minutes without a human in the car.
In 2012, Audi was the first automaker to receive one of the red autonomous vehicle license plates issues by the State of Nevada.
In July, with Florida Governor Rick Scott, Audi was the first to demonstrate the capability of its automated driving technologies on a Tampa expressway newly designated as an autonomous and connected car test bed.
California has allowed limited use of its roads for automated vehicle testing in the past. But the state legislature, led by Senator Alex Padilla, passed legislation that Governor Jerry Brown signed in 2012 to establish new guidelines for testing and eventually consumer use of technologies, such as Audi Piloted driving.
These are the new regulations that are now in effect across California.
"California has shown time and time again that it is a global technological leader and today marks the beginning of a new era for the auto industry," Senator Padilla said.
"Driverless vehicle technology has the potential to revolutionize driving, reduce traffic accidents and save lives. I applaud the efforts of Audi of America and others whose commitment is making this technology a reality."
Copyright Environment News Service (ENS) 2014. All rights reserved.
PHOTO: The Audi A7 Traffic Jam Pilot prototype parked under San Francisco's Golden Gate Bridge (Photo courtesy Audi of America)