Attorney General Opens Criminal Investigation Into Gulf Oil Spill
NEW ORLEANS, Louisiana, June 1, 2010 (ENS) – U.S. Attorney General Eric Holder said today that he has opened a criminal investigation into the Deepwater Horizon oil spill in the Gulf of Mexico.
Speaking to reporters in New Orleans after viewing what he acknowledged to be "the largest oil spill in American history," Holder said that among the many statutes Justice Department attorneys are reviewing are:
The Clean Water Act, which carries civil penalties and fines as well as criminal penalties
The Oil Pollution Act of 1990, which can be used to hold parties liable for cleanup costs and reimbursement for government efforts
The Migratory Bird Treaty Act and Endangered Species Acts, which provide penalties for injury and death to wildlife and bird species
"There are a wide range of possible violations under these statutes, and we will closely examine the actions of those involved in this spill," said Holder. "If we find evidence of illegal behavior, we will be forceful in our response."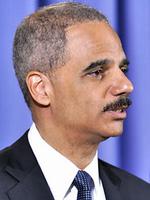 U.S. Attorney General Eric Holder (Photo courtesy Justice Dept.)
"We have already instructed all relevant parties to preserve any documents that may shed light on the facts surrounding this disaster," the attorney general said. "As our review expands in the days ahead, we will be meticulous, we will be comprehensive, and we will be aggressive. We will not rest until justice is done."
During the early stages of the response efforts, Holder sent a team of attorneys including the head of the Environment and Natural Resources Division, Ignacia Moreno, and the head of the Justice Department's Civil Division, Tony West, to New Orleans to gather facts and coordinate the government's legal response.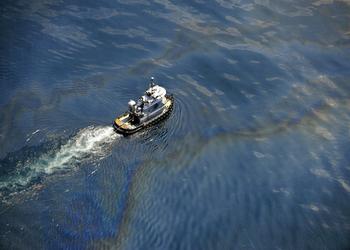 Boat makes its way through an oily Gulf of Mexico (Photo courtesy U.S. Navy)
"As we move forward," Holder said, "we will be guided by simple principles: We will ensure that every cent of taxpayer money will be repaid and damages to the environment and wildlife will be reimbursed. We will make certain that those responsible clean up the mess they have made and restore or replace the natural resources lost or injured in this tragedy. And we will prosecute to the full extent any violations of the law."
This morning, Holder surveyed the spill and was briefed by Coast Guard officers involved in the response effort on the Louisiana Delta, where, he observed, "the early signs of oil intruding into the ecosystem are all too evident."
"What we saw this morning was oil for miles and miles," he said. "Oil that we know has already affected plant and animal life along the coast, and has impacted the lives and livelihoods of all too many in this region. This disaster is nothing less than a tragedy."
This afternoon, the Justice Deparment team from Washington met with attorneys general and U.S. attorneys for the states and districts impacted by the spill. They discussed how to work together on a legal response not only to the spill but also to the deaths of 11 rig workers on the Deepwater Horizon when it exploded April 20 about 50 miles southeast of Louisiana.
"As you all know," said Holder, "the President on Friday reiterated that the first and foremost goal of the entire government is stopping the leak, containing and cleaning up the oil, and helping the people in this region get back on their feet and return to their normal lives."
"But as we have said all along, we must also ensure that anyone found responsible for this spill is held accountable," the attorney general said. "That means enforcing the appropriate civil – and if warranted, criminal – authorities to the full extent of the law."
Copyright Environment News Service (ENS) 2010. All rights reserved.