Atlantic States, Federal Government Will Jointly Develop Offshore Wind Power
WASHINGTON, DC, June 9, 2010 (ENS) – Secretary of the Interior Ken Salazar and the governors of 10 East Coast states signed a Memorandum of Understanding Tuesday that formally establishes an Atlantic Offshore Wind Energy Consortium.
Under the agreement, the consortium will develop an action plan that sets forth priorities, goals, specific recommendations and steps for achieving the development of wind resources on the Atlantic Outer Continental Shelf, the parties said in a statement. Today, there are no offshore wind developments in U.S. waters, although there are many operating elsewhere in the world.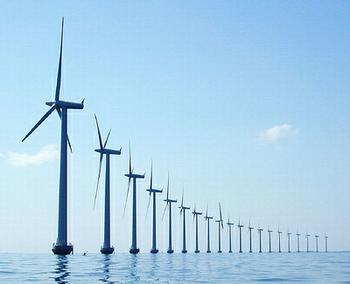 Offshore wind farm in the strait between Denmark and Sweden. The towers are over 196 feet tall, the rotors 260 feet in diameter. Each turbine can produce two megawatts of power. (Photo by Mads Prahm)
Salazar announced the agreement at Capitol Hill Oceans Week 2010, where he also announced the establishment of a new regional renewable energy office to coordinate and expedite development of wind, solar and other renewable energy resources off the east coast. The office will be located in Virginia "to be convenient to all states," he said.
"I am very pleased to be joining with the governors of Atlantic coastal states to promote the safe and environmentally responsible development of the exceptional wind energy resources off our coasts," Salazar said.
"Appropriate development of Outer Continental Shelf wind power will enhance regional and national energy security and create American jobs through the development of energy markets and investments in renewable energy technologies," he said.
Several wind energy projects for the Atlantic Outer Continental Shelf have been proposed for East Coast states, positioning the region to tap into what Salazar says is "the enormous potential" of U.S. wind power.
"Renewable energy resources hold great economic promise," Salazar said. "By one estimate, if our nation fully pursues its potential for wind energy on land and offshore, wind can generate as much as 20 percent of our electricity by 2030 and create a quarter-million jobs in the process."
Developing the offshore wind resource could create thousands of manufacturing, construction and operations jobs and displace older, inefficient fossil-fueled generating plants, helping to combat climate change, the secretary said.
The agreement was signed by Secretary Salazar and the governors of Maine, New Hampshire, Massachusetts, Rhode Island, New York, New Jersey, Delaware, Maryland, Virginia, and North Carolina.
"Positioning New York as a leader in the clean energy economy is one of my top priorities," said Governor David Paterson, a Democrat. "This will help to create jobs, provide for our energy needs, improve our economy, and make our environment cleaner for all New Yorkers."
This agreement comes shortly after a separate Memorandum of Understanding was signed by the Long Island Power Authority, Consolidated Edison and the New York Power Authority agreeing to engage in pre-development activities and studies for the Long Island – New York City Offshore Wind Project. This intrastate MOU marks the first regional partnership between these public and private utilities.
"Moving forward with offshore wind energy production gives us yet another opportunity to further position Virginia as 'The Energy Capital of the East Coast,'" said Virginia Governor Bob McDonnell, a Republican. "By signing this Memorandum of Understanding with my fellow east coast governors and Secretary Salazar, we have indicated a mutual desire for federal-state cooperation on wind energy that will lead to greater production, and more jobs, not just in Virginia but all along the east coast."
Maryland Governor Martin O'Malley, a Democrat, said, "Offshore wind energy offers vast potential to create jobs for our workers and to help stabilize utility costs for our families while increasing grid stability. As we continue to make strides towards our Renewable Portfolio Standard of 20 percent clean energy on the grid by 2022, offshore wind remains one of the most critical components to achieving this goal."
Three of the first five interim policy leases approved by the federal government to explore offshore wind projects are for tracts located off the coast of New Jersey.
"The environmental tragedy in the Gulf dramatically demonstrates the need to create safe and reliable ways to produce, distribute and use energy," said New Jersey Governor Chris Christie, a Republican. "Developing and investing in renewable energy resources such as wind power are key to the future economic growth of New Jersey and the Atlantic Coast Region and I am pleased to work with my colleagues as we explore this important energy market."
Interior's new Bureau of Ocean Energy Management will oversee the development of wind and other renewable energy resources on the Outer Continental Shelf.
In addition to cooperation with the governors, Interior will continue to work with local, state, tribal and federal stakeholders to facilitate the commercial leasing process for offshore renewable energy development through inter-governmental task forces.
Task forces have been formally established with Rhode Island, Massachusetts, New Jersey, Virginia, Delaware, and Maryland, and are in process for New York, South Carolina, and Florida.
Copyright Environment News Service (ENS) 2010. All rights reserved.