Asia-Pacific Leaders Make Green Growth a Priority
HONOLULU, Hawaii, November 14, 2011 (ENS) – Asia-Pacific heads of state and government Sunday pledged to, "Promote energy efficiency by taking specific steps related to transport, buildings, power grids, jobs, knowledge sharing, and education in support of energy-smart low-carbon communities."
"We are committed to advancing our shared green growth objectives," leaders from 21 Asia-Pacific economies declared at the conclusion of their meeting in Honolulu on Sunday.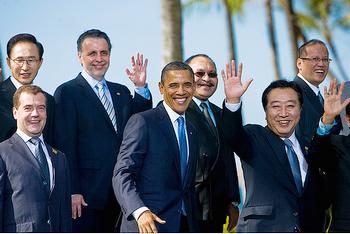 APEC leaders smile for their family photo without the aloha shirts they were given, a break with the tradition of wearing colorful shirts from the host country. (Photo courtesy APEC)
"We can and must address both the region's economic and environmental challenges by speeding the transition toward a global low-carbon economy in a way that enhances energy security and creates new sources of economic growth and employment," said the Asia-Pacific Economic Cooperation forum in its Honolulu Declaration.
The APEC leaders agreed to phase out "inefficient fossil fuel subsidies, which encourage wasteful consumption." They agreed to report their progress on the phase-out to each APEC annual meeting.
President Barack Obama continued negotiations to create a Trans-Pacific Partnership which the White House describes as "an ambitious, next-generation, Asia-Pacific trade agreement that reflects U.S. priorities and values."
"We just had an excellent meeting," Obama said Saturday morning. "I'm very pleased to announce that our nine nations have reached the broad outlines of an agreement. There are still plenty of details to work out, but we are confident that we can do so. So we've directed our teams to finalize this agreement in the coming year. It is an ambitious goal, but we are optimistic that we can get it done."
Eager to increase American exports to a region that represents more than 40 percent of global trade, the White House said the Trans-Pacific Partnership will boost U.S. economic growth and support the creation and retention of high-quality jobs at home.
The President met with Trans-Pacific Partnership leaders: Australia, Brunei Darussalam, Chile, Malaysia, New Zealand, Peru, Singapore and Vietnam.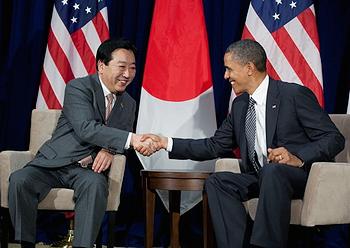 Prime Minister Yoshihiko Noda of Japan, left, and President Barack Obama, Honolulu, November 12, 2011 (Photo by Pete Souza courtesy the White House)
In his bilateral meeting with President Obama, Prime Minister Noda of Japan expressed his government's interest in the Trans-Pacific Partnership agreement. Encouraging Japan's support, President Obama said the regional trade pact would provide "an historic opportunity to deepen our economic relationship, as well as strengthen Japan's ties with some of its closest partners in the region."
With President Medvedev of Russia, Obama discussed Afghanistan, and "the importance of all regional parties assisting the Afghan government in stabilizing the country for the benefit of the Afghan people as well as Iran and its nuclear program," the White House said.
Obama that the World Trade Organization has invited Russia to join. "Although it's not official yet, the invitation has been extended to Russia to join the WTO, as a testament to the hard work of President Medvedev and his team," he said. "We believe this is going to be good for the United States, for the world, as well as for Russia."
The path to Russia's WTO admission was cleared November 9, when Russia and Georgia signed a Swiss-brokered agreement that provides for international observers to monitor the movement of goods across parts of Russia's borders with the former Georgian republics of Abkhazia and South Ossetia.
"We look forward to the conclusion of Russia's WTO accession process at the upcoming WTO Ministerial Conference in December," the 21 APEC leaders said in the Honolulu Declaration.
After his bilateral meeting with President Hu Jintao of China, President Obama said the cooperation between the China and the United States is "vital to the world."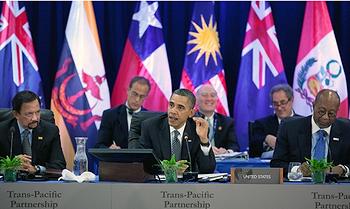 Trans-Pacific Partnership meeting APEC summit, From left, Hassanal Bolkiah, the Sultan of Brunei, President Barack Obama, U.S. Trade Representative Ron Kirk. (Photo by Pete Souza courtesy The White House)
"Such cooperation is particularly important to the Asia Pacific region, where both China and the United States are extraordinarily active," Obama said. "We are both Pacific powers. And I think many countries in the region look to a constructive relationship between the United States and China as a basis for continued growth and prosperity."
APEC's Honolulu Declaration reflects the conclusions of the APEC Energy Working Group, which met in Hong Kong late last month to discuss strategies and policy to improve technology and infrastructure for the widespread adoption of electric vehicles, in advance of the Honolulu APEC leaders meeting.
Working Group members said development of the electric vehicle industry will contribute to green growth in the region, a key priority for APEC in 2011.
"Member economies agree that more electric vehicles on the road will save energy and reduce carbon emissions," said Phyllis Yoshida, U.S. Department of Energy's Deputy Assistant Secretary for Asia, Europe and the Americas and Lead Shepherd for the APEC Energy Working Group.
"The agenda also covers innovations in infrastructure and harmonizing of standards for critical technology components, which will help to facilitate the deployment and trade of the vehicles," she said.
Hong Kong's Under Secretary for the Environment, Dr. Poon Kit, said the workshop underlines the strategic importance of the wider adoption of electric vehicles.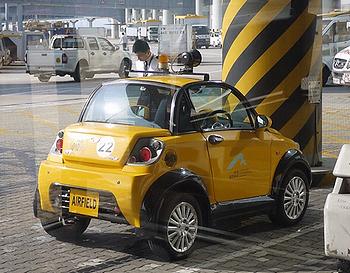 Hong Kong-made electric car, May 2011 (Photo by D. Mak)
"Wider use of electric vehicles can bring substantial environmental improvements," said Dr. Poon. "It also helps promote the development of a green economy by unleashing the economic potential that is enfolded in the design, manufacture, marketing and servicing of this greener form of transport."
"However, no economy can do this alone; the promotion and development of electric vehicles requires the collective efforts and joint collaboration by members of the international community," she said.
Hong Kong is providing financial incentives and infrastructure support for electric vehicles with the goals of improving roadside air quality and promoting a green economy.
While acknowledging the damage to the supply chain as a result of the Japan earthquake and tsunami disaster, Japan's Kenji Miura, deputy director of the Automobile Division at the Ministry of the Economy, Trade and Industry said that many automakers and component producers have resumed production ahead of schedule.
Korea Energy Management Corporation's transport manager, Kyung-Wan Rho, discussed concerns about limited natural resources because Korea imports 96 percent of its energy, including petrol and diesel for vehicles, making the economy vulnerable to global prices and supplies.
He also said that Korea has developed innovative policies to reduce its reliance on energy imports and reduce polluting emissions.
Common standards will improve the export of electric vehicles and their component parts for sale throughout the region. APEC is working to harmonize standards for manufacturing electric cars so that they can be more easily traded across borders.
"Standardization creates the building blocks to innovate today and tomorrow," confirmed Eric Simmon, the U.S. expert on vehicle-to-grid interoperability standards at the National Institute of Standards and Technology.
APEC Transportation and Energy Ministers meeting in San Francisco in September designated low-carbon transport as a key strategy for reducing the energy intensity of transport and greenhouse gas emissions.
Ministers urged the APEC economies to promote the introduction of biofuels, natural gas vehicles, and electric vehicles, within a comprehensive framework that includes measures to improve the efficiency of vehicles and traffic systems.
Copyright Environment News Service (ENS) 2011. All rights reserved.