Ashe Confirmed as U.S. Fish and Wildlife Service Director
WASHINGTON, DC, June 30, 2011 (ENS) – Daniel Ashe has been confirmed by the Senate as the 16th director of the U.S. Fish and Wildlife Service. Ashe, a career employee of the agency who has served as deputy director for policy since 2009, will assume his duties immediately.
"Dan Ashe has served with distinction and integrity in the Fish and Wildlife Service for more than 15 years. He has worked tirelessly to prepare the Service to meet the resource challenges of the 21st century, and his leadership and vision have never been more necessary," said Interior Secretary Ken Salazar. "I'm excited to work with him to foster innovative science-driven conservation programs and policies to benefit our nation's fish and wildlife and its habitat."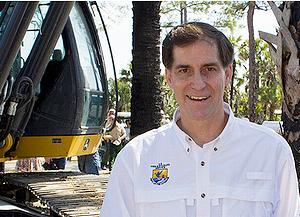 Daniel Ashe at the groundbreaking for Florida's Picayune Strand restoration project, February 18, 2011 (Photo by Robert Pace courtesy USFWS)
On December 3, President Barack Obama formally nominated Ashe to lead the agency.
But for months, Senate Republicans have held up a vote on the nomination to force the Obama administration to yield to Republican positions on deepwater well drilling permits in the Gulf of Mexico, wild lands conservation and Wyoming wolves.
The holds have not been the result of concerns about Ashe himself, a Maryland resident who has had a distinguished career with the Service.
Ashe has most recently served as the U.S. Fish and Wildlife Service's Deputy Director for Policy. Previously, from 2003, Ashe served as the science advisor to the director of the Fish and Wildlife Service, leading the agency's efforts to respond to changes in the global climate system; shaping a science-driven landscape conservation business model and defining an agency Code of Scientific and Professional Conduct.
From 1998 to 2003, Ashe served as the chief of the National Wildlife Refuge System, and previous to that as the Service's assistant director for external affairs, where he directed the agency's programs in legislative, public, and Native American affairs, research coordination, and state grants-in-aid.
"I'm humbled by the trust that the Secretary and the President have placed in me, and most of all, by the responsibility of leading the finest wildlife conservation organization in the world," Ashe said today. "As director, I will strive to create an atmosphere where we can bring to bear our collective imagination, our tenacity, and our commitment to public service to address today's challenges to the future of our nation's fish and wildlife heritage."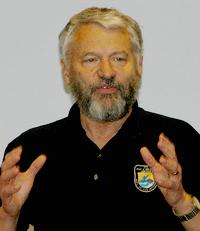 Rowan Gould (Photo courtesy USFWS)
The Fish and Wildlife Service has not had a permanent director since President Obama took office in January 2009 and has been operating under the leadership of Acting Director Rowan Gould.
Gould now returns to his former position as the Fish and Wildlife Service's deputy director for operations.
"We are hopeful that Dan Ashe can turn the Fish and Wildlife Service around," said Kieran Suckling, executive director of the nonprofit Center for Biological Diversity in February just before Ashe's Senate confirmation hearing.
"To date, Interior Secretary Ken Salazar has done little to reform the agency's problems managing our nation's endangered species," said Suckling. "Under Salazar, the agency has shown an utter lack of urgency when it comes to saving endangered species and has been more intent on delaying protections than implementing them."
"Among the worst problems in the agency is its reluctance to provide new protections to species that badly need them," said Suckling. "So far, the Fish and Wildlife Service under President Barack Obama has protected just 54 species, most of them on a single Hawaiian island, for an average of just 27 species per year."
"That rate is better than under the Bush administration, when 51 species were protected for an average of fewer than seven per year," he said, "but worse than under the Clinton administration, when 498 species were protected for a yearly average of 62."
"The real test for Dan Ashe is whether he can get the program for protecting endangered species moving and restore the agency's scientific credibility," said Suckling. "There is no more important function of the Fish and Wildlife Service than the protection of endangered species, because the extinction of a species cannot be reversed."
Ashe has his work cut out for him to maintain and defend the Service's traditional way of protecting endangered and threatened species.
Sucessful in legislating against endangered species act protections for Northern Rocky Mountain wolves earlier this year, the first such legislation in history, Senate Republicans are trying the same tactic again.
Two Republican Senators, John Cornyn of Texas and James Inhofe of Oklahoma, introduced separate bills earlier this month that would amend the Endangered Species Act to specifically prohibit the U.S. Fish and Wildlife Service from listing two imperiled southwestern species.
Cornyn has targeted the dunes sagebrush lizard, while Inhofe seeks to block listing for the lesser prairie-chicken.
"These systematic attacks on the Endangered Species Act undermine conservation, circumvent science, and ultimately render species recovery more difficult and expensive," said Mark Salvo of WildEarth Guardians. "If enacted, these amendments would set a horrible precedent for Congressional meddling in species conservation – and could doom the lizard and chicken to extinction."
Copyright Environment News Service,ENS, 2011. All rights reserved.