Anti-whaling Campaigner Bethune Gets Suspended Sentence in Japan
TOKYO, Japan, July 7, 2010 (ENS) – The trial of anti-whaling campaigner Peter Bethune, 45, of New Zealand concluded today in Tokyo. The environmentalist and captain of the Sea Shepherd ship Ady Gil was found guilty, handed a two year suspended sentence and banned from Japan for five years.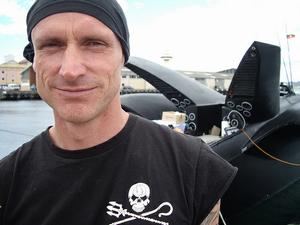 Captain Peter Bethune with his trimaran Earthrace, renamed Ady Gil, at the dock in Hobart, Tasmania, Australia. (Photo courtesy Tetley T )
Bethune will be deported back to New Zealand on July 9.
Bethune was facing up to 15 years in prison on five charges that arose after he boarded a Japanese whaling vessel in the Southern Ocean to perform a citizen's arrest warrant on the captain for ramming and sinking the high-tech trimaran Ady Gil in January, during a clash over Japan's whaling in the Southern Ocean.
Bethune also presented the captain of the whaler Shonan Maru #2 with a US$3 million bill for the loss of the Ady Gil.
After the verdict, Bethune said, "I am very relieved and thankful at the decision from the Japanese court and immensely grateful to my legal team here in Japan. I am truly sorry for all the trouble and worry this has caused my family and am desperate to get back home to see them. I also want to thank all the supporters world-wide who have been sending messages and signing petitions, and the media, who have been keeping this story in the public eye."
"All I did was to board the boat that I feel deliberately attacked and sunk my vessel," he said. "I wanted justice for the loss of my boat and the attempted murder of my crew."
"I still want justice," said Bethune, "and I strongly urge the Australian and New Zealand Maritime Authorities to continue putting pressure on the Japanese whalers to cooperate with their investigations into the collision."
A dedicated environmentalist, Bethune in 2008 broke the official global circumnavigation speed record in the high-tech trimaran, then known as Earthrace, using only 100 percent biofuel.
He conceived the unusual design of Earthrace, and found the funds to build it, at great personal cost to himself and his family. He motivated a team of volunteers and supporters around the world and succeeded in breaking the global circumnavigation speed record in order to increase awareness of the need for renewable fuels and sustainable living.
This dedication that so impressed U.S.-based Ady Gil, founder of the theater-scale digital projection system American Hi Definition, that Gil made the $1 million donation that helped enable Sea Shepherd Conservation Society to include the re-named trimaran within their fleet of vessels for the 2009-2010 anti-whaling campaign.
On December 22, 2009, the Ady Gil arrived in Antarctic waters.
On January 5, 2010, Captain Hiroyuki Komura used the Shonan Maru #2 to ram the Ady Gil, slicing her in two and sinking her. The six Sea Shepherd volunteer crewmembers aboard the trimaran nearly lost their lives and were rescued by another Sea Shepherd vessel, the Bob Barker, which had just arrived on the scene after a three-week voyage from Africa.
On February 15, Bethune boarded the Shonan Maru #2 intending to carry out a citizen's arrest of the ship's captain. He was held as prisoner on board and was arrested on March 12 when the whaler arrived in Japan.
The criminal trial against Bethune began in Tokyo on May 27. He was charged with trespass, causing injuries, forcible obstruction of business, destruction of property and illegal possession of a knife, the pocket knife he used to cut the anti-boarding net on the Shonan Maru #2.
During his trial, Bethune accepted four of the charges but refuted the charge of injuring a Japanese crewman, insisting that the man injured himself using his own pepper spray.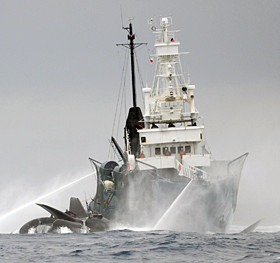 The Shonan Maru #2 attacks the Ady Gil. (Photo by JoAnne McArthur courtesy Sea Shepherd)
Speaking from his home in California, Gil said today, "I know how highly emotional and very distressed Pete was at the loss of the boat. He felt strongly that the ramming of the boat was an unnecessarily aggressive move from a very large vessel that appeared to aim itself deliberately at his much smaller boat, putting his life and the lives of his crew in danger."
"Pete is a man of action, and after the Ady Gil was sunk, he felt he had to do something, so he took what he felt was the appropriate action and boarded the other vessel in an attempt to peacefully present the captain of the Shonan Maru #2 with a letter of complaint about the incident."
Sea Shepherd founder and president Captain Paul Watson said today, "The verdict of the Japanese court was always to be 'guilty.' Sea Shepherd was never under any illusion that Captain Bethune would be given a fair trial. In court, there was no discussion of the reason why Captain Bethune boarded the Shonan Maru #2, and Captain Komura was not called as a witness; in short, the court never allowed any evidence of the Ady Gil's destruction to be heard."
On June 8, Sea Shepherd publicly announced that it was severing ties with Pete Bethune, saying he was no longer a member or representative of the organization.
Watson explained today, "Expelling Pete was a legal strategy. We knew the Japanese judges would be reluctant to release Pete if they thought he would just return to the Southern Ocean so we made it public that we would expel him and not allow him to return."
"Sea Shepherd spent in excess of half a million U.S. dollars on Captain Bethune's defense, not because we believed he would be acquitted, but in an attempt to mitigate his sentence," said Watson.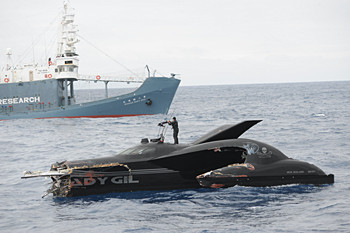 The damaged Ady Gil with the Shonan Maru #2 behind her (Photo by JoAnne McArthur courtesy Sea Shepherd)
The Japanese court acknowledged that Captain Bethune never intended to hurt anyone and was operating under his conviction to save whales from illegal whaling, said Watson. "The truth is that Japan wants Captain Bethune out of Japan and with the sentence suspended they can quickly send him home."
"Sea Shepherd is proud of Captain Bethune's achievements and satisfied with the results of this ridiculous trial that saw a man incarcerated for saving the lives of whales, yet ignored the crimes of a Japanese poacher who sank a ship and almost killed six conservationists," he said.
"Captain Bethune's mission was successful," Watson said. "His efforts helped save the lives of 528 whales. He was able to take one of the harpoon vessels off the hunt when it was forced to return him to Japan. Most importantly, he exposed the brutality and illegality of the Japanese whaling fleet to the world. When you're willing to risk your life to save the whales, five months as a Japanese prisoner is a good trade-off for the lives saved."
"Captain Bethune is a hero to the Save the Whales movement and he will be welcomed home to New Zealand as a national hero for having the courage to do what his government was fearful of doing – defending whales from the Japanese poachers in the Southern Ocean Whale Sanctuary," Watson said. "Captain Bethune is an inspiration in courage and dedication, and his efforts, his sacrifice, and his resolve will not be forgotten."
Sharyn Bethune, Pete's wife, said from New Zealand, "We are delighted with the verdict and can't wait to see him. It's been terribly hard for his two girls, Danielle and Alycia, but we are all very proud that Pete has continually stood up for what he believes in. I think the girls might lock him up in the garage for the foreseeable future to stop him getting himself into trouble again, but knowing Pete, I dare say he'd get himself out and have a new project within weeks."
Watson said, "Captain Bethune is free, and that is what matters. Sea Shepherd is free to return to the Southern Ocean again to defend the whales, and we intend to be even more effective next season than during our last highly effective season."
Copyright Environment News Service (ENS) 2010. All rights reserved.